Northern Soul Rave Patrol
Northern Soul Rave Patrol
05-04-18
This Saturday, we are thrilled to present the top floor debut of London house, disco and soul institution, Northern Soul Rave Patrol. Having played host to the likes of Andrew Weatherall, Sean Johnston and Doc Sleep over the past year, the Tusk crew have become synonymous with dark, deep, quality programming, and we can't wait to see where they take us in 2018. Promoter and resident Ant C caught up with Chris Sweet and Will Nicol of Northern Soul Rave Patrol ahead of Saturday's TUSK to chat London clubland, dream gigs, and record bag classics!
Hi guys! I hope you have been enjoying your Easter. Have you been out and about to any parties over the long weekend? What, where and who was playing?
CS: Yes, it's been a big bank holiday weekend. Started with Jill Brook at our weekly Thursday night party Record Box at The Eagle, which is a vinyl only night playing Torch Song disco, sleaze/ morning music and hi-NRG, influenced by classic clubs like The Saint, Paradise Garage and Heaven. Then Patterns in Brighton on Saturday where Horse Meat Disco have a residency and then back to The Eagle for the packed HMD bank holiday party with Heidi Lawden over from LA - so lots of fun and good music.
WN: Went to see Gilles Peterson at Dreamland in Margate on Friday at the newly refurbished Hall By The Sea.  It's an amazing venue - closest comparison would be the Box at Ministry but with a decent bar in the same space.  Some great tunes and we really enjoyed ourselves. Saturday I was DJing at Cinque Ports, again in Margate, which was fun although Johnny Henfry (Synth System Sisters) got me into all sorts of trouble!
Where did the idea for NSRP come from and how would you define your sound?
CS: About eight years ago we formed NSRP to reflect the music we loved and the scenes we had been into from soul to disco and house. It's me, Will and Sean Leonard. We realised we had been friends since the mid eighties mod and Northern Soul scene and 100 Club. Then all got turned on in 1988-89 with the acid house and rave scene, inspired by the madness of Nude night at The Hacienda, Quadrant Park and Will at Shelleys. Plus amazing parties like Boys Own, Sign of the Times and NY house clubs like Body&Soul, Sound Factory and The Shelter through Sabresonic and up to A Love From Outer Space and Horse Meat Disco. All those clubs have soundtracked our lives and influenced us - we love house music but with some heart and soul and a dash of disco. 
If you could play any gig/party/venue anywhere in the world, past or present, where would it be and who would be on your ideal bill with you?
WN: Hacienda 1989 :-)
CS: Ha! That's a hard one as if we had the nightclub time machine there are a lot of destinations we'd want to plug in… From Manchester's Twisted Wheel or Wigan Casino or Blackpool Mecca for Northern Soul, to Chicago's Warehouse to hear Frankie Knuckles or Ron Hardy, but probably the maestro Larry Levan at the Paradise Garage must be the place, to paraphrase Talking Heads.
London has seen a huge amount of change in clubs and clubbing over the past few years, with the closure of many venues. Is this all just part of a repeating cycle in line with current politics, or do you think London is really changing permanently this time?
WN: I think the whole UK club market has changed enormously in the last 15 years - I don't think it's just London.  The massive growth in festivals and kids looking for the "big event" rather than a weekly club to call their own, has caused a huge shift.  In London with the economics of gentrification this is multiplied. I think it's a shame, but then I'm an old git!
CS: I think the relentless rise in house prices in London and redevelopment has led to the loss of so many clubs and music spaces, which squeezes the nightlife out of the city and prices people out. It seems a shame London is becoming a bit sanitised like New York, unlike Berlin. That's why it is so important for key venues like Dalston Superstore and The Eagle that support quality music and are welcoming spaces. 
WN: London is a versatile and ever changing city, so it will adapt or mutate and re-emerge like dance music culture has over the decades. As Kerri Chandler said, really you just need a red light, a basement and music with feeling - we know Dalston Superstore and TUSK tick all those boxes!
What is one track that never leaves your record bag, and one new one that excites you right now?
CS: A total classic would be The Night Writers - Let the Music Use You (Frankie Knuckles mix).
Lots of great recent music but two that I love and have that emotional content of electronic music with soul would be The Black Madonna - We Still Believe. 
and Sophie Lloyd feat Dames Brown - Calling Out.
WN: Soul classic: Ann Sexton - You've Been Gone Too Long.
Modern: HiFi Sean & David McAlmont - Transparent.  Sean's a friend of both of us and he's in a rich vein of form right now.  This is a Record Store Day exclusive we'll definitely be playing it at TUSK.
---
Catch Northern Soul Rave Patrol's bar takeover at TUSK on Saturday 07 April from 9pm-3am at Dalston Superstore!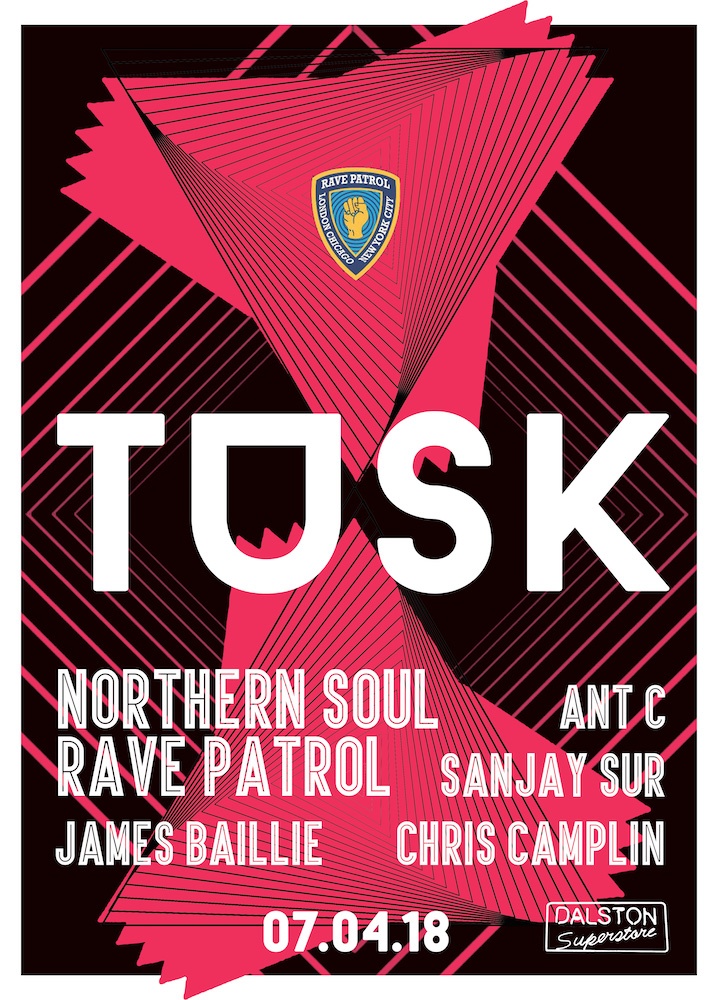 post-template-default single single-post postid-14405 single-format-standard tribe-no-js loading
Northern Soul Rave Patrol