Ottoman Fight Club
Ottoman Fight Club
06-01-12
OTTOMAN FIGHT CLUB
Private View 12th January 2012
Exhibition runs 13th – 26th January 2012
Following his hugely successful show, Jack Off Johnny, the photo-artist JAMIE MCLEOD returns to the Dalston Superstore, a new exhibitions of his black and white portraits of Turkish Wrestlers, "Ottoman Fight Club".
Screen-printed in a panoramic style on a 10-metre ream of canvas, giving the appearance of a Pasolini movie. Along side this canvas are other powerful photographic images that could standalone.
"Bodies and faces become bruised and bloodied and smashed and the smell of oil, sweat and leather mixed with mud, blood and adrenalin is not something I will forget quickly. It's a heady mix of emotions going on, you will have some boys crying in pain from an injury or despondent at losing and others in ecstasy and raptures of joy at winning or just having a laugh with their mates. I have never been anywhere with this much extreme drama coupled with brute force and tenderness. It is one photo opportunity after another and I got to take my photos backstage in the passageway before and after the wrestlers go into the arena so I got an angle that the other didn't. I was interested in portraits and capturing the character and not documenting the actual sport." comments Mcleod.
 These images are not mere homoerotic fantasy pictures in the vein of Bruce Weber but an in-depth study of Turkish ethnicity and male sexuality through the body. "I'm interested in the sensuality of the male physique and the mystery of the face, and the hidden surprise behind the eyes" Mcleod says. "I'm also fascinated by civilization and heritage. In Turkey you will find the classic Arabic-type face, Ottoman, Asiatic, Kurdish, Gypsy, Greek, Roman, Jewish and Georgian-type faces – all of which encompass the country's rich and diverse cultural and heritage. Turkey is the stepping-stone between Eastern Europe, Asia and the Middle East so there is a strong mix of all these people."
It is not possible to discern what era these photographs were taken, as there is no reference to the modern day world, the photographs look and feel as if they could have been taken anytime over the last 100 years. Mcleod is also enchanted by how brutal and beautiful they are –with their cast of non-classical semi-nudes captured like the warriors and heroes that Mcleod believes them to be.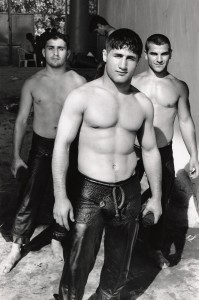 Anybody familiar with the photographer Wilhelm von Gloeden's 1930s photos of Sicilian youth will find a direct link to the savage male beauty that is Mcleod's subject.
Mcleod's images were taken over an eight-year period at the annual Kirkpinar tournament, held in Edirne, Turkey. This is in what was the ancient area of Thrace where Ottoman soldiers prepared for warfare and instilling fear into the hearts of neighboring Greece and Bulgaria even before the era of Alexander the Great.
In Ottoman times, the sport was taught in athletic schools for warfare but also in spiritual centers. This is what differentiates it from just a sport, as there is a deeply romantic mythological and ceremonial side to the sport. It is also the oldest continuously running sporting competition in the world held in Edirne since 1362.
It not clear where the tournament originates – some saying from Greece with the Turks but more likely it is predated and from Persia from 1065 BC. The oil was added to make it more difficult for the opponent to grip but also mixed with a herb which also prevents mosquito bites. Wrestlers oil one another prior to matches as a demonstration of balance and mutual respect. If a man defeats an older opponent, he kisses the latter's hand, a sign of respect for elders in Turkey.
The way Turkish men and boys interact with each other, massaging and caressing and laying together resting after the games and before fights. Male tenderness between each other is common in the Middle East and, quite often, it is only an expression of brotherly love – but it is something men in the west are scared to express without being labelled homosexual, Mcleod believes.
"When Westerners see my photos they normally ask me if this is a gay festival and I laugh and say, sadly, no. It's amazing to think just because men can express open affection towards each other through the way we would normally express it in heterosexuality, we conclude they are homosexual of which most of them are not. However the issue of sexuality in Turkey and the Middle East remains complicated."
For more information:
http://www.allaboutturkey.com/yagligures.htm
post-template-default single single-post postid-386 single-format-standard tribe-no-js tec-no-tickets-on-recurring tribe-theme-dalston-superstore loading
Ottoman Fight Club