Polari
Polari
03-09-14
This Friday we welcome Swedish queers Staffan Lindberg and Pjotr to Superstore's laser basement. Known for their forward-thinking LGBTQ party, Polari in Stockholm, the two have brought some amazing names to their hometown, including Virigina, Sprinkles, Portable and even our very own Hannah Holland.
And now it's our turn to bring these two dreamboat DJs to you. Ahead of the party, we quizzed them on filthy Swedish chat-up lines, what their highlights were from their Stockholm Pride party with Gutterslut and Horse Meat Disco and what their end of the night tracks are...
How did you come across the term "polari" and decide to use it as the name of your night?
Staffan: I think I saw a documentary about Quentin Crisp where he speaks it and got to know about it that way. The name is about something we can relate to and it looks good in print, and on top of that it's a way to focus on gay history in times when there is a worldwide backlash on gay rights.
Pjotr: Yes, it just felt right for us now in the sense of showing our "gayness". I've known about the language for quite a while, since I used to live in London. Taking that name was also a kind of fun thing to do; no straight people would know about it and suddenly they are totally engulfed by this gay night without having a clue. It's a secret language after all…
What's the dream Polari line-up venue, crowd, everything?
Staffan: The 150 year old ballroom at Berns that we've been using this summer has been perfect. Crowd wise I think that a mixture of LGBTQ's, freaks and music heads is the best way to get a good party. It feels like we've had our dream lineups already this summer but I do wish that we'd have time to book Frankie Knuckles before he passed away.
Pjotr: The venue of course, and the bookings. We have been blessed – from a lot of hard work. But really, without the crowd, no party would exist. And that was our plan with this club, to turn it into a family affair. If you weren't there dancing, with this great booking and this great venue – the party would suck. We wanted all of our old and new friends to be there and that they would feel included. So the dream has kind of been what has been going down this summer to be honest.
What were your highlights from Stockholm Pride?
Staffan: We did two parties during the Pride weekend that were both great. I think dancing to Pjotr and Horse Meat Disco in the Mirror room and playing techno with Boris in the basement were my highlights. And all the happy queers that came to our parties of course! 
Pjotr: Thanks for saying that! Cause, I mean, to be honest… I was the worst host ever; I didn't even leave the Mirror room where I was playing with Severino and Luke from Horse Meat – we had so much fun!! I was dancing so hard and laughing so much in that packed room. Me and Severino found an ironing board and an iron that someone had forgotten in a corner (it's a hotel…) and we started vougeing with it. It was the best party I have ever done. And that says a lot…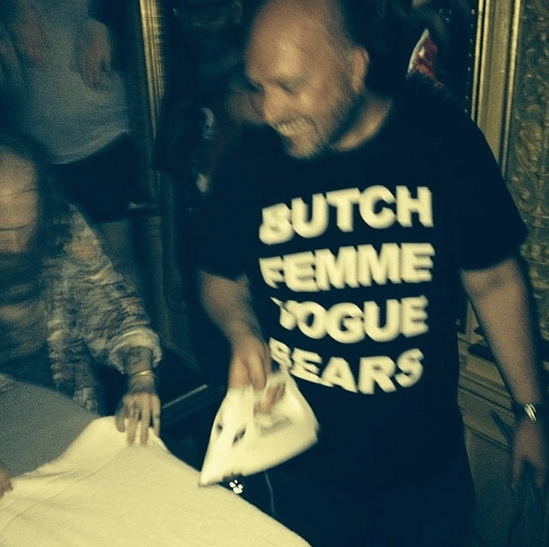 Considering the caliber of guests you've had, who has been your favourite guest for whatever reason from this year's summer season at Berns? Why were they so good or interesting and what was their standout track they played?
Staffan: Of course it's hard to pick a favourite, but one who did something sounding like nothing else I've ever heard was DJ Sprinkles. Very deep, yet very groovy and long bits without a "proper kick", but everyone loved it and adapted to the music. Really inspiring.
Pjotr: Sprinkles was definitely a mutual favourite - to hear and meet. She went deeper than anyone I've ever heard in Stockholm. It was very intriguing… I mean we've had Hannah Holland, Portable, Solar, Discodromo, Virginia, and fellow Swedes Genius of Time… And the whole line up of the Pride Party with the East London drag queens… But someone that really made deep marks in my heart is definitely cosmic pop princess Zhala, who is Robyn's first signing to her Konichiwa label. Her live set was out of this world. She can kill with that voice.
And also Crazy P was special to me. I've wanted to book them for a long time – Hot Toddy and Danielle Moore's set, plus her voice!! Have you heard anything like it?? PHWOOOAR!! A lot of old disco peeps came out for that one which was great.
You're taking us on a date in Stockholm... What are we eating? What and where are we drinking? What dancefloor will we end up on? Tell us how you would woo us in your hometown...
Staffan: Since eating out is ridiculously expensive in Stockholm we'd go to Dimsum 58 and eat delicious but affordable dumplings with duck, Sichuan chicken and portabello mushrooms. Then have beers and Jäger at Side Track with the grumpy bears, continue to Trädgården for more and finish up in the basement at Berns with dancing and Moscow mules. 
Pjotr: Well, if it was a private date you'd probably be eating in my bed. I won't go as far as telling you what. But if we stay on the record, I'd actually probably take you to Berns – I mean, both Staffan and I have been residents there for various amounts of time, but it's great to bring people over; you can really spoil and pamper your favourite DJ's or guest there. Or this small place called Barbro in a part of town called Hornstull. That is my favourite at the moment - the best Asian food in Sweden. For dancing, of course we will take you to wherever I or Staffan is playing – are you kidding?! We are in this for a reason haha!
What, in your opinions, are the best queer parties and clubs around the world to play and dance at?
Staffan: One of my favorite queer clubs is Finalmente in Lisbon, which is a really small place with a great mixture of people, super commercial reggaeton-house remixes of radio hits and a drag show to die for every night at 03.00. In London Horse Meat Disco and Dalston Supstore have been favorites for a long time, and of course nothing compares to Berghain. Always fun as a visitor, and playing at Panorama Bar is really the most fun a DJ can have I think. Oh, and I played at a really cool mixed party in Brussels earlier this year called Open The Box.
Pjotr: I would have to say Honey Soundsystem in San Francisco for sure. Those boys work hard and they do it SO well. I've had amazing times there. Not yet played, but hopefully sometime soon. I have played in SF at Dial UP for Dr Sleep (who played at Dance Tunnel a while ago), and that was great. SF queer parties are pretty rad. And of course – dancing at Panorama and Horse Meat – again….! And WreckedNYC by Ron Like Hell and Ryan Smith – amazing party!
Can you teach us a filthy chat-up line in Svensk?
Pjotr: "Vill du följa med hem och käka skäggsmörgås?" It's not translatable.
Staffan: Swedes get straight to the point and say: "Ska vi knulla?"
Pjotr: That is really the only line you need.
Why Berns?
Staffan: Because it's a venue with so much history, amazing spaces to do parties and we can put loads of people on the guest list, haha.
Pjotr: I mean, we are fresh from the summer, and we have been in a big ballroom upstairs which can be attracting a really weird crowd… But when we did Polari, for some reason we just attracted the weirdest and best mix ever. It was so fucking funny; suit guys jerking off in their pants to the trannies, the freaky fashion faggots vogueing away to our weird animal visuals, music guys who are dancing non stop with a bunch of lesbians… Yeah, Polari just really worked. The soundsystem is also great. We had only compliments from our fellow colleagues.
If you had a time machine what dancefloor would you want to visit anywhere/anywhen?
Pjotr: I would love to visit The Saint in New York in the '80s… Have you seen that?? It's… mind blowing. If you google "The Saint nyc + flickr" there's a whole account dedicated. The people going, the DJ's, the performers, the light rig… Also their flyers were great. Lots of open letters from DJ's and stuff. And they always put out the light person's name on the flyer. Like, they were stars, which I find amazing. That place, and of course Paradise Garage. And Danceteria. I'd like to listen to Madonna there.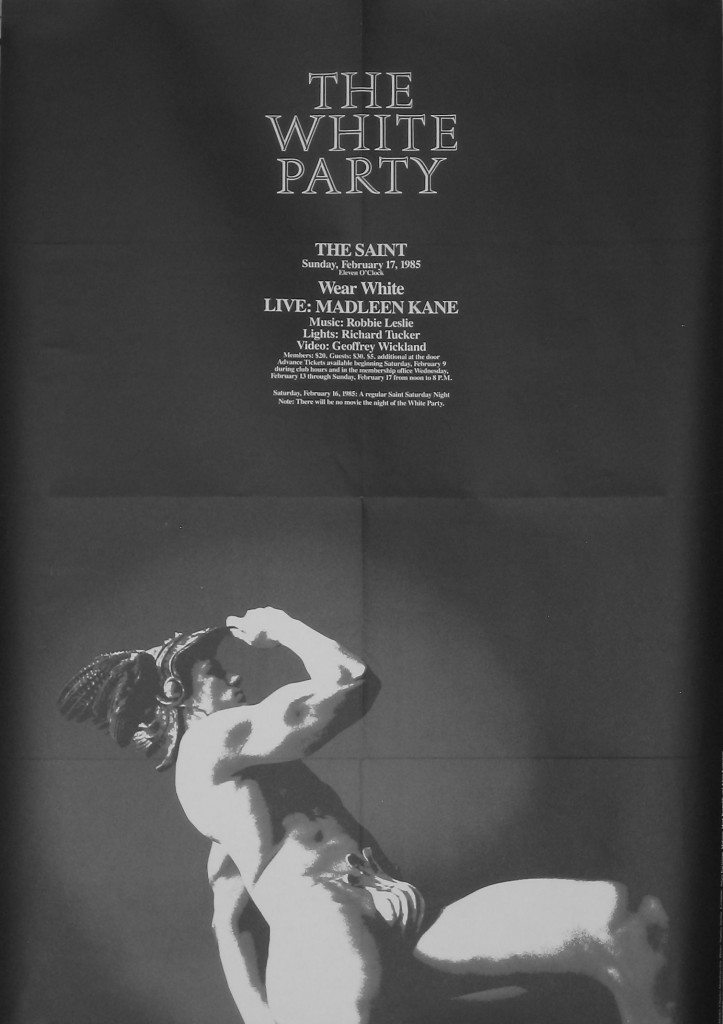 Staffan: I think I'd either want to go there to, to New York, but in the '70s and go dancing at Paradise Garage - I mean how can you not mention it. London in the '80s and go to the Blitz, or all the way back to Berlin during the Weimar Republic in the '20s and experience the gay decadence at one of the hundreds of clubs that were around back then.
What are your end of the night, lights up, slowdance tracks?
Pjotr: Staffan, do you dare to let me answer this? He always gets so embarrassed. I have no shame. I'd probably play The Miracle Of Love by The Eurythmics. It's very special to me. I'd either cry or go home to fuck. But I know it wouldn't be the last track if I was playing with Mr. Lindberg...
Staffan: I would never waste the last minutes on a slowdance track! Here's one of my favourites to end with...
Join Staffan and Pjotr this Friday for Polari at Dalston Superstore from 9pm - 3am.
***Please note this is no relation to the wonderful LGBT literary salon of the same name
www.polariliterarysalon.co.uk
post-template-default single single-post postid-7530 single-format-standard tribe-no-js loading
Polari