Severino Plays Stop Making Sense
Severino Plays Stop Making Sense
23-03-12
We're pleased to announce our final special guest for Stop Making Sense Festival as.... Severino! He'll be joining our already fabulous line-up of Hannah Holland, Dan Beaumont, Mikki Most, Nadia Ksaiba and  Rokk.
Once again we are doing a boat party and the beach bar and we can't wait to get uber-cosmic in the sunshine.
Peep the latest poster for the full line-up...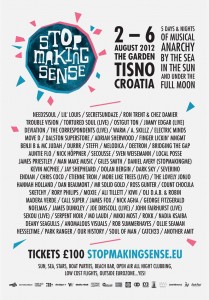 We've still got a few special Superstore tickets for only £90 so grab them whilst you can and then join the Facebook event for Stop Making Sense.
And if you just can't wait that long for a bit of Severino then pop down to his night Severino And Friends here at Dalston Superstore on Saturday 24th March from 9pm to 3am.
post-template-default single single-post postid-1218 single-format-standard tribe-no-js loading
Severino Plays Stop Making Sense