Shaun Prickimage
Shaun Prickimage
04-10-12
Tomorrow night sees the next installment of Rex The Dog's bi-monthly night Breed and they've roped in WALKABOUT Vs Pikilipita to provide an animation spectacular for the evening! Using a hi-tech portable system, they'll be roaming Superstore projecting Rexes and the previous Breed t-shirt designs onto all available surfaces... including onto you lot!
To find out more about this innovative system, we caught up with Shaun Prickimage, the man behind WALKABOUT Projection and the amazing visuals seen at WetYourSelf at Fabric and various other clubnight and festivals... including the Gutterslut Vs TrailerTrash tent at Lovebox! We posed all our burning questions to him to find out how it all works and what we can expect from Friday's party...
Can you explain the concept behind WALKABOUT Projection?
WALKABOUT Projection was setup as an extension of PRICKIMAGE and allows us to stage pop-up performances just about anywhere using a hi-rez mobile projection system. Projections can roam free outdoors or indoors with no need for cables or screens.
The technology allows performers to project animated images using portable projector systems as they walk among the public at a broad range of events. The performers manipulate the projected images live, encouraging audience interaction using media players, game controllers and Kinect sensor from Xbox.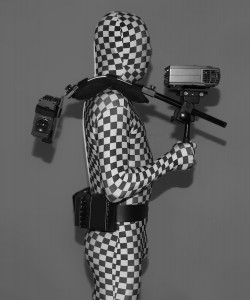 And do you have plans to expand this?
We are excited about technology such as Pico projectors and the Raspberry Pi that will give us even more opportunities to play with portability. This tech is so light and so powerful that it can almost be sewn into the costumes of performers, which will allow intimate and exciting encounters with crowds.
We are currently on the lookout for performers for winter events, so people can get involved if they like what they see.
What's been the biggest or most exciting WALKABOUT project so far?
WALKABOUT Projection was featured in Don't Think, the 2012 film of a live performance by Chemical Brothers. The technology was used in a very clever way to take the visuals off stage and around festival.
WALKABOUT Projection feat. in Don't Think Chemical Brothers' live performance film from PRICKIMAGE on Vimeo.
What's your favourite venue in London to work in and why? Do you prefer to perform in more confined areas or large cavernous clubs?
The beauty of WALKABOUT Projection means that it doesn't matter what sort of space we have. We bring the projections to the people no matter how many are involved. What's important is that there is enough room for interactivity. Small Pico projectors are used for smaller spaces while a larger, more powerful setup works great outdoors or large venues.
What inspires your animation style?
Projections by their nature need to bold and bright on dark surfaces. With WALKABOUT, it's important that we use very colourful and bright projections to make sure that it works well indoors or outdoors.
Who are your most frequent collaborators?
VJ Hash will be performing additional WALKABOUT Projection at BREED 8, but we've done a lot of great work with Pikilipita  and Nicola Saponaro (SapoLab), not forgetting of course Martin Wollerstam. Rafael Filomeno is in his final year studying interactive graphic design and he has been working closely with us.
PRICKIMAGE / WYS! @ SPACE, Ibiza - Rough CUT teaser from PRICKIMAGE on Vimeo.
We hear PRICKIMAGE is doing the visuals for Shoom's 25th Anniversary Party- you must have something extra special up your sleeve for such a prestigious rave!
Danny Rampling is eager to combine the best of past, present and future both in terms of music and visuals. We are grabbing the chance to take advantage of the high ceiling, which allows for a large projection screen. We're also dying to reference the rich back catalogue of imagery from the Shoom rave era. We'll be taking advantage of the best of current technology, but do expect plenty of smiley faces!
What London club nights, besides the ones you work at(!) do you like to go to?
Tough one. I'm always chasing that experience I had when I first walked into Trailer Trash...
Can you talk us through the process that goes into performing WALKABOUT Projection live?
We have to get the more practical things such as lighting and surface sorted out and then we use a controller to bring the personality and character to the projections, treating them as puppets rather than flat animations. So, we might choose a game controller to add interactivity and fun, breathing life into the characters.
What is your preferred type of music to work alongside with?
There is no truth to the scurrilous rumours that I really love Norwegian folk trumpet....
Why do you think the Walkabout Projection will work well at Breed?
Rex is alive and chomping at the bit to get taken for a walk. He likes to explore and meet new pussies.
The crowd will be fun and up for innovative interaction with our furry friend. Rex's owner has designed loads of amazing t-shirts and we will be bringing these designs to life on the ravers. We want the crowd to capture Rex's adventures as they happen with photo and video so anyone who shares great footage or pics on the Facebook page will be in with a chance of bagging one of these exclusive t-shirts.
WALKABOUT Vs Pilikipita will be projecting onto walls, surfaces and even you this Friday 5th October at Breed #8 from 9pm - 4am.
Illustration credit: Martin Wollerstam
post-template-default single single-post postid-2757 single-format-standard tribe-no-js loading
Shaun Prickimage