SHOWBOY- EP launch
SHOWBOY- EP launch
03-07-19
Showboy is launching his new EP at the next Happy Endings party on the 11th of July. It's gonna be a 2 floor speshtacular, with Happy Endings residents in the bar, and a line-up with some beaut live performances curated by Showboy, including some performances by the boy himself.
Hello! For those of us who don't know you, can you introduce yourself?
Hi! My name is Jovis Lane. I'm a writer/producer/performer from East London and I make alternative pop music under the name Show Boy.
What do you use to make your music?
I often write using a guitar which is still the most intuitive way for me. But as my music has become more electronic I've become increasingly reliant on digital software like Ableton and Logic not just in the recording process but in writing too. I recently found a way to use my guitar as a digital synth so I've been loving that!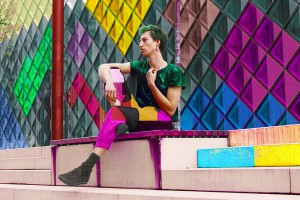 You're launching your new EP at this episode of Happy Endings- is there a running theme behind the tracks on it?
My debut EP, entitled 'Surreal' is essentially an exploration of how digital technology affects our personal relationships through false nostalgia and idealised visions of ourselves. During a breakup I started thinking about how different the process of breaking up with someone is now given the ubiquity of social media, with past idealised memories being instantly accessible. I feel like we are still a long way from comprehending the extent to which digital technology will change the way we interact with each other emotionally. As someone born in the early 90s, I lived half my life before online existence became mandatory, so I feel acutely the difference between the two states.
You've curated the line-up for the basement- can you tell us a little about the people you've chosen to play?
Yes!! It's pretty much a dream lineup for me. These are all artists whose work I have admired and was lucky enough to be able to snag for my party. First up we have live sets from Holliday Howe and Remi, two amazing and unique emerging pop acts.
Then Show Boy will perform. And after that we have Raf Rundell, half of the mighty 'The 2 Bears' DJing, followed by regular superstore vibe controller Emma Rudge (DJ), and finally a sick late night session from Junior XL (DJ). So gassed haha.
What are your earliest musical memories, and do they influence the work you make now?
My earliest musical memories are of my dad playing Beatles songs on the piano, which made it weird later in life finally hearing the original recordings of those tunes after having the melodies going round my head for years. I think from that I developed a lifelong love for melody. The first thing I look for in a song is always a melody or hook, whether it be instrumental or vocal. I feel like the number 1 aim of a pop writer always must be the hook, and finding it is a process I love.
Do you have a favourite track of summer 2019 yet?
Ah that's a hard one… One tune that springs to mind is 'Juice' from the new Lizzo record, that's a banger. Dorian Electra has been killing it recently with a string of good tunes.
The thing I've had on repeat most this week is probably the Serpentwithfeet/Ty Dolla $ign collab 'Receipts'.
If your EP was used to describe an animal, what would it describe?
Haha, ermmm well I would probably have to say some kind of small yappy Jack-Russell, as it's very hyper and a bit of a mess, but hopefully loveable also!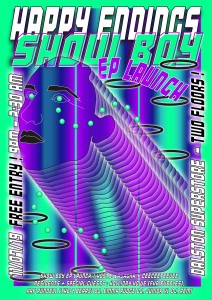 What are some of your fave superstore memories?
I've always been very lucky to have some of my best friends working at Superstore, so memories of nights there are always good ones. Happy Endings parties are my fave though, which makes it doubly exciting for me that I get to be a part of one!
Finally- if you were a fruit, what kind of fruit would you be?
Probably some kind of wild growing berry, as squirrels tend to aggressively pursue me.
Catch Showboy launching his EP at Happy Endings on 11.07.19 in our lovely little rave-basement.
post-template-default single single-post postid-20706 single-format-standard tribe-no-js tec-no-tickets-on-recurring tribe-theme-dalston-superstore loading
SHOWBOY- EP launch