Silvia Prada
Silvia Prada
05-03-13
This Thursday sees the illustrious Miss Silvia Prada in the laser basement with Borja Peña for her DSS takeover! Born in Spain, now living and working in New York; Silvia has long been putting on nights both in Barcelona (Who's The Boss) and in her adopted home of NYC, including at places like Le Bain and Bassment at Monster. Needless to say, we are delighted to welcome her to Dalston Superstore! Ahead of the party we caught up with her to speak about her art and more...
Before you became a celebrated illustrator, you delved into the world of photography- what attracted you to the medium?
Photography is just another media practice for me to represent my discourse as an artist. I guess at that time I needed to say something specific with that energy and represent some ideas about my creative process... Later I decided to move to the drawing practice as part of  a natural evolution, but the message never changed, only the medium.
 Can we see some of your dog portraits? Also, why dogs?
I'm pretty sensitive with things and images that make people happy and optimistic. My drawings are a celebration of beauty and life and my dog portraits were somehow the same, always smiling at the camera and saying "everything is ok".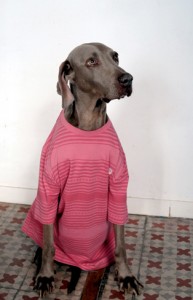 What was the last thing you saw/heard/read that truly captured your attention?
Last thing I heard that totally caught my attention was the speculations about William Shakespeare and that he was actually a  woman, which I totally believe as that has so much sense to me.
Have you noticed much discernible change in your creative output depending on what city you are living in?
Definitely. And it's not about living in certain cities, it's about moving... about movement and about change....
What was the thought behind the illustrations you did for Kim Ann Foxman's video for Creature?
I wanted to create a certain environment and a sexual fantasy between geometries and human beauty.
Why did you decide to team up with the wonderful Borja Peña for your Dalston Superstore takeover?
Borja is one of the most talented and beautiful creatures I've ever met. He is a super hero and a reference in London. I would always team up with him... any excuse is good!
Can you talk us through your creative process for your illustration work a little?
The process is so simple and honest... I'm totally in contact with myself and with my personal taste and I constantly research and study our contemporary culture. Anything that I enjoy, any image, experience or any input that is attractive for me, becomes a real work on paper.
Even when some people consider me as an illustrator, I am not really an illustrator, as I don't usually do work to join a text or illustrate a text or an article... I do my own books and projects and I have my own themes and iconography; I create my own world with my subjects. So I consider myself an artist that also does commercial work.
What living and contemporary artists influence you?
This sounds strange but none. Even though I have an extensive knowledge about contemporary art and I enjoy it, I don't feel influenced by art itself. I'm  more influenced by music, advertising, fashion, communication or cinema.....
But I have to say Andy Warhol and some artists like Keith Harring, Basquiat and all that generation are so important to me, but not really their legacy. I'm more interested in their lives.
Your most recent exhibition was called The New Modern Hair. What was your favourite or the most interesting hairstyle you depicted in this body of work?
My favourite is the cover hairstyle called "Alexander". I love this clean, confident and bright beauty, almost Mediterranean.
What one track will you play to make the laser basement go wild on Thursday?
Hmm... this is a good question!!! Mory Kanté's Yeke Yeke? Hahaha! Kidding. I don't know yet, I never know what I'm gonna play 'til I get the vibe of the room... and hope to get the laser going wild most of the time!! 
Join Silvia for Silvia Prada DSS Takeover this Thursday 7th March from 9pm - 2:30am.
post-template-default single single-post postid-4006 single-format-standard tribe-no-js loading
Silvia Prada