Sister Mantos
Sister Mantos
22-06-15
By Emma Kroeger
Ahead of next Saturday's special Pride edition of ever-successful party for tall men and their admirers, Tall Gay Agenda, we sat down with the fabulous Oscar from Sister Mantos. As much a performance art project as a band, Sister Mantos is a collision of musical genres with an aesthetic that Oscar describes as "somewhere between sexy, repulsive and visually intoxicating." With a list of influences as broad as Sharon Husband's shoulders, we think we might just have found our intriguing, eccentric, out-of-this-world spirit animal. We quizzed Oscar on the intersection of punk and disco, the politics of Pride, and Kate Bush-inspired collaborations...
Sister Mantos' sound seems to fluctuate between disco, funk, pop and punk – often all in the same song! You must have a broad range of influences… Can you name some of the artists or people in general who have most inspired your sound?
Big influences are Grace Jones, Alaska, Teena Marie, Rick James, Parliament Funkadelic, Arthur Russell, Larry Levan, The Velvet Underground, Brian Eno and the doo-wop and R&B oldies that are commonly heard on Art Laboe's radio station (Art is a legendary West Coast DJ who plays dedications. My dream has always been to write a song that someone wants to dedicate to their boo!)
I'm also influenced by artists such as Jorge Ben and Os Mutantes, who mixed the Afro-Latin sound with the psychedelic sound. Growing up I was always surrounded by Cumbia music at my parents' parties, so it influenced me from birth! El Salvadoran people LOVE Cumbia even though it technically is a Colombian musical style. I just picked up a bunch of Cumbia records on a recent trip to El Salvador so I'm definitely inspired heavily by that right now. 
Your music represents an interesting intersection between two seemingly disparate genres: punk's angry politics versus disco's usually unquestionably joyful themes. How do the two meet in the middle for you?
I started playing in punk bands in high school and I was influenced by the work of bands like The Ramones, Fugazi, Minor Threat and the Minutemen. I liked that these bands all had a political or social critique in their lyrics. It was great to know that music was there to say something about the inequities of American society. Disco has always seemed to me as a genre for celebration and also a queer art form where dancing, lovemaking, self-expression and self-love are the focus (I'm thinking of Sylvester and Larry Levan here.) So somehow loving your self, wanting to party with people and looking critically at the world we live in go hand in hand. Music to me is a form of celebration and also liberation so I took from these two forms. Growing up as an immigrant kid you learn that the world is a weird and an often racist place, but also that you gotta love yourself and the people around you. Talk some shit, and celebrate.
What is behind the decision to sing in both Spanish and English?
'Spanglish' is a language that I and many other Latin-American people living in the United States speak. It's something we speak at home with our parents and with our friends. So since birth I've been speaking both languages and living in both worlds. When I started writing songs I noticed that certain songs just brought out the Spanish speaker in me - it was just a natural thing. To be honest I didn't put much thought into it, it's just like an extension of my culture.... but secretly I would love to be a Latin pop star! I really want to tour in Latin America!
Pardon our rudimental Spanish, but Mantos translates to cloak or robe, right? Where did the name Sister Mantos come from? 
Haha... well in Spanish "manta" means blanket... So Mantos doesn't really mean anything. I actually got the name from my former students. I was working as a high school teacher and students started to call me Sister Mantos instead of Mister Santos. They were doing it to mess with me because it was obvious that I was not a typical macho/normative 'man' and they could sense my queer vibe. I think they meant it to be an insult but I actually really took a liking to the name. Some students just started calling me Sister. It was pretty awesome actually. 
There is a crazy-eclectic mix of characters in Sister Mantos. How did you all come together?
Sister Mantos has been around since 2008. At first it was just me, then it was me and a backup singer and then a full on eight piece band, then a dance troupe, then a 4 piece punk band and now we are kind of a Latin reggae band! Haha! I've always been into collaborating with friends and luckily I've been surrounded by a great range of talented freaks in Los Angeles. Many of my former band members have also been collaborators in other bands. LA has a very collaborative music scene - we are all in each other's bands at some point - it's a beautiful thing. Sister Mantos is a volunteer army so it really is a constant mutation, which can be tricky at times, but I think it makes for spontaneous and unplanned musical experiments which I adore. All I can say is that I am truly blessed that people want to join me on this freaky adventure! 
There is a strong visual element to your shows and we love your crazy aesthetic! Are Sister Mantos fashion or anti-fashion?
Haha! I think my aesthetic keeps evolving with my music... I studied art in college so Sister Mantos is as much a performance art project as it is a musical project. I like to be somewhere between sexy, repulsive and visually intoxicating if that makes any sense... So I guess I don't really have a relationship to fashion but anyone wanting to give me free clothes- I'm a US dress size 12.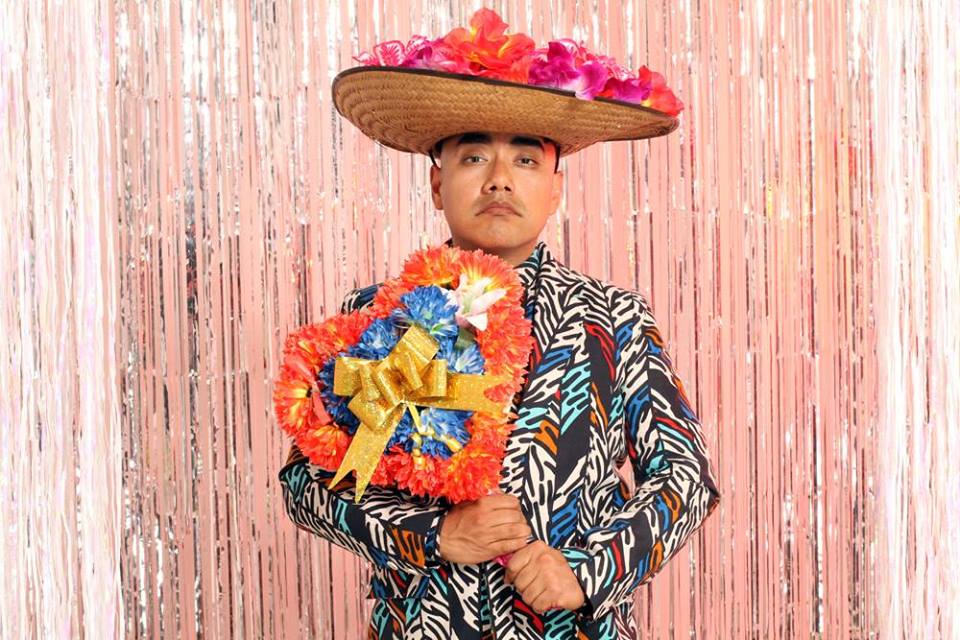 You hail from San Salvador originally – what is Pride like there compared to big cities like your current home, LA? Is it more important?
I don't really know what Pride is like in San Salvador, but I really want to explore the queer side of the country. I was born there but have only been there twice since then, so there is still a lot left for me to learn. Unfortunately El Salvador has a pretty terrible/horrifying track record with its relationship to the LGBTQI community, so there is A LOT of work to be done. The ghost of colonial heteronormative machismo is still alive there (as it is on much of this planet) but there are activist groups like Entre Amigos that are doing the hard work to fight for the rights and safety of the LGBTQI community.
Pride in LA is a weird thing because some of the official events are actually just big beer commercials that you have to pay for and are not really about anything other that getting wasted, BUT I am surrounded by really smart and powerful queers who are also about critically recognising the activist side of Pride. I think there are also lots of underground/DIY groups that are doing their own take on Pride and are doing things in clubs or as monthly events. In LA (and in the world) I think it's really important that when we think of Pride, we also think of the intersectionality with race and class, I'd like to give a shout out to Gender Justice LA, Maricon Collective, Lick in Seattle, IEQueerz, Cool World Party LA and all my other homies who make space for this intersection. Some of these groups do the hard organising and policy work, and some throw parties, but to me Pride is a bit of both!
Describe your perfect queer utopia.
A farm sanctuary for rescued factory-farm animals where queers come together to protect animals, cultivate and live off the land, use solar and thermal power, capture rain water and live in a community that challenges the patriarchy while hosting huge vegan queer-family dinners and throwing awesome parties with a banging sound system. The perfect queer utopia is also a post-capitalist situation that dismantles racism, sexism, ableism, ageism and all forms of systemic oppression and it also always smells of freshly baked cookies and has a hot tub. I've hung out at the Radical Faerie sanctuary in Oregon and I'm kinda using that as a blueprint for the place I'm imagining. DREAMING BIG OVER HERE!
Collaboration, sampling and remixing all seem to be pretty integral to your sound. With names such as Mirror Mirror and of course Penelope Edmund (who will also be performing at Tall Pride Agenda) among your collaborators, what has been your favourite project with a different artist?
Oh wow that's a tough one because I truly cherish and love all the collaborations I've been a part of. Don't make me pick favourites! I think Penelope Edmund is really important because back in the days of MySpace we shared music with each other and really started to make the international musical connection. I love the music she makes and we are like distant funk siblings and I'm glad the universe brought us together. 
Collaborating with David Riley of Mirror Mirror on the music video for Last Night was a truly beautiful experience. Not only did Mirror Mirror make a thumping remix but David also created a truly gorgeous music video and I think our collaboration was a dream of aesthetics and poetry. I think we both have a similar amount of psychedelic alien love child energy and also meticulous attention to detail. Making that video was so much freaking fun and a true milestone in the Sister Mantos story! David and Mirror Mirror I love thee!
I also need to give a shout out to Sarah Gottesdeiner who directed the video for Always. Not only is she a brilliant director and artist but she's also a long time supporter of my music and my spiritual guide. 
I also just finished a collaboration with artists Larissa James and Kate Gilbert for our latest music video - a cover of Kate Bush's Wuthering Heights. Larissa and Kate are both multi-disciplinary artists and I think our recent collaboration is a truly fun and joyful experiment where all of our skills collided in an explosion of flowers, comedy and wood nymph fantasy.
Like I said, I can't pick a favourite!!! To all my other collaborators, MOMMA MANTOS LOVES ALL THE CHILDREN THE SAME! 
You guys have performed in quite a variety of spaces big and small. If you had a time machine and could perform in any space anywhere/anywhen, where would you perform? Would there be any special guests?
I'm setting my time machine to New York City, 1979 destination Paradise Garage. Larry Levan is spinning, Arthur Russell is doing a special performance and Parliament Funkadelic has just entered the building! I'm hanging out backstage with Grace Jones and I'm rolling a blunt and passing it to Teena Marie and Rick James. TELEPORT ME NOW PLEASE!
Join Sister Mantos this Saturday 27th June for Tall Pride Agenda at Dalston Superstore from 9pm - 4am.
post-template-default single single-post postid-8716 single-format-standard tribe-no-js loading
Sister Mantos