SOS
SOS
20-02-13
We're extremely honoured to announce that Jim Warboy and his hugely influential night SOS will be joining us here at Dalston Superstore in its brand new monthly home. Ahead of the relaunch at the beginning of March, we caught up with Warboy to speak to him about his illustrious past shaping London's clubland over the last decade and what's in store for SOS's future. And he's even dropped this HOT HOT mix on us! To say we're excited is not quite cutting it...
In your years of running amazing clubnights, how have you seen the east London scene evolve and what would you personally want to further alter?
The East End scene has exploded over the past 10 years. I know a lot of people moan about the East End and the 'hipsters' but I actually think it's still a very exciting place to be. There's a lot going on and if you look around there are so many great people to meet. Of course, I get irritated by the way it's seen as a new territory or market by some businesses but as long as people continues to celebrate the diversity that made it special in the first place then there should still be something for everyone.
One thing that gets on my tits is the amount of parties on offer being run by promoters who end up mimicking other nights that they consider successful or popular. I always encourage all budding promoters or partymakers I work with to stir things up more. Kick ideas around, throw different elements into the pot and then give a good shake. In my experience that's what generates new and exciting ideas. Risks need to be taken at some point. It's not always easy but it's definitely worth it in the long run.
Which of your previous nights do you feel had the biggest cultural impact?
This is like asking a parent which one is their favourite child.
Over the past 9 years I've been lucky enough to work with some great people like Matthew Glamorre on Kash Point, K-tron on All You Can Eat, Leo Belicha on Caligula, Laurence Malice on Heroes, plus the team at SOS. These different partnerships have helped each night create some level of impact but probably in different ways.
It's not an easy thing to measure but one under-estimated impact of all of club nights is that they're often a place where people meet for the first time, forging out new friendships and working relationships, which often go on to influence culture in music, art and fashion for years to come. I've seen that happen time and time again.
Clubland has a lineage which is like a baton being passed on from one generation to the next. We are all part of an ongoing cultural impact, providing we keep developing and nurturing ideas that will be adopted, mutated and hopefully replaced by the next generation. 
Do you miss any of the defunct ones?
I miss all the nights I've been involved with, but I see each one as a part of my overall experience that I then carry forward to the next one so that tends to stop me getting too sentimental. 
What's the most insane or elaborate outfit you've ever spotted whilst DJing?
I've seen such a plethora of outlandish outfits, but what's more interesting is that almost every venue I've ever been in was more shocked by nudity than any whacky outfit. When I've had naked performers, or the occasional partygoer, I've had to intervene with security and management to stop somebody being thrown out or forced to get some clothes on simply because they're starkers. One person naked in a room can create a stronger reaction than the wildest outfit. I just don't get that. I mean we're bloody born naked. What's so outrageous about that!
Tell us a tale from the craziest SOS party you ever had...
Some of the earliest SOS parties at Old Rehearsal Studios in Kingsland Road were pretty trippy. We'd spend a couple of days setting it all up with a catwalk in the main railway arch for the Voguers,  a pop-up beach café, a Bedouin chillout with incense, candles and fresh fruit, plus a polysexual porn cinema and a very dark backroom. What happened in there shall remain a secret!
Why is it time to bring back electroclash?
Scottee and I had spoken a year ago about creating a retroclash party and the move to Superstore now seemed like the perfect opportunity to try it out. We want to shake things up a bit and create something uplifting in the upstairs bar but experiment with an alternative to the pop/commercial rooms at a lot of parties nowadays. Electroclash is definitely fun and it embraces the performance and DIY aesthetic we've always encouraged at SOS.
The plan is to kick the night off with some older electroclash faves and then mix it up with newer experimental dance music later on. Put Peaches next to Zebra Katz and there's something that holds them together. Ultimately, we're going to play around with it, aim to keep it exciting, and have some fun. For those that want a deeper, housier vibe we've always got the basement.
What's a quintessential SOS track?
It's hard to pick one out. Ima Read by Zebra Katz holds a special place after their performance at SOS last year. It's one of those tracks that will work in the housey sets downstairs and the experimental sets upstairs.
Piepke, the artist behind your flyers, has done a brilliant job for this latest one. What's the thought behind the design?
Working with Piepke is amazing. We seem to share a similar tongue-in-cheek humour and imagination. He's such a talented artist and always manages to translate any brief whilst completely putting his own spin on it. I think this month's design perfectly captures our excitement about going to Superstore. The gold bomber jacket is a nod to the addition of the Electroclash room at SOS. What we need now is somebody to actually make us that pimped up trolley so we can hotrod down Kingsland High Street haha.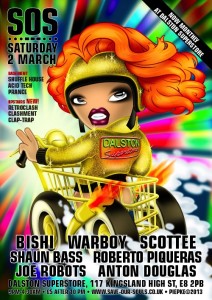 What's your fave track or hidden gem we can hear on your latest mix?
DollarInMaPocket by Donewrong is fantastic. It's about to come out on Hannah Holland and Deboa's Native City label and is already getting a great response when I play it out.
And finally, what can we expect from the first few SOS parties here at Dalston Superstore?
Save Our Souls record label is about to launch in April so we'll definitely be incorporating those fresh-off-the-press artists with performances, and DJ sets etc.  Overall, you can expect a diverse crowd, fresh ideas, and some seriously good new music played by the freshest newbies on the block and veteran old dogs, like me. 
Join Jim for the very first SOS here at Dalston Superstore on Saturday 2nd March from 9pm - 4:30am.
post-template-default single single-post postid-3862 single-format-standard tribe-no-js loading
SOS