Spotlight on: Sofie K
Spotlight on: Sofie K
26-11-21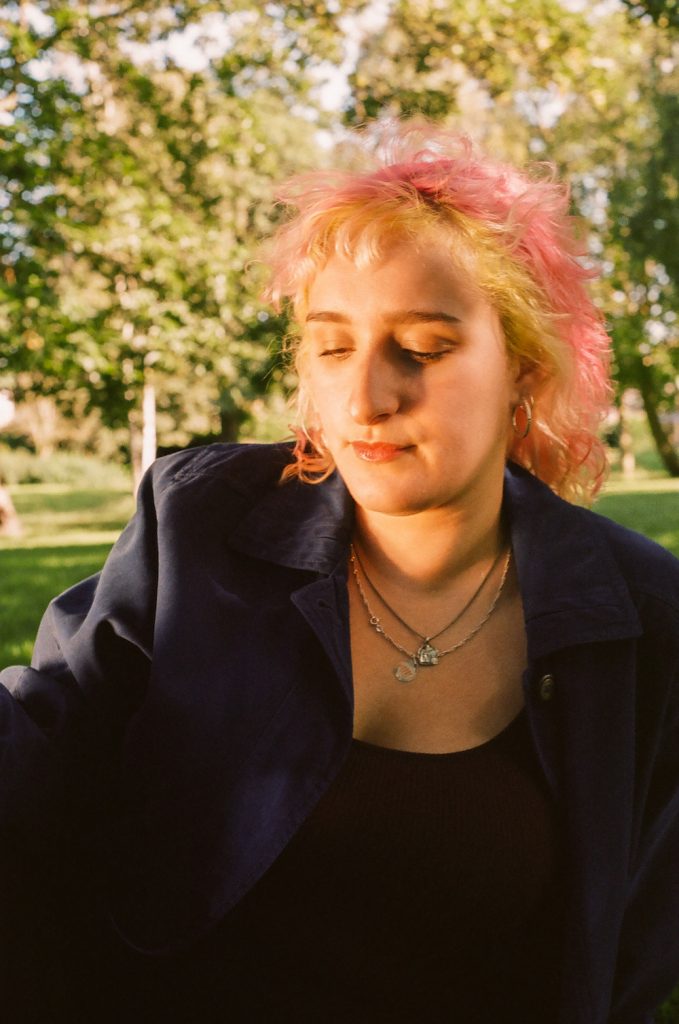 Dalston Superstore is thrilled to have multidisciplinary artist and genre bending selector Sofie K joining us for the debut of new party Hysteria this Friday! The NTS resident DJ has been making waves with her steadfast dedication to the underground and her energetic, rhythm-forward selections. We caught up to chat dancefloor inclusivity, Northern queer scenes, and plans for 2022!
Hi Sofie! We are so excited to have you this Friday at Hysteria! Can you tell us a little bit about yourself?
I'm Sofie K – a DJ, radio broadcaster and illustrator from London, but I spent the past 5 years up in Manchester.
How did the pandemic alter your relationship with nightlife and dance music?
I was working on a fully freelance basis in music and events when the pandemic hit, so I quickly lost all my income. I didn't qualify for any of the government support schemes beyond Universal Credit, which is why I had to move back home to London – I couldn't afford my rent without a job. It wasn't what I'd have chosen to do, but I was really lucky that I had somewhere else to go, and I knew there would be others without that safety net.
So, when a few creative mates in Manchester had the idea to set up our own hardship fund, I was bang up for it. I spent most of lockdown 1 working on Manchester & Salford Save Our Scene, which really got me through. It was really heartening to see so many people come together to look after one another in our own collective and in similar schemes which popped up across different sectors. I feel like often nightlife can be very competitive and generally quite a hostile, judgemental space to be in. So, it made me realise that I just had to focus on those pockets of positivity and not waste time worrying about what other people were doing.
Your music is very closely tied to activism and politics. Why is it important to make the dance floor a political space?
At risk of sounding cheesy, music and politics are my two passions, so it makes sense that I'd try to combine them as much as possible purely for my own enjoyment. But, I think all spaces are inherently political. It's not just about who and what is included, but who's excluded too and that's a political act. It could be physical barriers to access, financial or psychological. I feel like if we forget that – as we often do – then we end up with something insular, self-serving and generally a bit dull. I've always seen politics as something which shapes all areas of life, which is why I'm fascinated by it, but also why it's inseparable from music and art for me.
You work as an illustrator as well as a DJ, how do these two worlds influence each other?
I think I might've answered this already, but they're just two different mediums of communication for me; I'm always trying to say the same thing. My undergrad dissertation was on instrumental music's capacity to communicate emotions. Massively pretentious, but I really think that clubs are a brilliant example of that happening. Even on such a basic level, going out with your mates, hearing an absolute banger and just feeling on top of the world. We all know what that feels like. Similarly, some of us might've been moved by a painting in a gallery, or scrolling past an old holiday snap that made us feel a bit sad.
You've been living in Manchester for a while. How do you find the queer scene there?
Beyond words! Absolutely thriving with home-grown talent and everyone is just up for getting stuck in. All I can compare it to is London, and it breaks my heart to see similar patterns of clubs shutting, rent increases and people being pushed out further away. But, a real benefit of the North is how close all the major cities are to each other. In the time it takes to go from one end of London to the other, you could've gone from Manchester to Leeds, Liverpool or Sheffield. It opens up local scenes in a way that just isn't possible in London and makes collaboration between queer collectives in different cities a regular and beautiful occurrence.
If you could change anything about the London clubbing scene, what would it be?
I'd make it cheaper and friendlier.
What record has been burning a hole in your bag now that clubs are back?
I've been rinsing 'ukd' by Blackdown and Karima F's 'Fief Fef' EP.
What is your favourite release of this year?
Such a difficult question but I'd probably say Moktar's eponymous release on Steel City Dance Disks. Each track is so unique and such a surprise. I'm Moroccan, so anything with North African/Middle Eastern-sounding percussion hits different for me. The way he sprinkled them in amongst more UK-sounding breaks is beautiful.
What exciting plans do you have in the pipeline for 2022?
Nothing concrete yet but I'm planning to work on more of my own music and illustrations. I'll be ringing in the New Year at Partisan Collective in Manchester, which is where I've spent midnight the previous two years that gigs were allowed. Just hoping to spend more time sharing music with whoever wants to listen, whether that's on radio or at a party.
And in five words or less, what can we expect from you at Hysteria on Friday?
Silky stompers and wiggly pumpers.
***
Catch Sofie K this Friday at the debut of new party Hysteria from 9pm-3am at Dalston Superstore!
post-template-default single single-post postid-28138 single-format-standard tribe-no-js loading
Spotlight on: Sofie K