Spotlight on: Stonewall Housing
Spotlight on: Stonewall Housing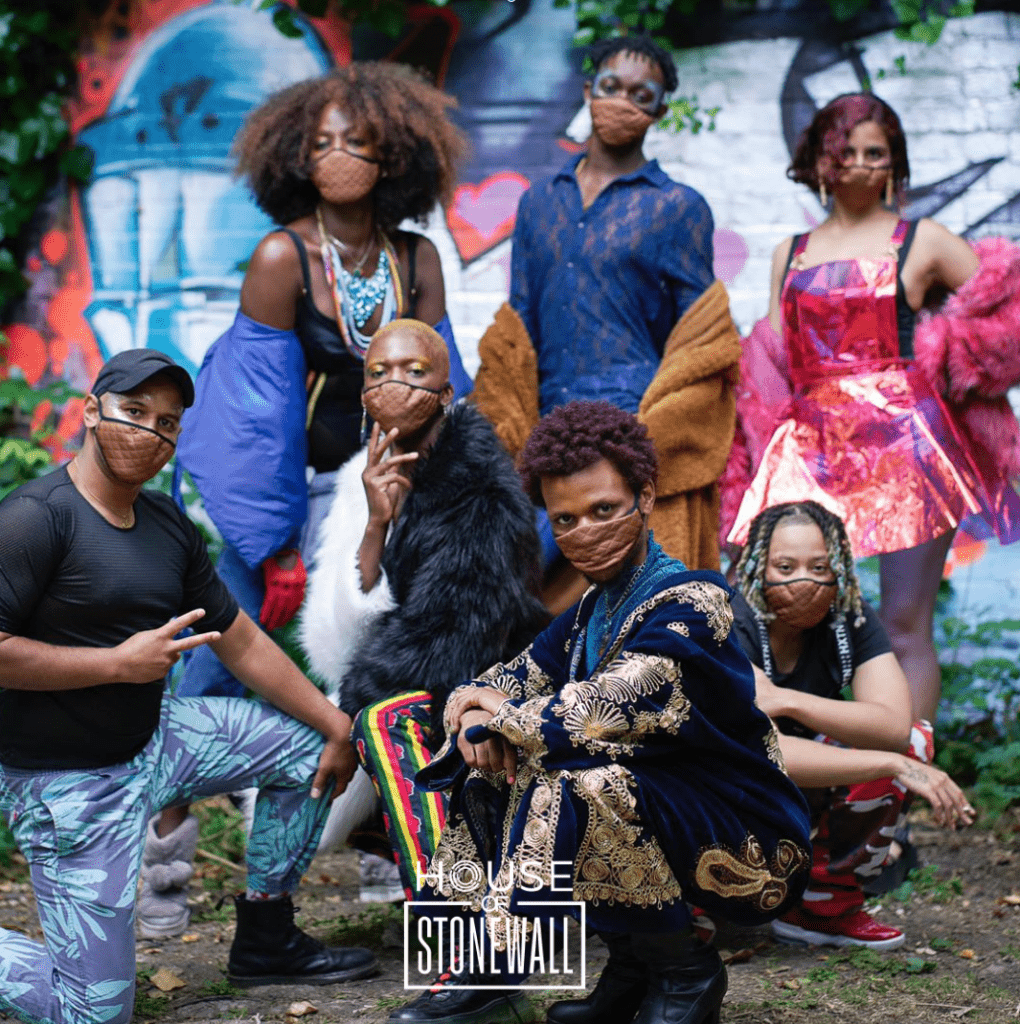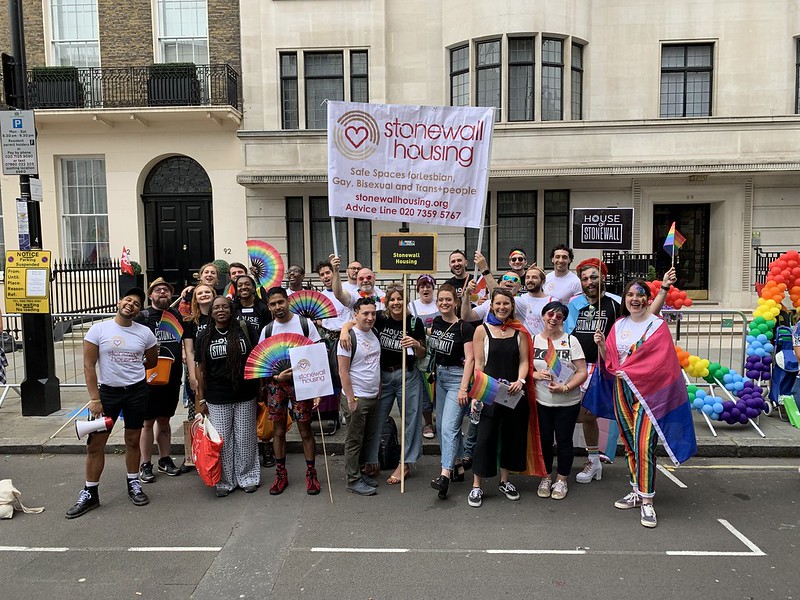 "So many young LGBTQI+ people are crying out for visibility and support. By working alongside services like Stonewall Housing I hope to pay forward the kindness and compassion they have shown me."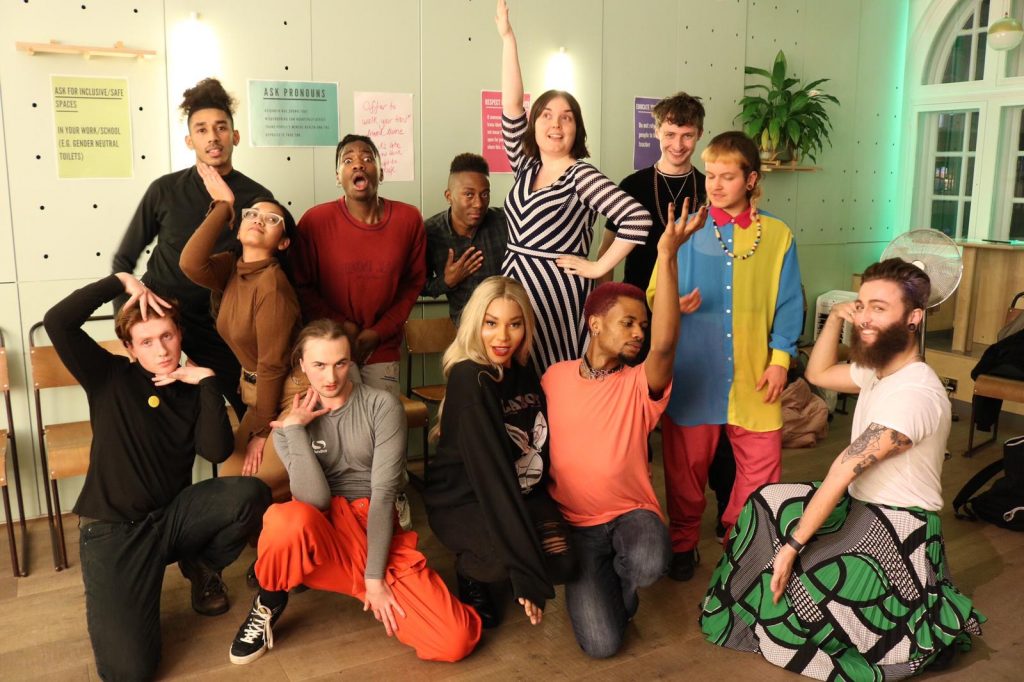 26-03-21
Dalston Superstore has been reaching out to our charity partners in the queer community and asking for stories to help amplify queer voices during lockdown. This month, we are thrilled to shine the spotlight on Stonewall Housing.
Stonewall Housing was founded in 1983, and since then they have been working to ensure LGBTQ+ people live in safer homes and free from fear. They are the only charity in the UK working with homeless LGBTQ+ people of all ages. They provide supported accommodation across North and East London including specialist schemes for youth, older people and Trans and Non-Binary people. Their housing advice line is open Monday – Friday for LGBTQ+ people who are threatened with or who are experiencing homelessness. They also deliver crucial mental health advice and advocacy services and support for those fleeing domestic abuse within the LGBTQ+ community.
Stonewall Housing are fighting to end LGBT+ homelessness and ensure that everyone has a safe, secure home.
We spoke to Emile Mackie (he/him) about his experiences of coming to London and working at Stonewall Housing. Emile is a specialist key worker who looks after Stonewall Housing's flagship Trans and Non Binary supported accommodation.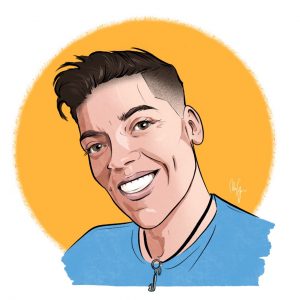 I remember being taught in school about London. My teacher described it first as a 'melting pot', a place where different races, religions, cultures, ethnicities all bubbled together and infused their flavours to create a rich and unique living 'broth' of a city. My teacher then went on to offer an alternative description. 'Or, is it a salad bowl?' she asked, 'Where all these different races and cultures live tossed together but not entirely diffusing into each other; a fresh, zingy city where people are free to remain uniquely their own flavour whilst cohabiting the same bowl as everybody else?'
A class of clueless kids blinked back at her. This far away place brimming with diversity was difficult for us to imagine. I grew up in a small town in the Scottish Highlands and it wasn't just our winters that were blanket white. As for queerness, sexuality wasn't even included in the topic of diversity, given that Section 28 made it illegal for teachers to broach the subject. And 'transgenderism'? This word didn't even exist. I didn't exist.
Fast forward twenty plus years and I am working in this hot bubbling broth of a city with its sprawling side salad of zingy flavours for a charity that not only accepts and validates that I exist, but has given me a job that recognises that there are many other individuals who need trans and non-binary specific support. My role is to help those individuals access services, community groups, healthcare, social events and support networks that are relevant to them (though the pandemic has unfortunately taken a massive toll on access to such services.) Even more simply, I am someone my residents can turn to 'just to talk'.
I am much better equipped now to discuss with my teacher whether London is a globally infused broth or a bowl of salad. I would probably say that whatever it is, every mouthful can taste different and truthfully, it's not always pleasant. London is beautifully rich in diversity, but that does not mean it excels when it comes to equality and inclusivity. I have witnessed more profound racism since coming to London, deeper divisiveness, more extreme poverty and a pervasive loneliness. Some might argue that without these things there would be no call for support workers like me. In which case, I herald the day my job role becomes obsolete.
In the meantime, Stonewall Housing will continue providing its national advice line to any LGBTQI+ individual in need of housing advice. It will continue to run its supported housing services for LGBTQI+ young adults. It will continue to offer training to companies and reach out into the wider community to raise awareness of LGBTQI+ issues, particularly in regards to homelessness and the importance of safe queer spaces. And hopefully, Stonewall Housing will continue to grow and expand, so it can more fully meet the evident troubling demand for its services.
As a support worker I have seen first-hand what having the keys to a safe space and access to relevant support can do for an individual. There is room to finally stop and breathe, and there is time to re-evaluate and invest freely in a new path forward. It is always a privilege to walk alongside people on their own unique journeys – and that is my role in a nutshell.
We also talked to Diamond* (they/them), one of Emile's service users about what it's been like accessing Stonewall Housing services.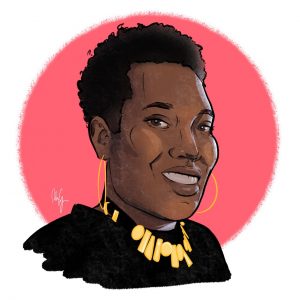 Let your love be the kindness to make a homeless person believe that a soul needs something more than just four walls and a ceiling. – Munia Khan. This quote resonates within me and correlates with my experiences with Stonewall Housing so profoundly that I saw fit to let it to introduce my story. My journey with the organisation has been emotional to say the least. They've supported me through leaving domestic abuse and have seen me slowly rebuilding my life and setting new intentions for myself.
I identify as non binary. Unfortunately, whilst living in my family home I was frequently misgendered and told that the way I had chosen to live life was shameful. This caused me to experience severe gender dysphoria and I was eventually hospitalised. After being discharged from hospital and not able to return to my family home, I was put in touch with Stonewall Housing. The support workers listened to my story and made me feel comfortable with who I am. They allowed me time to process my experiences and assured me they would find me a place to live that would allow me to be my authentic self.
As a young LGBTQI+ person who has experienced homelessness without knowing they had access to services like Stonewall Housing, I'm so grateful for the support I have been shown on my journey. This includes regular meetings to discuss my mental wellbeing, and having my support worker take a genuine interest in my personal and professional accomplishments. It's made me feel valued and that there is someone who cares.
Recovering from homelessness requires pragmatic and emotional support. Stonewall Housing equipped me with these tools to be able to slowly rebuild my life and work towards living independently. Coming from a situation where domestic abuse and transphobia were the norm for me, they've opened up my eyes to a new world that is loving and kind.  These services are so important – without them there is no telling where I would have gone searching for validation. I was vulnerable and sought external validation from those in hostels I came across who didn't have my best interests at heart. 
My support worker provides me with an anchor and allows space for self expression – two things I lacked in my dysfunctional family dynamic. I was being gaslit to believe I had no rights and that nobody cared about me. I packed up my belongings with no idea where to go, but I knew I had the support of my housing officer.
Stonewall Housing helped me to arrange a meeting with the local housing authority and to fill out lengthy forms. We also spoke about my life experiences and what had led me to this point. I got the instant impression that this wasn't just a job for my housing officer. They made sure I had clean clothes to last me for a few nights and took me for a warm meal. This level of kindness  was beyond me at this stage in my life. We spent the day together whilst waiting for support from the council. We waited for six hours but it didn't feel like it. We had discussions about gender identity and how we feel in relation to the rest of the world. Having someone take a genuine interest in my opinion did wonders. Stonewall Housing has been a guiding light through a dark time in my life and has proven pivotal on my journey.
So many young LGBTQI+ people are crying out for visibility and support. By working alongside services like Stonewall Housing I hope to pay forward the kindness and compassion they have shown me.
How to get in touch or support Stonewall Housing's work:
If you're in need of housing advice or support you can call the Stonewall Housing advice line open Monday- Friday 10 am – 1pm on 0207 359 6242 or self refer on their website.
Follow them on socials:
Instagram: @stonewallhousing
Facebook: @stonewallhousing
Twitter: @stonewallhousin
Give a gift or regular donation here
To discuss becoming a House of Stonewall Champion you can email fundraising@stonewallhousing.org
For press or general enquiries please email info@stonewallhousing.org
post-template-default single single-post postid-27033 single-format-standard tribe-no-js loading
Spotlight on: Stonewall Housing