Spotlight on: T Boys Club
Spotlight on: T Boys Club
31-08-22
"We wanted to put on the kind of party we wanted to go to, a space for T boys to be themselves, and dance, to be femme and butch, faggy and masc, to be all these things at once! To pose and strut, and be celebrated in all our variance"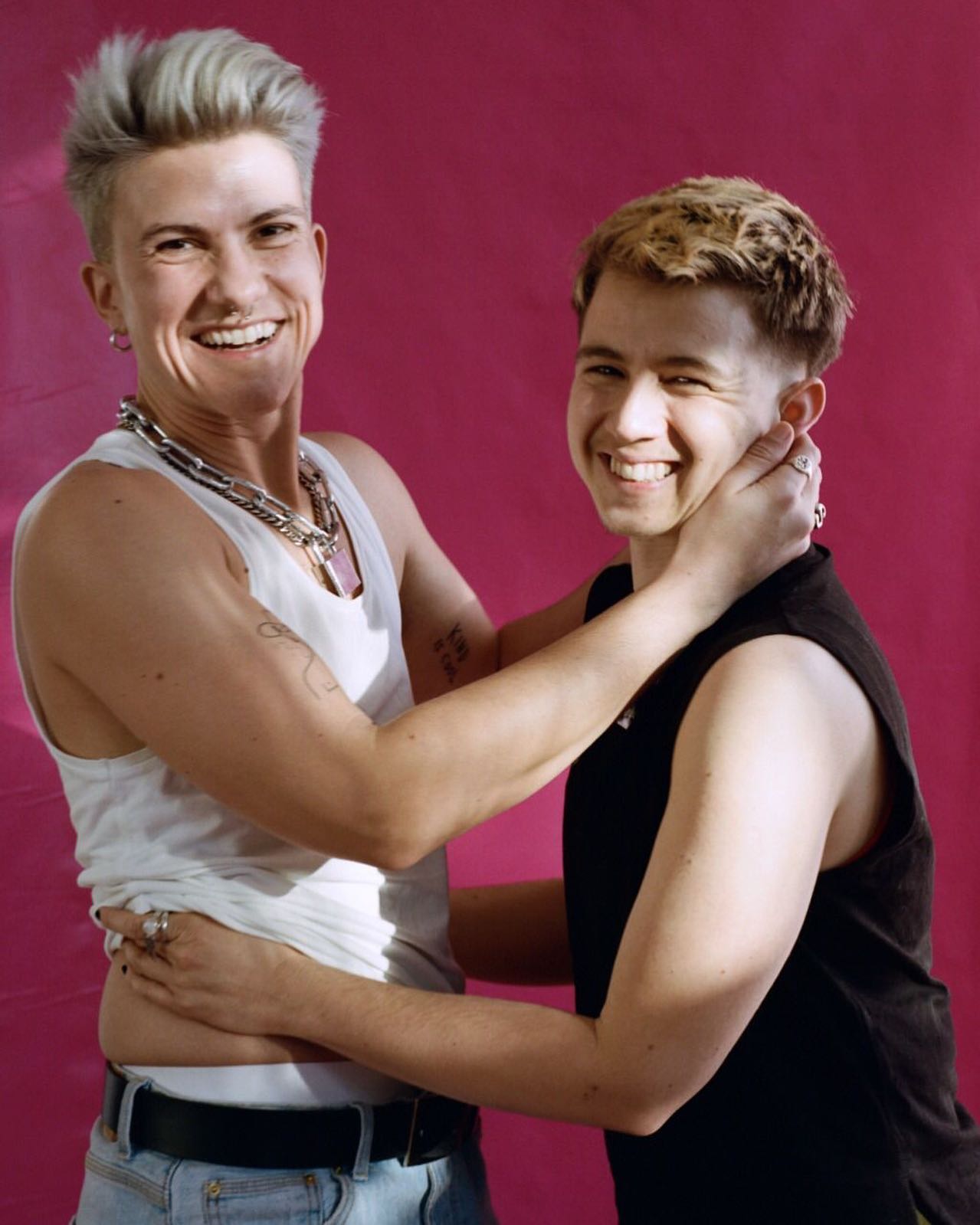 Dalston Superstore is thrilled to announce brand new party T Boys Club will be making its debut this Friday, with a stacked lineup of transmasc, butch and queer talent! Artists, besties and T boys-in-arms Prinx Silver and Marlo Mortimer are on a mission to create a celebratory space specifically for transboys and butches across the spectrum (and their admirers, of course!). Having long felt the absence of a dedicated space for trans boys and their friends, they decided over the summer to team up to dream their own club utopia into being. We caught up with Silver and Marlo to chat navigating queer spaces, alternative masculinities and what to expect at T Boys Club!
Hi Silver and Marlo! We are so excited for the launch of T Boys Club at Dalston Superstore! Can you tell us a bit about yourselves and what you get up to when you're not throwing parties?
Marlo: We are so excited too! I am a writer and artist from London. I also make bags.
Silver: We're so hyped! We started toying with this idea before summer and now it's becoming a reality! I'm a drag king and your fave Spanish hunk. I'm also a community organiser for Friends of the Joiners Arms.
T Boys Club is the first club night of its kind in East London that centres the transmasc community – what inspired you to start the night?
M: Silver and I wanted to put on the kind of party we wanted to go to, a space for T boys to be themselves, and dance, to be femme and butch, faggy and masc, to be all these things at once! To pose and strut, and be celebrated in all our variance.
S: As you said, there's not many spaces for us, that centre us and that celebrate us! Spaces created by us T-boys, so we thought it was about damn time!
Who is T Boys Club for? What are your hopes for the party?
For trans boys and butches across the gender spectrum & all who sail in them.
Hoping for Arm wrestling! dance-offs! Cheeky grins! Boyish charm! Inner child work!
What are some of the challenges of navigating the broader queer nightlife scene as a transmasc person?
M: I think taking up space as a masc person is tricky, it can feel contradictory, a lot of us have inherited this idea that masculinity is toxic and needs to be de-centred in the movement. I think having a night for trans boys across the gender spectrum is really important. And to dance with boys like us and to be with people who love our trans masculinities. And many of us don't do masculinity 24/7 if at all.
I find transmasc is the name that comes closest to my gender, along with butch, but it doesn't totally fit, far from it. In broader queer spaces I can feel a pressure to dress more masc, in order to avoid getting misgendered, but that feels like a subtraction. What I want from T Boys is a space to experiment, be faggier, be more femme, to be excessive – to add to what trans boyhood means.
S: Sometimes the transmasc experience feels like don't take too much space, don't be too loud, don't centre yourself… But we gotta remember that many of us still experience a sort of "misogyny" in the scene because of how we are read (not every transmasc person passes or wants to pass etc.). We gotta remember we are not cis men, and masculinity doesn't just belong to them.
The only masculinities I'm interested in are queer and trans masculinities, the ones we are re-writing ourselves where being 'transmasc' means being vulnerable, honest, soft, kind…
Why is it important to you to create a space within the queer / trans nightlife scene that specifically sets out to celebrate trans masc and butch identities and experiences?
M: Because we need one! I want to watch butch and trans boy gogos, I want to dance with my bros and tell them they're hot!
S: Because t-boy 4 t-boy is very homo! As everyone in the scene says, all the trans boys want to make out with each other, haha. Because we want to celebrate that we are here and we are visible.
Silver, you are heavily involved in the Friends of the Joiners Arms project, who just made their crowdfunder fundraising goal –  congratulations! Can you tell us a bit about the project and what your plans are for the future?
S: We started working on this like eight years ago to fight the closure of the legendary Joiners Arms on Hackney Road. In the last two years, since we didn't manage to get a meanwhile space (that was promised by the developers) we decided to take the initiative and do this on our own. We plan to open a community-run queer accessible venue!
There's no other community-run/community-owned queer venues in the UK, so we thought it'd be the perfect business model for the community. We managed to secure half of the money through grants, and the rest (£100K) we crowdfunded in two months !! This money has been raised through community shares: everyone who bought a share is a member of our future venue and they will have a say in how it is run. We're on the hunt for venues at the moment, and the plan is to have it by end of the year (fingers crossed!).
If you could give one piece of advice to your younger queer self, what would it be?
S: Be curious, be bold, don't be afraid to explore – the road won't always be easy but you'll find a community. There'll be a lot of people who'll love you for who you are.
Can you tell us a bit about some of the queer artists who have inspired you?
M: Too many, too hard. Today: Ezra Furman, Beverley Glenn Copeland and Joan of Arc.
S: Freddie Mercury, Munroe Bergdorf, Travis Alabanza, Lou Sullivan
We are super excited by your lineup for the first party – can you tell us a bit about the DJs and performers who will be joining you?
S: We found an incredible mix of DJs we admire, new DJs, old DJs, all within our local community, from T-boys to butches to queers. And we'll have our hot t-boys gogos keeping us entertained and sweaty!
In five words or less, can you tell us what to expect at T Boys club?
Joy, sweat, fire, revolution.
Catch the debut T Boys Club this Friday 2 September from 9pm-3am at Dalston Superstore!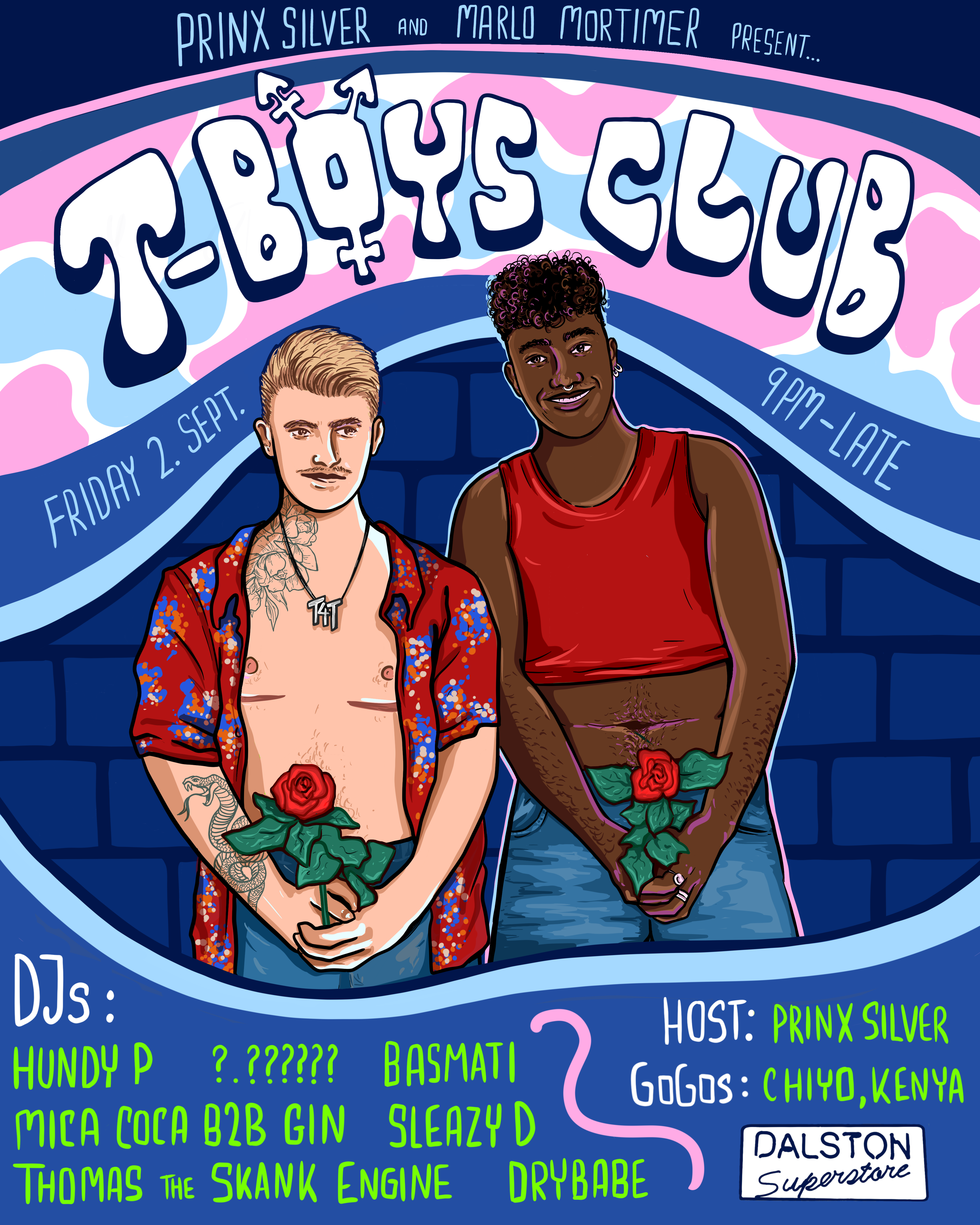 post-template-default single single-post postid-29741 single-format-standard tribe-no-js loading
Spotlight on: T Boys Club