SUPERM
SUPERM
30-10-14
American artist Brian Kenny and Russian author Slava Mogutin met on a New York dancefloor and have been together making art under the moniker SUPERM for just over a decade. They join us here at Dalston Superstore next Wednesday to mark the opening of the Fringe! Film Festival with a night of music, body-painting, photography and more. Then on Saturday Fringe will be screening SUPERM 10, a series of short films featuring their recent collaborations with Gio Black Peter, Vaginal Davis, François Sagat, Matthieu Charneau, and Gilbert & George. Ahead of both these events we caught up with the couple to talk art, politics, secrets and more...
Let's go in deep- what for you is the most pressing global political issue we're currently facing?
Brian: The issue of freedom. The freedom for Russians to be openly gay, the freedom for Americans and Europeans to keep their private information private. The freedom for gay people to live openly and marry. The freedom for women in the Middle East and India to use their own voices and create their own lives. 
Slava: Religious fundamentalism is the root of all evil in the modern world—whether it's Muslim fanatics, Christian fundamentalist or Orthodox Jews—hate and homophobia unites them all. My father, a former Communist-atheist, is a born-again Christian and he thinks of me as the biggest failure of his life, "the bleeding wound than never heels." He publicly condemned my work as "anal filth" and I'll take it as a compliment from a chauvinistic homophobic pig like him! 
You've been together for 10 years—congrats! How has the dynamic changed in that time? You do seem to come across- both professionally and personally- as two different sides of the same coin- separate but whole...
Brian: We're like a two-headed monster at this point!
Slava: We're like a snake that eats its own tail, like a giant ever-hungry tapeworm that lives in my belly. We're like Acephale, the headless warrior tattooed on my right thigh. We're free like winds, proud and strong like Centaurs. We're like S & M, like SU & PERM. We're like Gilbert & George, Pierre & Gilles and Siegfried & Roy combined, so come to our Magic Box!
[caption id="attachment_7750" align="alignnone" width="200"]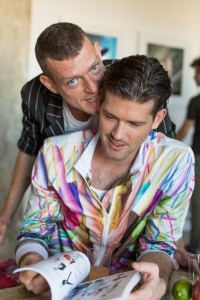 Photo by Alex La Cruz[/caption]
What are you looking for in a body-paint-participant for your party here?
Brian: We're looking for in-shape guys, transgender men and women, and girls who don't mind being in their underwear while doing body painting and drawing on each other.
Slava: Cool London queer kids who are comfortable with their bodies and sexuality and have something to offer besides their good looks. We already got lots of submissions after posting our casting call and about to start our selection procedures. 6 lucky participants will perform with us at Dalston Superstore on November 5th.
What is your favourite piece of work by the other?
Brian: My current favorite is Slava's new book, Food Chain. It's an achingly beautiful and intense book of his poetry and collage. Most people in the West don't know about Slava's literary past. His works of poetry and unapologetic journalism won him Russia's highest literary prize, and forced him out of Russia. Food Chain is a rare and amazing chance to see why I think Slava has one of the most beautiful and challenging minds I've ever met.
Slava: Brian's new works on fabric made of his old "wigger" antiques. When we first met he used to wear durags, basketball shirts and XXL jerseys, but lately his style has changed dramatically and this new series helps him to utilize his old personal gear while discovering his feminine self through sewing and stitching. He calls it "bitch 'n' stitch."
[caption id="attachment_7751" align="alignnone" width="300"]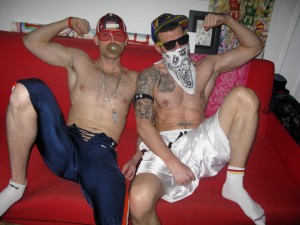 Photo by Donatien Veismann[/caption]
If you had a time machine and could visit any dancefloor anywhere/anywhen, where would you want to go dancing?
Slava: I'd probably go to the past – the cabarets of the Weimer Berlin or the dance floor of Studio 54. My best clubbing experience of recent years is undoubtedly Berlin's Berghain, the best club I've ever been to.
Brian: I'd definitely go to the future. I see myself dancing at a place called SUPERMDOME. A giant dome arena, the dome itself is all live VJ-ed video screens and the entire floor a 3D hologram projection stage. The cool aspect of this Dome is that special sensors and monitor placed around the club 3D map the movements of everything inside, especially dynamic movement like dancing. Super computers analyze all this movement live and simultaneously produce corresponding holograms that "decorate" the movement. The effect would be nothing short of magic. For instance, if you throw your hands up, 3D holograms of sparks with fly out from the location of your fingertips. Clapping produces light bubbles, walking induces a blue afterglow, etc. SUPERMDOME can even be programmed to produce certain special holograms to specific gestures. As dancers learn these gestures, they can begin to perform a custom flourish of 3D holograms, and even compete for the title of Grand Master Holo-dancer.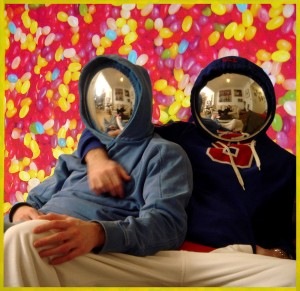 You're both from diverse backgrounds, in terms of you Brian being born on a military base and travelling a lot as a child, and you Slava being the first Russian to be granted political asylum in the US for homophobic persecution. How does this diversity reflect in both your solo work and your collaborative work?
Slava: We're indeed very different both personally and artistically. When we collaborate, we thrive on each other's differences and our combined talents complement each other in a very convenient and organic way. For example, when we do collage work, Brian cuts out the pieces and I assemble them together. When I shoot, Brian helps me with the styling, makeup and set design. When we do film work together, I direct and do 1st camera, Brian handles 2nd camera, sound and editing. When we paint, Brian does the outlines and I do the fades. When we make love, we use every Kama Sutra position, and that's how we roll!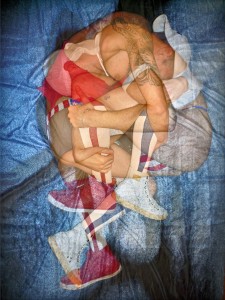 Tell us a secret about the other...!
Slava: Brian is a multiple orgasm man. Sometimes it's a blessing, sometimes it's a curse!
Brian: Slava cannot live without his magic superfood pancakes. He makes them for breakfast every morning for the past few years. He says they bring him luck. He also has pet morning doves that now congregate on our fire escape. He feeds them roasted sunflower seeds.
What was the last book you read // the last record you listened to from beginning to end // the last exhibition you saw?
Brian: John Waters' new book, Carsick. TheStand4rd by Spooky Black. See You In Hell by Gio Black Peter at The Bureau of General Services—Queer Division.
Slava: City Boy, an excellent memoir about underground gay New York of the '60s and '70s by Edmund White. The Marriage Of True Minds, the latest album by Matmos. Michael Stipe's clever and elegant collaborative project New Sites New Noise at 80 WSE Gallery, NYU Steinhardt.
Superm is a reference to Slava's tattoo Supermogutin/Supermighty, which you've stated is like a queer version of ubermensch... what qualities would you need to have to qualify as a queer superman?
Brian: Be bold! Be strong! Be brilliant!
Slava: Queers that fight back. Queers that can think for themselves and never conform or compromise. 
What driving force or motto that you live your life by has got you to where you are today?
Brian: Art is all that matters.
Slava: The Russian proverb, which I used as an epigraph for Food Chain: "If you're afraid of the wolves, don't fuck in the woods."
Join Slava and Brian on Wednesday 5th November for the SUPERM Party at Dalston Superstore from 8pm - 2.30am
Main image by Mitchell Mccormack, all other images courtesy of SUPRERM unless otherwise specified.
post-template-default single single-post postid-7745 single-format-standard tribe-no-js tec-no-tickets-on-recurring tribe-theme-dalston-superstore loading
SUPERM