Tania Olive
Tania Olive
15-05-13
Currently displaying on the walls of Superstore is photographer Tania Olive's ongoing series Dyke Of Our Time. Comprising of deadpan shot of local lesbians shot in their own homes, the work aims to highlight gender fluidity and combat sexuality stereotypes. As the show comes to a close next weekend, we spoke to Tania about her inspirations, the shooting process and why she wanted to represent sexual identity in her work...
Which portrait photographers inspire your work?
Catherine Opie, August Sanders, Thomas Ruff, Lise Sarfati, Rineke Djkstras, Asa Johannesson, Julie Fogarty, Cindy Sherman. I'm interested in deadpan photography and have a love for a lot of German photographers. I like an honest style. I like portraits that make me wonder about the person.
What do you ideally want people to take away from your exhibition?
I hope it challenges peoples stereotypes. I get so frustrated when people first find out I am a lesbian and their reaction is "Oh I would never have known, you look so straight." Really? Is that supposed to be a compliment? What does a 'straight' woman look like?  I am trying to challenge those stereotypes and show that there is no 'lesbian' look. 
Did you pick the backgrounds featured or did you let the subject choose an environment that sums them up?
I wanted each person to choose the area that they wanted, sometimes it was collaboration and sometimes there really was no choice, especially for those in shared places, so their room was the only space that was solely 'theirs'. It was quite a challenge in some places, with no space, moving beds and furniture around, but I think that is a London thing!
What influence, if any, does your previous job as a paediatric A&E nurse have on shooting portrait photography? Do you still need a professional bedside manner of sorts?
I guess I am very aware of trying to make people feel at ease. And talking about stories from A&E is always a good topic to take away any nerves they have!
Pick one person, living or otherwise, that you wish you had the opportunity to shoot...
Michael Jackson. 
What other LGBT photography projects are piquing your interest at the moment?
Julie Fogarty's A Queer Time And Place, which she has been doing over several years; the light and intimacy of each image is beautiful. 
I saw Catherine Opie's Girlfriends series last year in London which has been shot over about 20 years and was so inspiring. I love how the style and pose of these butch women change over the years. 
Is there one portrait from Dyke Of Our Time that you're particularly proud of for any reason?
I guess Elle. This series was the first time I was shooting with a Hasselblad and the first time I was shooting with lights so there were quite a few teething problems, and Elle was the first roll that came out in focus, it was an emotional moment!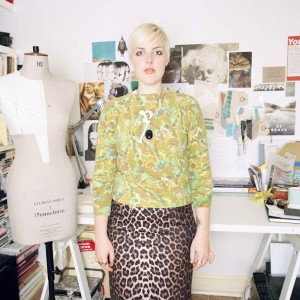 Why was it important to you to represent sexual identity in this work?
Lesbians are quite poorly represented within media and I wanted to produce something that says"Hello, we are here; we have always been here!" I think society is changing, we are getting more of a voice slowly, but is it needs more people shouting hello! I know a lot of lesbians who feel invisible, or whose sexuality is not taken seriously by different areas of society. 
Why did you decide to include a self-portrait in the exhibition?
Because I am a Dyke Of This Time. 
And finally, who for you in the public sphere sums up the title of your exhibition "Dyke Of Our Time"?
Beth Ditto. 
Tania's exhibition Dyke Of Our Time is currently running at Dalston Superstore and ends Sunday 26th May.
See more of Tania's portraits on her website: www.taniaolive.com
post-template-default single single-post postid-4720 single-format-standard tribe-no-js tec-no-tickets-on-recurring tribe-theme-dalston-superstore loading
Tania Olive