Terry Farley's Acid Rain Launch Party
Terry Farley's Acid Rain Launch Party
26-06-13
Tomorrow night sees Terry Farley join us once more both for Society's Farr Festival Warm Up and for the launch of his new Acid Rain compilation! And ahead of the party we're giving away a pair of tickets to Farr Festival, which takes place just outside of London in Hertfordshire over the weekend 19-21st July, AND a copy of Terry's new release!
"It was 25 years ago in 1988 when the Acid House sound created a musical revolution in the UK following the success of London's Shoom and Hedonism, whilst, at the same time, Manchester was kick starting the movement in the North of England with the Hacienda's Hot and Nude nights. Acid House continued its corrosive effect on the late 80's party crowd with new clubs opening up almost every month throughout 1988 – R.I.P., Spectrum, Zoo, The Trip, Apocalypse Now, Legends, the State, Rage, Sunrise to name a few.
By the summer of 1988 aka 'the second summer of love', Acid House was something of a national sensation in the UK with the political establishment seeing the movement as a threat to law and order and the tabloid press vilifying the movement and its main symbol, the smiley face.
But what exactly was Acid House?
Internationally renowned DJ and House expert, Terry Farley has painstakingly compiled 5 CD's which trace the movement's beginnings and the incredible 6 years when this underground music from Chicago dominated the UK dance floors and spread throughout the world. To accompany this furious aural assault is a 32 page booklet written and curated by Miles Simpson, founder of the influential House Music blog, 'Beyond the Stars', interrogator of legendary DJ's and all-round House expert. Plus, of course, pages of scans, flyers and key photos from the period from the Terry Farley archives."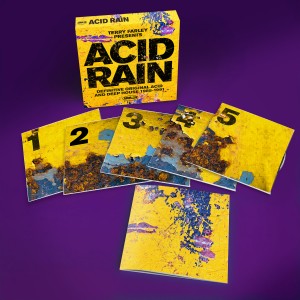 For your chance to win a copy of the 5-CD compilation Terry Farley Presents: Acid Rain and a pair of tickets to Farr Festival just email the correct answer to hello@dalstonsuperstore.com by 10am Thursday 27th June with the email subject "ACID RAIN/FARR FESTIVAL COMPETITION".
*Only the winning entrant will be contacted.
What was the summer of 1988 also known as?
a. The second summer of love
b. Another summer of rain
c. The winter of discontent
Terry joins Society's extra special resident and all-round genuine legend Robert Owens, Thunder's Miles Simpson, Damon Martin, Jake Manders, Josh Caffe and the Society DJs here at Dalston Superstore for Society's Farr Festival Warm-Up tomorrow night from 9pm.
post-template-default single single-post postid-4993 single-format-standard tribe-no-js loading
Terry Farley's Acid Rain Launch Party