The Return of Nite Dykez!
The Return of Nite Dykez!
01-03-23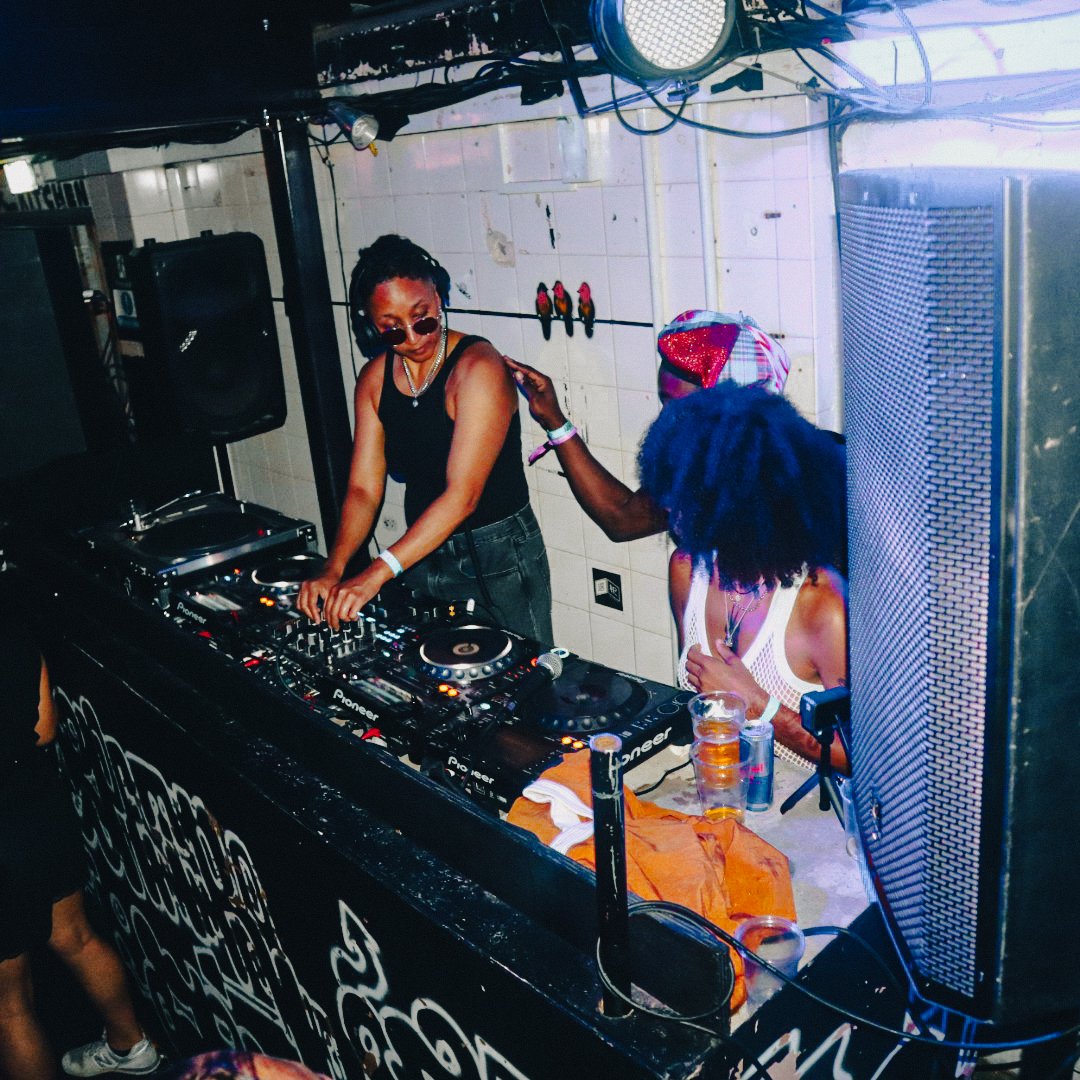 Image credit: @takenbymarshall and @haruki.jpg
Nite Dykez, founded in 2018 by Mica Coca and GIN, is a collective passionate about fostering a love and appreciation for electronic music in safe, inclusive spaces. The collective has always prioritized black women and non-binary individuals on their lineups, recognizing the need for greater representation and visibility within the electronic music scene. However, they also believe in the unifying power of music and welcome all people into their space, creating an environment that values peace, love, unity, and respect.
For Nite Dykez, creating a safe and inclusive space within the LGBTQ+ community is essential, and they have dedicated themselves to building a community that practices these values. With over ten years of experience DJing and organizing events within the LGBTQ+ community, Mica Coca and GIN bring a wealth of knowledge and expertise to the table. Their passion for electronic music is palpable, and their sets are a vibrant blend of classic, Chicago, Detroit, ballroom, bass, soulful, and club-fillers that are sure to get the crowd moving. All in all, Nite Dykez is an exciting and boundary-pushing collective that is sure to leave a lasting impression on anyone lucky enough to attend one of their events.
How did you two meet and form your creative partnership?
We met in London at an organising meeting for another collective we were both involved with called Resis'dance. Resis'dance was a party which aimed to raise money for activist organisations which otherwise wouldn't find funding. At the time it was hard to find spaces where art, music and politics could meet and so we wanted to create a space that was genuinely community-centred. We worked well during those times and built a lovely friendship and creative partnership, and from there we started on working on other projects.
What inspired you to start Nite Dykez? What sets it apart from other queer parties?
We were always interested in creating spaces that added to the landscape of the music scene. After a few tries with different kinds of events, we found there was a serious lack of spaces run for and by the QTIBPOC community circa 2014/2015. We started Nite Dykez because we felt that there were no nights at the time which celebrated tomboys, masc dykez, or there wasn't much representation for dykes like us. So we wanted to make a space for that with a focus on electronic music.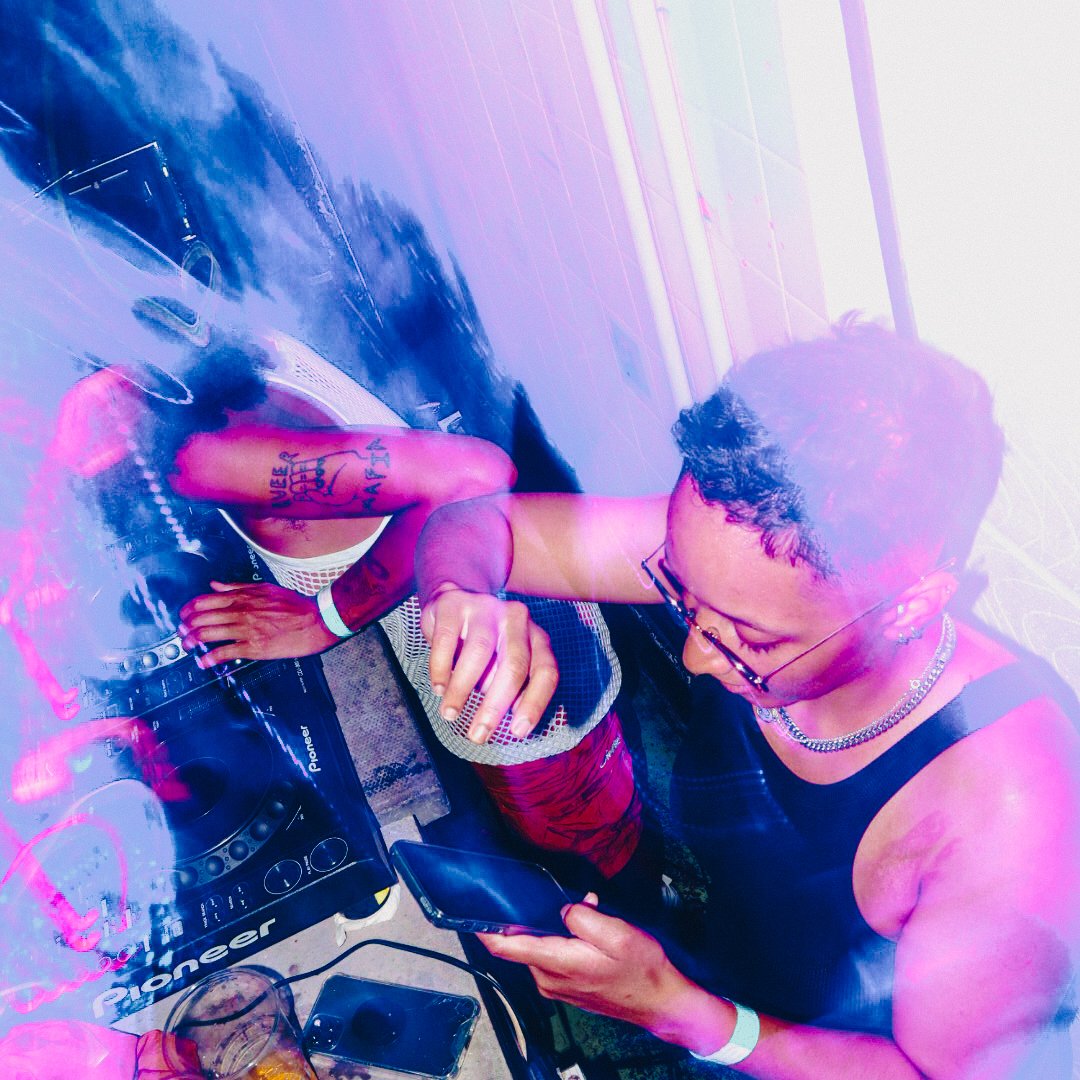 Why is it important to carve out space specifically intended for queer women, trans and NB folk?
Spaces like these have needed to be fought for for a long time, and we continue to have to fight through many barriers not only in the music industry but also with venues creating spaces where communities can come together without fear of discrimination, harassment or abuse. When you put the priorities of a community in the heart of the work you're creating you realise just how hard it can be for spaces to exist that are safe, accessible and fun – simply down to barriers put in place both economically and physically. We want to make sure that the people we are putting on our line-ups aligned with our values, and the venues we work with also understand what our priorities are. All the work pays off when you see the joy on the faces of your community dancing in the club, letting loose and feeling good.
If you could change one thing about the electronic music scene, what would it be?
I would love to see more butches, masc, non binary black folk smashing it. We want to see more people getting booked and given opportunites, and clubs taking more of a risk with it all instead of it being solely about making money with big names. We want everyone to dig deeper and try new names. There are a lot of pioneers who are already working in that field who are infiltrating and opening the door for other people who idenitfy as QTBIPOC to come into the field with less diffficulties, as well as opening the minds of those gatekeepers who run the electronic music industry that there is more culture out there and to work harder, and dig deeper. We have people like Jossy Mitsu, Tash LC, Shannon, JORDSSS, Lady Shaka, AGAMA, Eliza Rose, Baby Sol, DIBS, Josh Caffé, TYGAPAW, to name a few.. these are all people who are changing the electronic music landscape, and showing what representation looks like. Seeing other people that look like you in the line ups also gives you incentive, "If they can do it I can too". But also the collectives who are really building momentum in the work they're doing such as Body Movements, HOWL, FLUID, QUEER BRUK, and Pxssy Palace.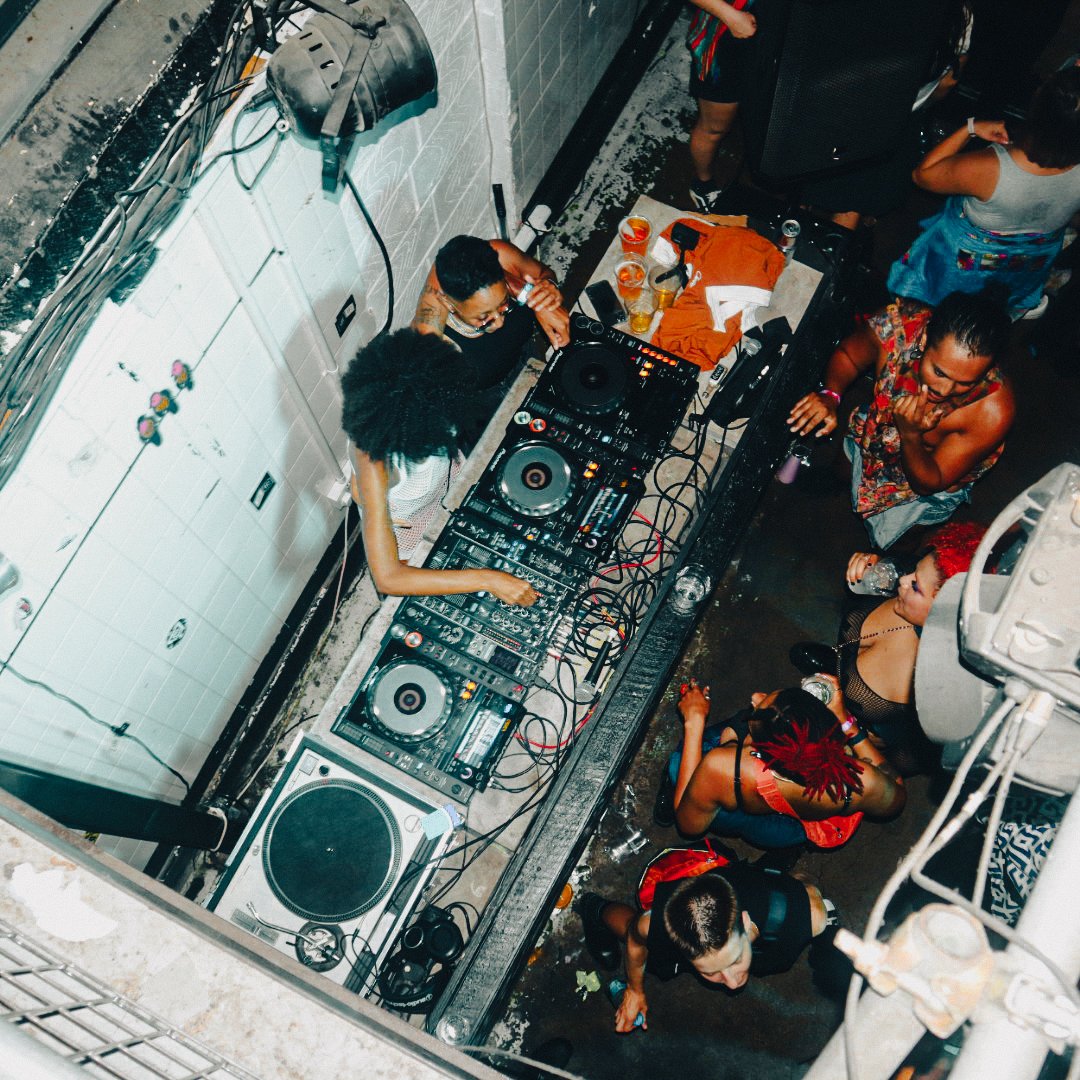 Can you tell us a bit about the guest artists you have joining you at Thursday's Nite Dykez?
We are really excited about our guests for Thursday. First off the fantastic Ria aka DJ Friday who has extensive knowledge of the electronic music scene, being a music journalist for a long time and also a music aficionado. They are an incredible collector and selector and we're so excited to have had an opportunity to invite them down. Next we have AMZ whose work traces back to the early BBZ days – if you know you know – who has worked with other big names and labels such as Rinse, Pxssy Palace, and other artists such as Bambii, A.G, Sippin T to name a few. Finally we have DJ Raks2Riches who has performed at a number of notorious places such as Boiler Room, Let's Have a Kiki by Jay Jay Revlon, and The Cocoa Butter Club. All of our DJs have a focus on club, electronic music, and house.
If you had to sum up Nite Dykez in one track, what would it be?
That's a hard one! But if we had to choose it would be Rampa – everything ft meggy (keinemusik remix)

Can you let us in on any exciting plans you have in the pipeline for 2023?
Nite Dykez will be making a comeback this year! We are planning a few other parties as well as regular DJ sets at our favorite nights out such as Body Movements and other festivals. We are going to continue to collaborate with Sistermatic throughout the year to bring back the collaboration we did just a couple of weeks ago at Brixton Village. We'll be building on what started as a collaboration, and is becoming an intergenerational movement. Ultimately, world domination.
In five words or less, what can we expect at Nite Dykez on Thursday?
Sweat, vibes, and peng dykez.
+++
Catch Nite Dykez this Thursday 2 March from 10pm-2:30am at Dalston Superstore!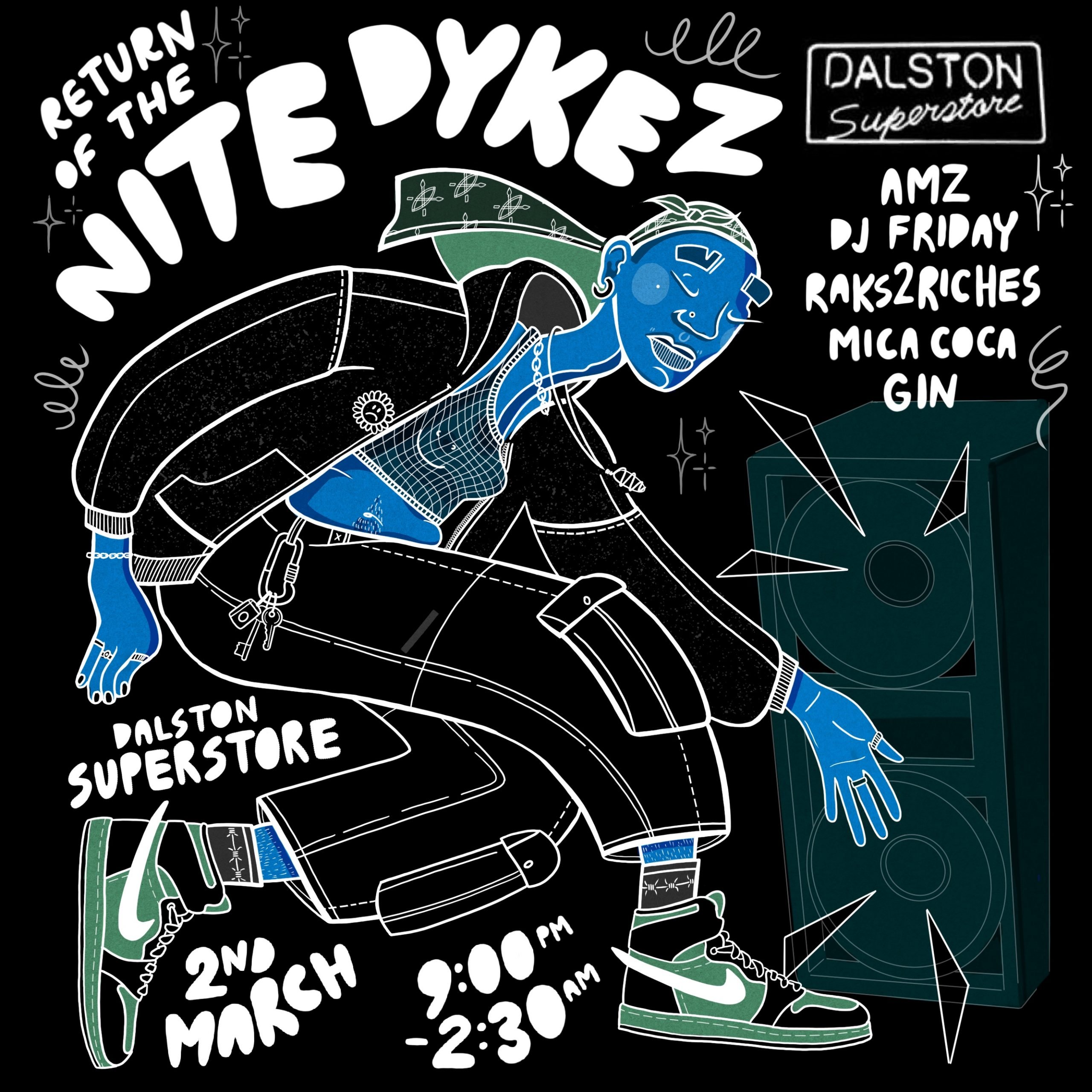 Poster credit: @tamarajadekaz
post-template-default single single-post postid-30551 single-format-standard tribe-no-js loading
The Return of Nite Dykez!