The Test Shot
The Test Shot
21-06-13
We sat down with the creators of London-based trans-masculine photography site,
The Test Shot
, to find out more about their wonderful and positive project. Featuring stylish Londoners; each shoot is accompanied with an interview about that person's own personal style, their favourite clothes and fashion inspirations. Photographer LGW and business partner Jamie are setting out to break past the media's more typical portrayal of trans people by giving a more intimate look into real lives via fashion and style...
What was the catalyst for starting your photography project, The Test Shot?
 LGW: Well, myself and Jamie both spent quite a lot of time feeling outraged by instances of sensationalism in the press regarding trans* people. It was actually Jamie's idea- he emailed me because he wanted my opinion on the idea of starting a style blog that looks as the relationship between clothing and masculinity. The focus would be on transmasculine identified people who use style to create/translate their gender identity. What really caught my attention was the idea that this blog would look beyond a cismasculine ideal. In Jamie's words: "I want it to be interesting, personal to whomever is contributing/being interviewed and to look properly mint."
Jamie:  Based on the various discussions we had about trans portrayal in the media, we both wanted to create something that wasn't based on the typical tropes (such as surgery), and as LGW says, we didn't want to approach gender identity in the expected way or through typical narratives. At that time it was difficult to find material on style that included transmasculine people visually, apart from perhaps the issue of Original Plumbing dedicated to fashion (and we later discovered the trans presence on DapperQ).  
Why did you choose Tumblr as the medium for showcasing it?
Jamie: We deliberately wanted to make The Test Shot an online project because it's so much easier to work independently. Plus, you have automatic presence. Using a Tumblr template pretty much meant that we could develop a project immediately. Making positive change in mainstream media is such a painstakingly slow process and yet using Tumblr we had a trans* style site out of nowhere, based on not much more than a good idea and LGW's photography skills.  That was very motivating and empowering. We also felt that Tumblr was the right choice because it's so much about visuality and images. We wanted to make an intervention and carve out an online presence in a visual sense. 
 
What was the thinking behind the name of the project? Is it a nod to the style aspect of the shoots?
LGW: It refers to a few things; test shoots in the film and fashion industries involve trying out new ideas and equipment in advance of fully developing a concept- they're tentative and experimental. You make discoveries about what works and what doesn't and that informs how you move forward. Similarly, with style and self presentation there is a lot of trial and error until you finally become comfortable with how you're being perceived. I think this is especially true for trans* people. Also, it alludes to the process of taking testosterone- one of the key treatments available for transmasculine people to allow themselves to transition physically and socially. Although I'd like to point out that not all trans* people, and certainly not all the people we've worked with on the blog decide to take that route.
 The interviews really add depth to the shoots, was this something you wanted to do from the start or did they evolve naturally along with each shoot?
 LGW: Yes, it was always our aim to give each participant a platform and to make the project more collaborative. One of our responses to the media's sensationalist treatment of trans subjects was to find more authentic and positive voices. If you Google 'trans man', and come to our site rather than some tabloid horror story, you subtly start to change people's perceptions of what it means to be transgendered. Also, the shoots are a hybrid between fashion and documentary. We don't choose fancy locations, just people's homes or nearby streets, and giving each person an opportunity to speak for themselves makes the whole thing more rewarding and true to life.
Jamie: Having texts to accompany the shoots was always key for us. I think subtle shades in gender identity can't necessarily be perceived visually and it's really important for people to have space to articulate themselves. Trans people are so often discussed as if we're all the same and being trans means only one thing. The photography on the blog suggests that this isn't the case, but the degree to which we are diverse really only becomes apparent in the interviews. 
What's your favourite snap from your own Test Shots?
 LGW: I like the more casual stuff I chose to wear; the bolo tie and blue plaid shirt combination is one of my favourites. My best friend gave me that shirt, and the bolo tie reminds me of the hot gay cowboys in Brokeback Mountain.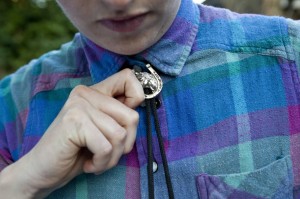 Jamie: I think what I like most about my shoot is the colours in the room - they are so vibrant.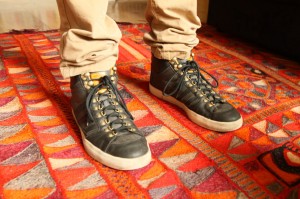 How would you each describe your own style?
 LGW: Charity shop meets Brit Pop. 
Jamie: "Slightly preppy librarian on dress down Fridays". Sometimes it goes a bit wrong  - the other day I found myself wearing suede green brogues with mid-blue jeans, and a cream and white cowboy-style shirt that I had tucked it.  It was so totally "gay Texan dad at the PTA meeting". Weird.
Not to make you pick favourites here, but what has been the most interesting outfit you've shot so far?
LGW: There has been a few (I won't pick favourites!). Faizan has a lot of clothing he'd brought back with him from Pakistan, including shoes made of tyres which I loved, as it took me out of the familiar. Grey had a military style jacket with amazing symmetry. Seb's cat shirt is by far the most tumbled thing on our site at the moment- it has 510 notes as of today.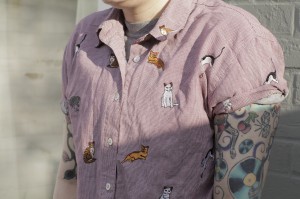 - Jamie: Shooting Seb's onesie was fun, but mainly because we made them run around in front of their house in Forest Hill next to a bunch of guys playing five-a-side.  In general, I liked any item of clothing that had a particular value to the person wearing it. It's amazing how much thought and history can be behind a simple piece of clothing. So no, I won't choose! 
 
Since being featured on Buzzfeed, what has the feedback been like?
 LGW: That Buzzfeed article has done wonders for our social media clout- we were inundated with followers on Tumblr almost instantly after that went live. I've actually had colleagues come over and say they spotted me on Buzzfeed last week, which is interesting because I don't talk much about my gender identity at work. It's all been positive so far, and we get a lot of interest from the trans* community in the USA in particular. We won an International Presenter Scholarship earlier this year for our work, which means we get an all expenses paid trip to Philadelphia to run a workshop on DIY trans representation online. Hopefully the Buzzfeed article will add some context to the people who come and attend that.
Jamie: Two days ago someone from Tennessee wrote to us saying that our project made them feel less alone after discovering the blog on Buzzfeed.  I still think it's amazing that The Test Shot can have such a tangible and positive emotional effect on someone's life. I guess it shows that digital media very much isn't in a vacuum and intersects fundamentally with "real life". That's so important to bear in mind when creating trans-related content. 
You have shot topless trans men who've had "top surgery". Was this an aspect of transition that you specifically wanted to feature or just something that happened?
LGW: Both the shoots where guys have gone topless happened in summer and outside, so yeah it wasn't a planned thing- more practical if anything. I remember Felix had only recently recovered from his surgery when we shot with him; he was really happy with the results and wanted to document it in some way. And one of Liam's outfit choices included S&M style PVC shorts and braces, a look that really works if you're topless. Plus that way we could see more of his tattoos. Generally, the blog is about lifestyle and living confidently, and part of that includes having top surgery for some guys- I'm glad those shots are included but they're not a focus point for us. 
Jamie: It is true that for a lot of trans* guys and genderqueer masculine people top sugery is a defining moment in their transition and allows them to be free in their bodies in a new and transformative way. There is a common perception outside of trans communities of top surgery as being too radical, drastic or a step too far. I think trans guys who have surgery embrace it is a physically painful yet totally enriching experience. I suppose it's a sort of rite of passage. However,  we want to show that there are a range of trans* bodies as well as a range of styles. Having surgery doesn't make you "more trans", it's just a particular expression of being trans. 
Will you shooting any transatlantic test shots whilst at the Trans Health Conference in Philadelphia this year?
LGW: I'm taking my camera gear with me so we can get some shots at the conference, and we have planned to shoot with a gender-neutral clothing range based in Philly so it's a healthy mix of work and play. If we make any friends who want to do an impromptu shoot, I'm more than up for it!
All images courtesy of The Test Shot.
post-template-default single single-post postid-4958 single-format-standard tribe-no-js loading
The Test Shot