The Vinyl Library
The Vinyl Library
12-07-13
Just up the road in Stoke Newington a new type of library has opened, consisting only of vinyl. The brainchild of Sophie Austin and Elly Rendall, they plan for The Vinyl Library to be a vinyl co-operative where the collection is owned by its members. You can donate records and borrow the equivalent in exchange or pay a small monthly subscription fee to rent out up to five records and change them as many times as you want in that month. To find out more we spoke to the two budding librarians about their recently opened venture...
How did you come up with the idea for a vinyl co-operative?
Most libraries don't stock vinyl anymore. And being two people with a passion for learning more about vinyl, we were looking for a place to explore without having to commit financially. As we couldn't find it we decided to start it ourselves. Keeping libraries alive means everyone has an opportunity to access new knowledge- as well as archiving important parts of history. We value the idea of sharing- it brings people together and reminds us what we can offer one another. 
What led to you choosing Stoke Newington/Dalston as your base?
There is a big music community here and we have lived in the area (on and off) for the last ten years.
What's the oddest, or "most unique" record that's been donated so far?
There are many weird and wonderful vinyl. You'll have to come check it out for yourselves!
What punishments is the County Librarian authorised to dish out should someone break your T & C's?
Public humiliation and a ban from something which could mean access to some amazing hidden treasure. It ain't worth it. TRUST.
You've both donated a fair few of your own records- but what's one you could never bear to part with?
Elly: My mum's Beatles singles- they remind me of my childhood- and singing down the street with my mum.
Sophie: Stevie Wonder - Songs In The Key Of Life - it reminds me of a special time.
Any records or artists that you've had a few too many copies of?
No, we're not at that stage yet!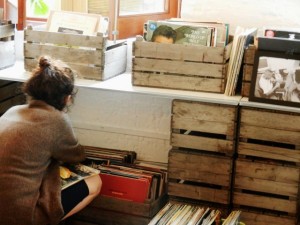 What one record sparked your own love affairs with vinyl?
Elly: Dead Can Dance - The Serpent's Egg. It sounded so incredible on vinyl. I'll never forget how it filled the room... I had to lie down on my bed and let it pass through my body. An epic listening experience. 
Sophie: Nina Simone - I Put A Spell On You. That love affair is still going strong. 
What is currently playing on The Vinyl Library's record player?
Scion A/V Remix: Corine - Dream A Little Dream, includes Original + Mugwump e-dreamer remix + Runaway Radio Energy remix + Midnight Magic remix.
Visit The Vinyl Library at Unit 1, Foulden Road, Stoke Newington, N16 7UU. Check out their T&C's on their Facebook.
Photo credit: www.sofidonuts.com
post-template-default single single-post postid-5111 single-format-standard tribe-no-js loading
The Vinyl Library