TOP 10 ICONIC HALLOWEEN VILLAINS
25-10-18
Ahead of this Friday's Miss Zombie Drag Queen 2018 as presented by notorious heauxmeauxsexy disco crew Mints, we caught up with them to hear about some of their favourite evil drag queen inspirations! Y'all better roll on down to Party Party this evening, stock up on some Smiffy's campery and join us this Friday for your chance to be crowned MZDQ2018, win a £50 bar tab, flagon of Lambrini or a frozen chicken tikka lasagna as unofficially sponsored by Iceland!
---
The Witches
These ladies, led by queen Anjelica Huston herself, are the dream combination of horrifyingly glam and horrifyingly… well… horrifying. The Roald Dahl books were scary enough, but when The Witches came out in full colour in 1990, all our worst nightmares came terrifyingly to life. Iconic.
---
Medusa
A wig made entirely of snakes, and the ability to turn mere mortals to stone with just a glance. Now THAT is drag.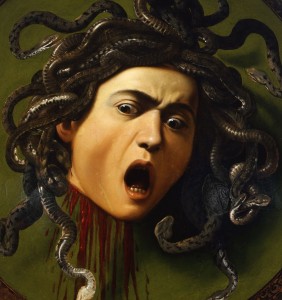 ---
Elvira, Mistress of the Dark
She has to be on every single list of the most devilishly camp Halloween divas. This film is full-blown 80s horror cheese, and we are here for it!
---
Every single Jessica Lange character on American Horror Story
Whether it's Constance Langdon, Sister Jude, Fiona Goode or Elsa Mars, Jessica Lange never fails to leave us gagging at the depth and bredth of her sheer evil in American Horror Story. Our personal fave is Constance Langdon, original terrifying bad bitch of AHS, and though Elsa Mars might not be the most iconic of those four charaters, she leaves us with a fabulous tagline for Mints presents Miss Zombie Drag Queen 2018:
"My monsters, the ones you call depraved, they are the beautiful, heroic ones." I mean.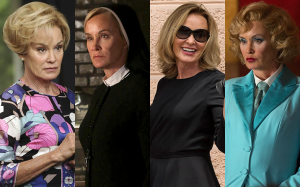 ---
Bette Midler in Hocus Pocus
If this movie wasn't a formative autumnal tradition every year of your childhood, have you ever even participated in Halloween? This 1993 comedy horror fantasy is just the perfect recipe of camp that we love at Miss Zombie Drag Queen. Ladies, take note.
---
Her Majesty the Queen
Notorious reptilian shapeshifter and royal leech of the people, her majesty Queen Elizabeth II might not be the campy glam icon we all deserve, but she's probably the most likely on this list to be an actual undead zombie creature. Sorry not sorry ma'am.
---
Anjelica Huston at Morticia Addams
Our babe Anjelica makes her second appearance as this scathing, ruthless matriarch with an unmatched contempt for pastel colours. She is pure unbridled gothic femme. And can we talk about those eyebrows?!
---
Meryl and Goldie in Death becomes Her
Name a more iconic duo… we'll wait.
---
The Craft
The original teenage badass witch crew, this is the cult horror film that kick started our obsession with the occult, and paved the way for Charmed, Witches of East End and other favourite ooky spooky pop culture hits. Fairuza Balk is the badass BFF that every queer deserved in high school.
via GIPHY
---
Grace Jones in Vamp
Grace Jones as stripper vampire seductress Katrina is the perfect icon for MZDQ 2018. All hail.
post-template-default single single-post postid-17340 single-format-standard tribe-no-js tribe-bar-is-disabled loading
TOP 10 ICONIC HALLOWEEN VILLAINS