Top 5 Fictional Nuns
Top 5 Fictional Nuns
16-08-13
By Slaggyland
The Sister Pantychrist team present our top 5 favourite, sexiest, fictional nuns ahead of next weekend's bank holiday Sunday Service...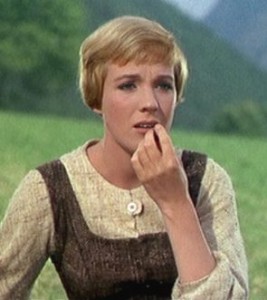 Sister Maria played by Julie Andrews in  The Sound Of Music.
On the surface it's a nice singalong family movie, in which we have Sister Maria running through daffodils with her big lesbian haircut and her androgynous looks. Then who can forget Rolf, a hot blonde Nazi messenger boy, who'll be legal in less than a year. Both of the brothers in the Von Trap family. And to be fair still not sure on the dad, played by Christopher Plummer.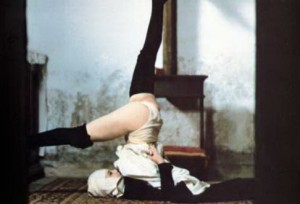 Sister Clara, Sister Valentina and Sister Veronica in the Walerian Borowczcyk film Behind the Convent Walls.
It's an art arthouse film about a hot zealous priest who arrives at a women's convent where super naughty nuns are funnily all lesbians, or generally just horny about particularly nothing. But who needs a plot when you have some serious nun fun going on.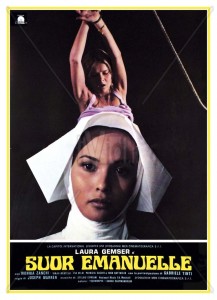 Emanuelle, played by the really fit Laura Gemsler, in the film Suor Emanuelle.
All of a sudden, conveniently so, Emanuelle decides to renounce her slutty past and enter a convent  to keep an eye on a sex maniac called Monica who, by the way, is in the convent because she slept with her young stepmother. Yes, I know. Of course, all the other nuns then start to question their own sexual repression and just generally behave slutty with each other in general lesbian fashion.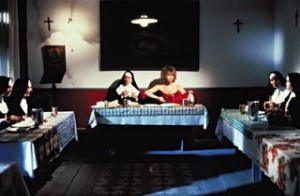 The nuns in Almodovar's Dark Habits.
Mainly 'cause they have names such as Sister Manure, Sister Damned, Sister Snake and Sister Rat of the Sewers. They also sit around smoking dope all day long, lovin' it. It's a comedy and although dark, not really sexualised, so they go on the list for sure by being so damn cool.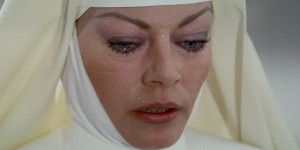 Sister Gertrude in the nunsplotation film Killer Nun.
Apparently a "normal" nun before some botched brain surgery, she nowadays goes around in her full habit and a face smothered in make up, killing men, looking for sex and occasionally jacking up on morphine. A bad ass nun.
Join the SPC team for
Sister Pantychrist
this bank holiday Sunday 25th August at Dalston Superstore from 9pm - 4am.
post-template-default single single-post postid-5367 single-format-standard tribe-no-js loading
Top 5 Fictional Nuns