Trax Couture Clothing
Trax Couture Clothing
07-01-14
Party, record label and now clothing line House Of Trax has become an east London institution over the last two years with a reputation for bringing both underground and top US acts over to London for their debut performances and DJ sets. With the label now in full swing, promoter and resident DJ Rushmore (Matthew Thomas) now presents the apparel branch of what is quickly becoming a multi-faceted brand.
With the House Of Trax 2nd Birthday Party at Dance Tunnel just around the corner, we caught up with Matthew to discuss the new line and has kindly given us the (unisex) t-shirt shown above to give away in either a size M or L. Enter your details into the Google form below by 5pm Thursday 16th January to be in with a chance to win.
*Only the winning entrant will be contacted 
Plus check out this Alden Tyrell tribute mix ahead of the party at Dance Tunnel...
Okay, we'll start simple… what clothing labels do you tend to personally gravitate towards? Whether in terms of ones you are attracted to or even wear yourself…?
Matthew Thomas: Ok so, local UK label Cottweiller is a firm base for clothing that I wear. They are friends of mine but I do massively champion what they do.
Certain pieces from streetwear staples like Supreme and Palace also.
I work for Puma so I tend to wear training wear, and some of their lifestyle clothing too, including fashion collaborations such as Hussein Chalayan and Mihara Yasuhiro. And currently for the last four years on my feet have predominantly been Puma.
Outside of that, basics from Uniqlo of course... as well as timeless staples including Alpha Industries, North Face. And then some more US bits and pieces from Hood by Air, DKNY, and Opening Ceremony...
I think that pretty much covers it all off. Old designer vintage pieces too as and when they come about... I am somewhat a hoarder so some of mine own vintage too! Haha!
So House Of Trax: from party to record label to fashion line. Is this a natural evolution or has it always been part of the game plan?
This has always been in mind from the offset. It was just more about finding the right time to take those paths really. We think a lot of it all goes hand in hand... and ultimately it's an extension of our interest and personalities. So I suppose a bit of both then.
The HoT parties have previously had guests like Venus X of ghe20g0th1k who obviously has a strong sense of aesthetic- have these type of guests influenced the clothing line in any way?
I think she has yeah. There's definitely an influence from the ghe20g0th1k culture for sure and what she has been creating and standing for in the US for some years now is awesome.
Any other guests that have had an impact on the line?
I mean another obvious one is MikeQ and the whole vogue scene in general, which is a massive inspiration to us as a sound and culture that we try and support and appreciate for sure.
The tshirts and baseball shirts seem quite unisex in their design- do you have plans to specialise into either womenswear or menswear or are you keen to keep it androgynous?
Yeah, the idea is to try and create something that can be worn by either gender really. No plans to specialise just yet. It's still super early days and ideas are brimming right now. I think as time goes on naturally we will be able to produce more and wider variety of styles and graphic designs.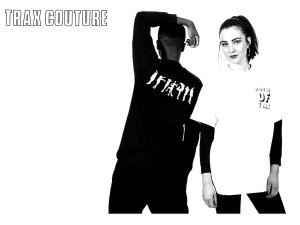 Can you tell us a bit about the lookbook- who shot it and what was the overall feel you were going for?
Ok, so the look book was shot by Cormac McGloin, whose work is really great, he got what we wanted. It was a simple studio shoot with the emphasis on the clothing and an attitude that we wanted to convey...
It was lightly inspired by early '90s Versace and Moschino ad campaigns. Although, those campaigns were quite vibrant with colour etc, the aesthetic of ours is more black and white. It was more the layout and composition of the pages / shots and poses that were the inspiration.
We wanted simple portrait shots with obvious branding and character to prevail. That was the feel we went for.
And how would you sum up the attitude you wanted to convey? The ethos of the brand?
I think the attitude of the brand is proud, fun and ballsy with the will to do different things, things that haven't been done before...
At least from our perspective anyways.
Aesthetic is everything these days, with the underground feeding the mainstream (without publicly acknowledging it)… what's your thoughts on that, and how do you intend to stay fresh and culturally relevant?
Yeah totally agree, especially with the internet and some of the massive corporate giants that can turn things around quite quickly... from catwalk to high street before the couture brands hit their own stores you know… It's changed. A lot...
I think the main thing is to have a unique identity and having a point of view is also a good start. I mean, if that's all genuine then your definitely not bandwagon-jumping. Time is the truest test in some respects.
Although even in today's market things can come and fade away without people even realising. It needs to be combination of differentiation and the right amount of exposure and then acknowledgement... for the relevance piece... but as I just said, I think if you're a certain type of person / have genuine ideas, then they will continue and last and you will build up from what you believe in.
I think that is what will keep something relevant and fresh... coupled with the will to evolve.
That's a bit deep haha.
No it's great! So let's talk about the parties.
YES Parties! How fun are they! So much fun!
They're renowned for bringing over a lot of key US artists to London for their debut. Who was the most difficult to pull off and why?
Oofff…..
Maybe logistically speaking...?
Ermm....
So Deejay Earl was a tricky one because we had work certificate issues. He was stuck in Paris with like three hours before the show, and I had to pull a few last minute strings to get it all sorted for him and his dancer. They made it - it was all good and they put on a sick show.
And they're both dudes!!!
That was a funny one… Another historic one was DJ Assault in February this year. He stayed at my house for a week.
I was just about to ask who was the most memorable!
He's a ghetto legend.
Would you say he comes under MOST MEMORABLE GUEST EVER?
It's a tough call between him and Tyree Cooper to be honest.
Why was Tyree memorable?
He's just a straight up OG and fucking legend! Hands down.
From the moment we meet him at the airport, to the moment we dropped him back off, it was a pleasure all the way. So hyped to be hanging with him again in January.
We just hung and talked old stories, all of his stories obvs... talked old music, Dance Mania, shows...
And he's the guest you have in store for your Dance Tunnel date?
Yeah him and Alden Tyrell this month...
Tyree and Tyrell.
Nice little ring to it eh?
Hahahahahahah.
It's gonna be madness. Okay, last question.
Where and when can we get some House of Trax t-shirts?
You will be able to cop them directly from our website as of now. Possible other outlets soon.
Join Matthew Thomas aka Rushmore for the House Of Trax 2nd Birthday on Friday 17th January at Dance Tunnel from 10pm - 3am.
post-template-default single single-post postid-6302 single-format-standard tribe-no-js loading
Trax Couture Clothing