VIEGAS at mints
VIEGAS at mints
29-01-19
Ahead of his basement debut at Mints this Friday VIEGAS had a little chat with promoters Jon and Emma!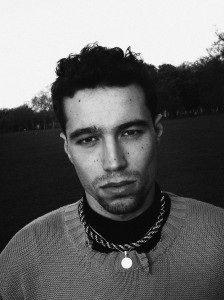 Hi Viegas! We are so excited to have you for your Dalston Superstore debut at the next Mints! Can you tell us a bit about yourself?
Thank you for having me! Come from the suburbs of Lisbon, just finished a photography course, currently work at the contemporary/modern art museum of Lisbon and at Radio Quântica which is the Portuguese community web radio, and have been djing for the last few years.
You are one of the organisers behind Lisbon queer party institution Mina – can you tell us about the collective and what inspired you to start your own party?
 mina is the daughter of two vital Portuguese underground projects. My friend Pedro Marum had long ago started this night that turned into an artistic experimental space called Rabbit Hole. Lisbon was, and still is, a place of prudeness and there was lacking a space where the boundaries for our pleasure were defined by mutual respect instead of being forced by a corporate institution. One of the nights that Rabbit Hole hosted was called Barghain, as a pun for the Berlin club but with a cheap price, and that was a huge success. Violet and Photonz  played one of those nights and loved the vibe. I was collaborating with Rabbit Hole back then and Pedro invited the three of us to start this night that would soon become mina. Two years later, the party is now organized by 13 people and supported by hundreds of queers that attend every event, wherever they happen.
You guys recently joined forces with Berlin-based queer party collective Lecken for a rave on NYE at Fully Automated Luxury Oblivion. We can only imagine the madness… How was it?!
Unfortunately I missed that event but from what I've heard it was wild.
You are closely involved with Radio Quantica, the radio platform run by Superstore favourites Violet and Photonz. How did you guys come to be working together?
 It all started with an invite from Varela, who is also an Icon and dj from Lisboa. He was part of the radio since the beginning and invited me to be a guest at his show. After that Inês and Marco heard me play a couple more times and asked if I wanted to start my own show. Since then they have been really supportive and kind.
Which record isn't leaving your bag at the moment?
Play009 – D for Doggo, by dokter doggo.
What is the best thing about the Lisbon electronic music scene?
 The most interesting things are happening in the fringes, either created by the sons of the African & Brazilian communities (Príncipe Label is the perfect example) or the Queer kids, influence by a global web culture, starting to produce and self-release their music in platforms like soundcloud. There is still a lot of work to be done because most of these people don´t have a regular place to showcase their music.
 What is your earliest musical memory?
 From a very young age my mother used to take me to this big communist party that happens every year in Portugal. The melody from "carvalhesa" which is the trademark of the event is in my head since I can remember.
 Who are some of your DJ inspirations?
 BLEID from mina, Aggromance (and the whole Hiedra Club de Baile), Tzusing, Lsdxoxo and Bala Club collective from London are some of my favourites at the moment.
Can you tell us about some of your Portuguese peers who are doing exciting things at the moment?
 BLEID inspires me a lot. She produces and djs and her sets range from noisy ambient to gabber, and everything in between. Odete is also a key figure in our scene. She was one of the first to mix pop music with more experimental and forward thinking electronics and has just released her first Ep "Matrafona". Kerox is also somebody to look up to. He owns the sickest tunes and just released a banger called "Braved the storm". Fabaítos  and Stasya have been uploading really good music on soundcloud (Listen to Paradisis, fabaítos first Ep or Stásya´s Túmulo).  Yzhaq and Shade are also starting to mix and to produce (along with Odete and Stásya they've created ÇIRCA, also a name to remember) and I´m really excited to hear what they have to say. RS Produções (from príncipe) have just released a mad ep called Bagdad Style and are one of my favourites from the label. finally DJ VENENO666 is my latest obsession. His soft and melancholic take on dembow infused rhythms is sometimes the only thing I can listen to.
 If you had a time machine and could go dancing anywhere/when, where would you go?
Grace Jones' 30th Birthday Party.
 Do you have any exciting plans for 2019 that you can tell us about?
Have some ideas for both individual and collective projects that hope will come into form, also have a couple of dates planned outside of Portugal. The Dalston gig will be my first this year so this is a nice start :)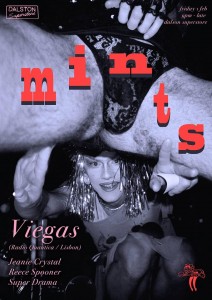 post-template-default single single-post postid-19317 single-format-standard tribe-no-js loading
VIEGAS at mints