Virgin Xtravaganzah
Virgin Xtravaganzah
18-04-19
Virgin Xtravaganzah is our absolute favourite. Find out a lil bit more about her here, ahead of her drag brunch this Saturday.
So why the Virgin Mary been the inspiration for your drag?
She was a little queer growing up in Christian small-town America. Need any more reasons? Ha! To be honest though... I've always been drawn to strong females in literature and pop culture- Elvira, Ursula, The Wicked Queen... Mostly villains I suppose. But The Virgin Mary is definitely the leading lady of the Bible and so I was drawn to her. But there was hardly anything about her in the bible, she only has 14 lines dedicated to her in it, so she's kind of a blank canvas. So Virgin Xtravaganzah was born!
You've got a really unique// subversive performance style, has that always been your style// how did it develop?:
I'm a rebel at heart. I never like doing what other people are doing. So if I see the majority of drag queens who are my contemporaries lip synching and death dropping and doing all that stuff- I'll do the opposite. I'll sing live, never sing the words as written, and make it my own thing. I like shocking people in a way that goes beyond just shock, and actually makes people think.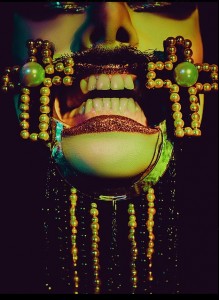 Where do you really love to perform// where have your favourite places to perform been?
Well, I LOVE this place called the Karaoke Hole! ;) I also love performing my solo shows at The Glory, my variety shows at The Royal Vauxhall Tavern, and I'm lucky to be able to travel, so I love performing abroad. I've been to Switzerland 4 times this year which has been wonderful! I also love performing/MCing for Torture Garden- who is taking me to Rome in May and New York in June!
How is 2019 treating you so far? What are your plans for the rest of the year?
Gurl she is BUSYYYY!!! She's traveling the world, spreading the love, and doing much #StruttingWithChrist! I have recently entered into a partnership with The Lalit hotel in London Bridge where I will be curating their weekend of Pride events, and also New Year's Eve. A lot of other exciting things too... Watch this space!
Your LEWKS are iconic! Where do you draw your inspiration for them?
Everything Catholic. I love the drama of catholocism, it's so OTT and lavish.
You've performed and are a regular host at Torture Gardens. Is Fetish an element you've recently started to work with?
I've been MCing for TG for a couple years now, and yes it's led to me working with other fetish nights such as Antichrist (I know, lolz.) where I will be MCing in August. I love the fetish community... in many ways, the fetish spaces I've worked at have been the safest spaces. People understand consent in spaces like this, so they are- generally speaking- very respectful to work in.
Its Easter, which means one thing.. Jesus. How does it feel having your son steal all of the limelight?
Bitch, he don't! That bitch is dead and gone and it's time for MARY to to shine! I mean.... he's gone until Sunday I guess, and that's when shit gets really #AwksWithUndeadChrist..... yikes.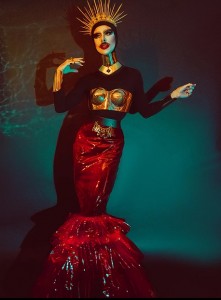 If you could invite anyone from the past or present to a dinner party, you know a 'Last Supper' if you will, who would it be?
I would invite: The real Virgin Mary, and give her a microphone, and say "Bitch say whatever you wanna say. I give you space. Thank you for all you have done for me, so now I want to let you have a voice. Bitch, moan, I don't care. Or we can just get crunk and dance." After her, Marilyn Monroe, Lillith and Eve. I'd love a three-way discussion on feminism from those three ladies. Pow!
What would you serve on at this dinner soiree?
Lots of tequila. Red wine might be too triggering for The Virgin Mary for obvious reasons....
What can we expect from your premier Drag Brunch with us?
A lot of spirituality, ridiculousness, ranting, raving, elaborate headwear, and watching me to try eat without smudging my lipstick. It's fun for the whole Christian family!
Images by Magic Owen
post-template-default single single-post postid-20428 single-format-standard tribe-no-js loading
Virgin Xtravaganzah