Voices Agency
Voices Agency
24-05-12
ReviveHer welcomes the brains behind the Voices DJ Agency into the Superstore this Friday night. The agency is a collaboration between London DJs Alex Pewin (who also curates the Voices parties) and Lazermagnetic's Johnny Hillier, the pair look after a stable of internationally renowned DJs with some serious pedigrees behind them including past-Superstore guest DJ Nature and former Paradise Garage resident Victor Rosado. We caught up to dig deeper into the Voices sound...
You have some real legends on your roster - how did you come to meet Victor Rosado and DJ Nature? 
Alex: I had been aware of both of Miles (Nature) and Victor, their important contributions to music and club culture for many years prior to friendships being forged, which coincidentally is something we have first. Then we are naturally real fans of that artist, their music and their vision in terms of DJing and production. Victor always stood out for me as someone who had this amazing musical sensibility in his DJing. He would program music that would make sense musically for the dancer, but also convey a message lyrically through his selections, which is no easy feature at all... he can really connect with you on the floor through songs but also through instrumental music on its own or via a combination of both. It is something that he has mastered. It's made a real deep impact on me, as I'm someone who always looks for more in music and how to convey it to people on the dance floor. Victor has also always been known for playing something a little different too, there are many records that were played at both the Garage and Loft that Victor had discovered and shared with both David Mancuso and Larry Levan. These records became staples of their club's playlist, this is something a lot of people don't realise. His ear can be very left of centre, which is good with me as well haha...
So getting back to your original question...sorry haha… I met Victor first through David Mancuso after a trip to the New York Loft party a good few years ago... Victor was cooking his favourite lasagna dish as part of his contribution to the party. We struck a good friendship, which has continued to this day and has led to us representing him through the agency.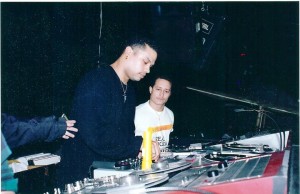 I met Miles (Nature) a good few years back, but had been aware of his involvement with the Wild Bunch Soundsystem (who later became Massive Attack) since my school days. I had a friend whose brother used to run with Soul To Soul when they were a Soundsystem and I always remember seeing this great flyer on his wall...Soul To Soul Vs Wild Bunch...this would have been 87-88. I had also worked for Stussy UK for a long period and Michael K, my boss at the time, introduced me to Miles whom he had been friends with for many years.  We approached Miles much later in terms of work; he is also someone with a great ear for old as well as new music and has not aged at all like some DJ's sometimes eventually do. He is also extremely current, very underground and creative as a DJ, and that has continued and can be heard in his productions as DJ Nature. We also both love a good Soundsystem, so we have a few things in common!
What is the Voices Agency philosophy and is there a common thread that identifies your artists?
JH: Each of our bespoke artists has a unique VOICE - a sound, creative vision and entertainment quality gained through many years of dedication and experience playing at some of the best clubs around the world. Individually, our DJ's and producers have developed their own trademark sound, and are not driven by trends, but inspired by musicianship and art. Bobby Viteritti, Victor Rosado, DJ Nature, Rahaan, Lee Douglas, Lord of the Isles, Perseus Trax and Gatto Fritto, plus more exiting ones to come! Many have influenced or shaped a certain subculture. At the same time, our artists are looking into the future and by applying their rooted knowledge and interpret it with the inspiration current electronic music and technology has to offer, hopefully will inspire tomorrows VOICES. We, the Voices Agency would like to assist our artists to grow professionally by exposing them to new situations and nurturing their careers via relationships with other like-minded people. Could that like-minded person be you?
'A common thread?'... Yes most of our artists are very knowledgeable... Bobby is a master of the sleaze sound otherwise known as morning music, Rahaan is globally known for being a world-class boogie expert, Nature can throw down an obscure New Wave set and Perseus Trax has created many retro Chicago house future classics and LOTI has had a tons of release out in the past 10 months. There is a cross-over point with many of our artists, even if they don't know so yet, we do...haha! Seriously each of these artists has easily played a trademark track of one of their peers at some point in their sets - probably without knowing so. What unifies them is a leftfield ear for music and the ability to stay far away from the hype or trends and do their own thing. They are all extremely all open-minded artists and this is the one quality we've been looking for in our search for talent. Individually, they embrace many different forms of quality dance music, but are aware of different situations and can adapt to play for a particular audience, whether it's an eclectic set or contemporary electronic one. Essentially they are party DJ's with plenty of secret weapons of heat, as much as they are world-class collectors.  We hope that we can push boundaries in the future by joining the best elements, shake 'em all up and enjoy the fruits of new collaborative outcomes.
Voices have their own sound system... Is the understanding of sound a lost art among DJs?
Alex: I don't think the understanding of sound is lost among DJ's as such, a lot of DJ's are aware of sound and the formats they use to play music to their audience, their tolerance for good sound has been lowered though as we live in more disposable, downloadable times - the introduction of MP3's, something I'm not adverse to either, just a sign of the times. I think club/venue owners are also responsible though in terms of their focus on good sound at their venues. Over the years in this city, apart from room one at Fabric or Plastic People whose owner want to settle for nothing less than amazing sound. Plus some sound guys I know such as Mickey Boyle who helped us with the Voices Soundsystem. Lucky Cloud (London loft party based on David Mancuso's legendary NYC party) Beauty & Beat who are an extended part of our crew, there are not many others...I think that many people have not experienced really good club sound in their clubbing lives yet and I advise them to indulge themselves at any of the parties listed above for a few reasons. The better the sound the better the experience and better the memory, music is special so try and hear it the best way we can.
JH: Once you have experienced good sound culture, there is no way back! The set-ups at some of the best clubs during the heydays of NYC's and SF clubs in the '70s is well documented, and engineers like Richard Long, the Greabar Soundsystem, Alex Rosner were responsible for developing quality set-ups in large clubs. First generation DJ's like David Mancuso are known for taking the audiophile approach at his Loft parties to a wider audience, using Klipschorn Speakers in combination with high spec turntables and phono pre-amps only to enhance the experience for the listener and dancer. On a good system you will be able to hear and discover parts of a recording that you previously hadn't noticed, another feature of a good system is that whilst it is playing music out clear and at a healthy volume, you will still be able to chat to the person next to you. No ringing ears or fatigue at all!
But what was also cultivated in those days was the perfect DJ booth for the resident DJ's, a place or haven where they could go to work and play long sets, develop and master the art of programming and manipulating the crowd with the effects that were give to you at the time. One of our DJ's on the roster, Bobby Vitteritti, resident at SF's Trocadero Transfer from 77-81 would play on the Greabar System and his beloved Bozak mixer to take crowds up and down, whilst working closely with his lighting man to create dramatic effects during his 10 hr sets. His technique of mid-range blending is stuff of legends and his specific playing style was also being advocated at iconic NYC clubs like The Saint. You can say that the development of a specific sound, genre and subculture (in his case: high-NRG disco, morning/sleaze music, dance floor drama, physical expression and visual definition of gay culture) was the direct result of the vision of the owner and the DJ's. All this was made possible by creative use of good sound, in fact so much that it still lives and is celebrated on today via certain club nights around the globe (Horse Meat Disco/Honey Soundsytem etc).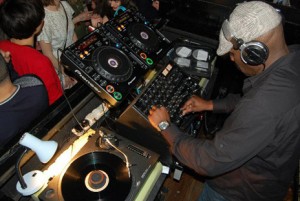 Moreover, these specific platforms, or 'way of life', allowed the DJ's/residents to play a certain way to the audience, allowing their music to breathe. The sonic qualities of rotary mixers for example is superior to most mixers on the market today, you get the punch and warmth at the same time and another important point is that once you are given these tools you'll opt to play certain records, because you know that they come to life at a club with the right sound. But this insight is not restricted to the past - In my opinion, DJ Nature's deep, yet raw sounding sets require a good system (as much as Theo Parrish does) to accentuate his sound and showcase his talent to maximum effect! In this respect an understanding of sound is still prevalent by those who have experienced and fully believe in it. But every piece of the puzzle has to come together, so you, the crowd gets to feel the desired effect.
Unfortunately, there are still plenty of DJ's that think really loud equals really good. I've come to learn that a lot of quality DJ's do insist on a sound check before their gig, it gives them idea how far they can go or what the dynamic of their gig could turn out to be. Now I'm not saying that there aren't great DJ's out there that can't pull things off by being spontaneous, but it really helps taking these cues in!
Also, today's production techniques allow easy access to any producer to use tools such as vintage warmers and compressors to help breath life into production and you can hear this quality in extra punch and kick. Contemporary NYC DJ/producer Lee Douglas who is on our roster is one such example. He embraces certain production aesthetics from the '70s, but has developed a forward thinking sound that is not easy to pin down (it kind of keeps developing and mutating every year), but he has high standards and he doesn't choose the easy route of playing the latest re-edits to rock a party. Rather, he uses current production techniques to get the best sound out of both worlds!
There are still plenty of clubs around that have great set-ups. I've had the pleasure of playing at Japanese clubs like Air, Module or with Kamome Soundsystem in the past, all of which were built on the former NYC models, but combining that with the best of today's technology at the same time. Alex already mentioned Fabric's Room1 and Plastic People… clubs like Robert Johnson in Frankfurt and Cookies in Berlin all have amazing DJ booths and a range of quality mixers to choose from and it literally is a joy to 'go to work' – great vinyl set up with 3 decks… all the trimmings, isolators, effectors! A good sound set up!
So what we have today is a landscape of many music lovers (producers, DJ's promoters etc) understanding and applying individual aspects of the sound stage from production to set-up, but not always with all the elements come together. We all know that the priority of most club owners is given to other aspects of the club business, other than prioritising good sound as part of their vision. Now some might say that we are idealists that care about sound but don't chase the dollar. In most cases the businessman doesn't always care about sound first, but money. And here is the crux of the matter. IT DOESN'T HAVE TO COST MUCH TO ACHIEVE GOOD SOUND, just do your research before you spend your money, develop an understanding of the fundamentals, rather than settle with buying or renting set-up's off the shelf, or because you are led to believe that certain brands are in vogue! Good sound should be final piece of all pieces to the puzzle and the messenger. Everyone in the production chain has put efforts into the end product, so why compromise at any one stage?
Here's a quick formula on how things could be improved in an idealistic world: club owners and promoters need to honor a few fundamental principles and start thinking about it all BEFORE money is spent. Without getting too technical, if you take into account the specific room acoustics and apply optimised speaker positioning at the venue, this amounts to 25% already. The next 25% can be achieved through applying the various (inexpensive) treatment and sound insulation options (25%) to get a good acoustic room behaviour. The installation of an adequate sound system for that room adds another 25% to the sonic picture, and finally if you allow room to fine tune the system to suit the DJ's sound (25%) then you are there. Now an average sound system will sound much better in an acoustically treated room, more so then the best sound system money can buy will do in an acoustically non-treated room. A good sound system will sound excellent when all elements are in place and will bring perfect happiness to all exposed to it, as long as the DJ can play well, haha.
Finally, to make all this happen what is needed is a sense of belief, commitment and longevity in sound from club owners to give a meaningful platform for artists to develop timeless art.
Describe your perfect evening in a discotheque - where is it? Who's playing? Who's on the dancefloor? 
I'd take a spaceship back in time to see Roy Thode (The Saint), Bobby Viteritti (Trocadero Transfer) and Ann Margaret spin at the Billboard Disco Convention in 1978 in LA....
One night at the Music Box in Chicago circa 1985 with Ron spinning with Rahaan when he was starting out as a dancer!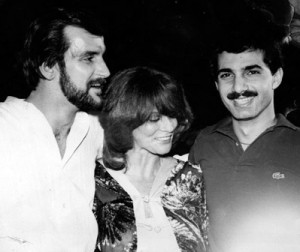 Trocadero Dancers
Visit the Mudd Club in circa 1980 in NYC: Michael Holman, Klaus Nomi, Henri Chalfant , Chris Stein, James Chance on the dancefloor.
You can listen to artists on the Voices roster via their Soundcloud and keep up to date with all their latest news through their Facebook group.
 Catch both Alex and Johnny of Voices Agency playing at ReviveHER takes place this Friday 25th May from 9pm - 5am with Lord Of The Isles, Gatto Fritto, Men & Machines and the ReviveHER residents.
post-template-default single single-post postid-1598 single-format-standard tribe-no-js loading
Voices Agency