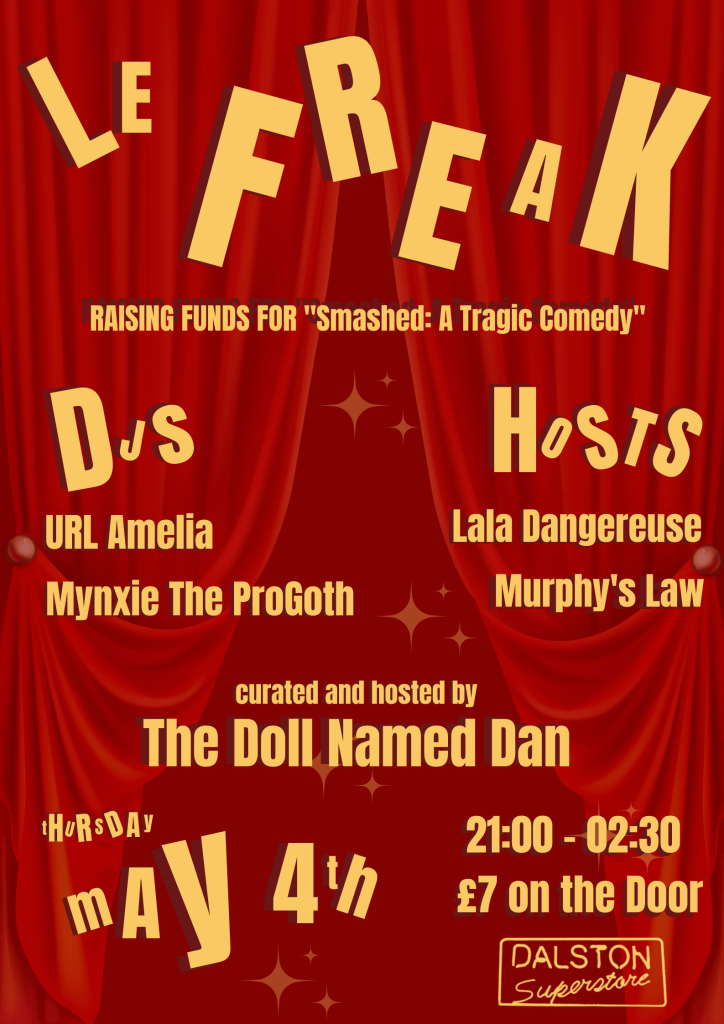 Le Freak
URL Amelia
Mynxie The ProGoth
Lala Dangereuse
Murphy's Law
The Doll Named Dan
Deep from the rotted mind of The Doll Named Dan comes Le Freak – the dance-pop club night of your dreams!
CURTAINS UP!! LIGHT THE LIGHTS!! Join us on May 4th for the ultimate disco extravaganza at Le Freak, the monthly queer club night that is dedicated to making a positive impact in the world. This month, we are proud to be raising funds for "Smashed", a groundbreaking play that platforms the Trans Community.
At Dalston Superstore, we'll be spinning the hottest disco tracks and throwing it back all night long. And the best part? Every penny we raise will go towards supporting "Smashed" and the talented trans+ actors and creatives who will be working on this important production.
"Smashed" is a play that tells the story of a young trans+ person struggling with addiction and their journey towards recovery. Through their story, the play sheds light on the challenges that trans+ people face in accessing healthcare, support, and love. By supporting "Smashed", we are contributing to the fight for greater representation and visibility for trans+ people in the entertainment industry.
Come on down to Dalston Superstore on May 4th for a night of disco magic and fundraising for a great cause!!
£7 ENTRY
Door Policy
Dalston Superstore is a queer space. We prioritise our LGBTQIA+ customers and will sometimes ask our straight & cis allies to support us by not taking up room in our venue. Please be conscious of who this space is intended for and be respectful. Never assume sexuality or gender identity. We will never ask personal questions on the door.
Low/no income access
We reserve limited spaces for those who cannot afford the standard ticket price due to being on low or no income. Please email hello@dalstonsuperstore.com to enquire.
Full venue access info is available here
Le Freak