Access Statement
Contact Details
We aim to respond to emails within 24 hours.
Postal and street address:
Dalston Superstore
117 Kingsland High Street
E8 2PB
02072542273
(At busy times we can't always get to the phone)
Opening times
Monday: 4pm-12am
Tuesday: 4pm-2am
Wednesday: 4pm-2:30am
Thursday: 12pm-2:30am
Friday: 12pm-3am
Saturday: 12pm-3am
Sunday: 12pm-2am
Booking a table
During the day, entry is free. You can book a table here!
We offer table bookings, and table service until 6pm every day.
After 6pm, it is bar service only.
From 9pm on Fridays, Saturdays, and on some other evenings we charge entry at the door. Please check our events page for more information.
Concessions, access worker & PA entry
Our club nights run from Wednesday – Saturday, and generally charge an entry fee between £6 – 10. It is usually free to enter before 10pm.
We offer free concession tickets if you are on low or no income. We offer free entry for PAs or access-workers.
To arrange free or concession entry, please email us ahead of your visit.
Getting here
Dalston Kingsland Overground Station:
160 m distance, step-free access to street level.
Route to venue consists of 2 road crossings, all with dropped kerbs.
Dalston Junction Overground Station:
482 m distance, step-free access to street level.  The route to venue consists of 4 road crossings, all with dropped kerbs.
Rio Cinema Bus Stops S & T on routes 67, 149, 243 and 488:
24 m distance. The route to venue consists of no road crossings from north-bound routes. 1 road crossing from south-bound routes with dropped kerb.
Dalston Junction Bus Stops G & E on routes 30, 38, 56, 76, 236, 242, 277, N38, N242 and N277.
482 m distance. The route to venue consists of 4 road crossings with dropped kerbs.
We do not have any on-site parking. The nearest car park is 200 m away on Gillet Street. Disabled Blue Badge holders can park for free. The route to venue consists of no road crossings.

When you arrive
We have security at the entrance most evenings. Security operate a 'challenge 25' policy, and may ask you for ID. We operate a 100% bag search policy for entry, which means security will ask to look in your bag if you have one.
On a Friday and Saturday night, we conduct body searches, which means a security guard will check your pockets and clothing. The security team should ask your consent before the search happens, and offer a choice of which security guard performs the search. You can ask to be searched by a security guard of the gender of your choice, without challenge. On Sunday to Wednesday, there will be no body searches.
There is currently no COVID-19 entry policy, but we ask that you do not attend Dalston Superstore if you feel unwell, or present with COVID-19 symptoms.
The venue space
There is one 20 cm step up to the entrance from street level.
We have a ramp available, please let a member of the door team know if you would like to use the ramp.
The front door opens inwards and leads to a small lobby.
The lobby door opens out onto our main ground floor bar/restaurant area. There is level access to all facilities on this floor.
None of our doors are power assisted.
On Friday and Saturday nights, our downstairs nightclub room is open. This space is accessible by stairs only. The front stairs are a spiral staircase with 12 steps of 22 cm at the widest point. These steps are 1m wide.
The rear staircase has 2 flights of 8 steps, each of 20cm depth. These steps are 80 cm wide.
Our toilets
We have one customer toilet on the ground floor at the back of the venue.
There are more toilets downstairs, which are unisex and contain 4 cubicles and 4 urinals, separated by a partial door. The toilet cubicles are 60cm wide.
None of the toilets are wheelchair accessible
Lighting and sound levels
At night there are low lighting levels inside. The basement area is always very low-lit, and we use a dry ice/smoke machine, which impairs visibility further.
We sometimes use strobe lighting at night for disco vibes, particularly in the basement club room. Please let us know in advance if you would like us to avoid using either/both the smoke machine and strobe light.
The lighting uses colour-changing light settings and moving lights, so the lighting state changes regularly.
During opening hours, there is always music playing in the venue. During the daytimes and on non-club nights, this is low-level 'background' music played through the PA system throughout the venue.
On club nights we have 2 DJs playing, one in the upstairs space, and one in the downstairs club space, which is usually playing very loudly. We have disposable ear-plugs available for you to use, available at the bar.
The venue can hold up to 230 people at once during a busy weekend party, across 2 floors.
There are no designated chill-out spaces or quiet areas at Superstore, although on Thursdays, Fridays and Saturdays, there is a small welfare area available in the downstairs bathroom. There is no music playing in this space, although it can become crowded and noisy with people. If you think you may need to have somewhere quiet to go during your visit, we'd appreciate if you could let us know in advance by contacting welfare@dalstonsuperstore.com .
Welfare Provision
On Thursday, Friday and Saturday nights, there is a welfare worker at Dalston Superstore from 10:30 – close (11:30 – close on nights with a late license). They wear a bright pink t-shirt and matching cap, with the Dalston Superstore Logo and the word 'welfare' written. They might look something like this: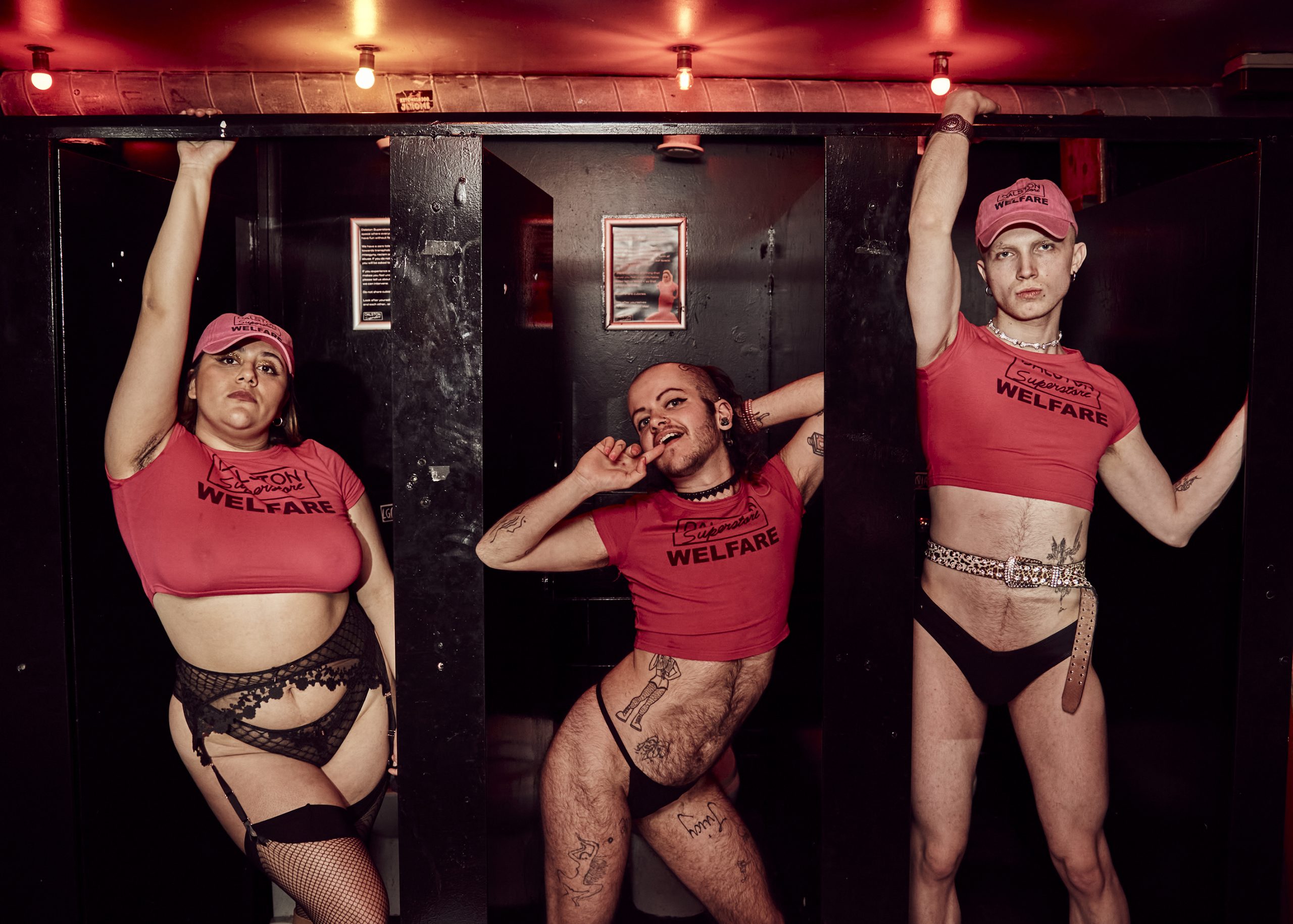 Dalston Superstore welcomes you to arrive with your whole self, with the assurance that the team is doing the best they can to hold space for whatever you may bring.
We invite you to check in with the welfare worker when you arrive, or at any point during the night if there's anything you'd like to share with them, whether a moment of celebration or a need for something to feel different. They're trained to share that with you! Any of the bar team can help you find them on the night, and you can also get in touch beforehand on welfare@dalstonsuperatore.com
The welfare team are trained to respond to all kinds of situations which may present during a busy club night. We approach every interaction from a place of non-judgement, and are there to support you to stay as safe and well as possible in the decisions you make. The welfare team is not there to 'punish' anyone, or unnecessarily remove anyone from the venue.
Some examples of instances when you might seek out a welfare worker include; situations relating to drugs or alcohol; feeling uncomfortable with the behaviour of another customer; experiencing an anxiety/panic attack; general questions about the night (e.g. closing time, help with safe routes home etc); lost phones/friends/other items. People also approach welfare workers for a general conversation.
Dalston Superstore is on a sharp learning curve when it comes to serving the neurodiverse community. We are learning fast and with huge enthusiasm, and welcome any specific needs or preferences you might have; we'll always do our best to accommodate you, and will be honest if something feels unachievable at that moment.
page-template page-template-page-legals page-template-page-legals-php page page-id-23231 tribe-no-js loading
Access Statement