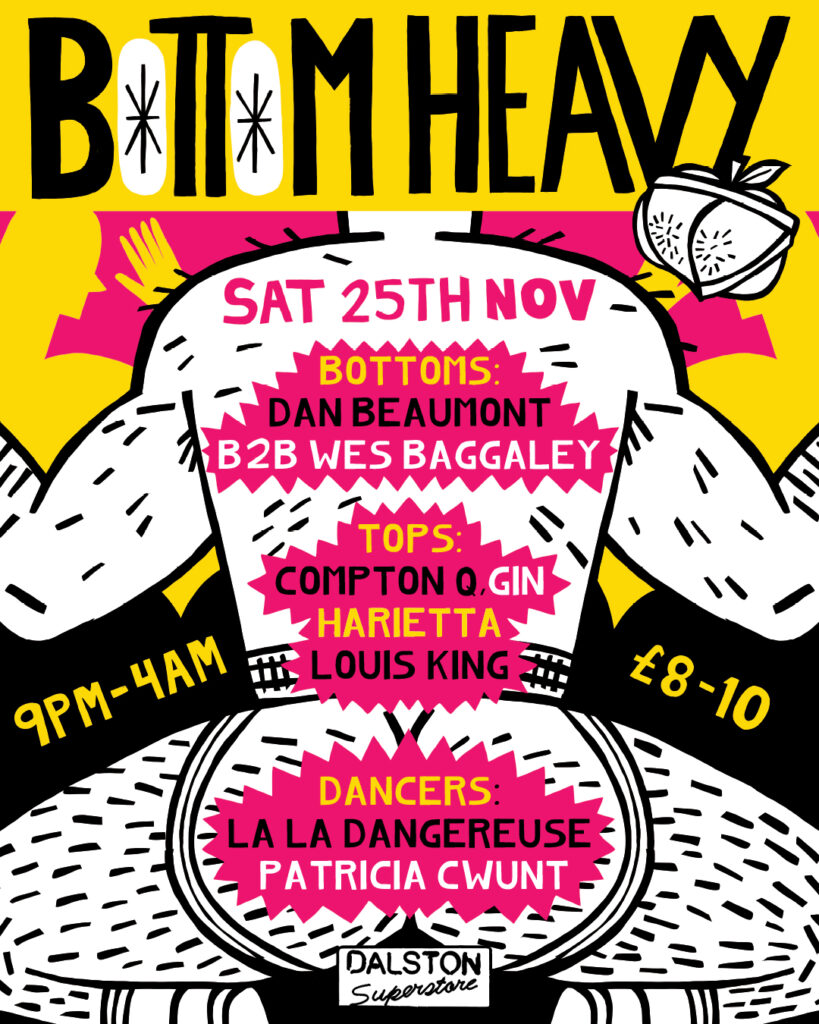 Bottom Heavy – til 4am!
dan beaumont
wes baggaley
compton q
gin
harietta
louis king
lala dangereuse
patricia cwunt
Bottom Heavy resident bottom Wes Baggaley is BACK all night long in the lazercave for another edition of Bottom Heavy, going B2B with Superstore daddy Dan Beautmont! House music for gays from Chicago and Detroit via Wigan!
On the top deck, local legends Compton Q, Gin, Harietta and Louis King serve up the noughty pop, house, disco and dance hits 'n' misses all damn night! FInally, shaking their bums on the bar will be double trouble East London icons Lala Dangereuse and Patricia Cwunt!
cum play xxx
£8 BEFORE 11 / £10 AFTER
Door Policy
Dalston Superstore is a queer space. We prioritise our LGBTQIA+ customers and will sometimes ask our straight & cis allies to support us by not taking up room in our venue. Please be conscious of who this space is intended for and be respectful. Never assume sexuality or gender identity. We will never ask personal questions on the door.
Low/no income access

We reserve limited spaces for those who cannot afford the standard ticket price due to being on low or no income. Please email 
hello@dalstonsuperstore.com
to enquire.

Full venue access info is available

here
Bottom Heavy – til 4am!