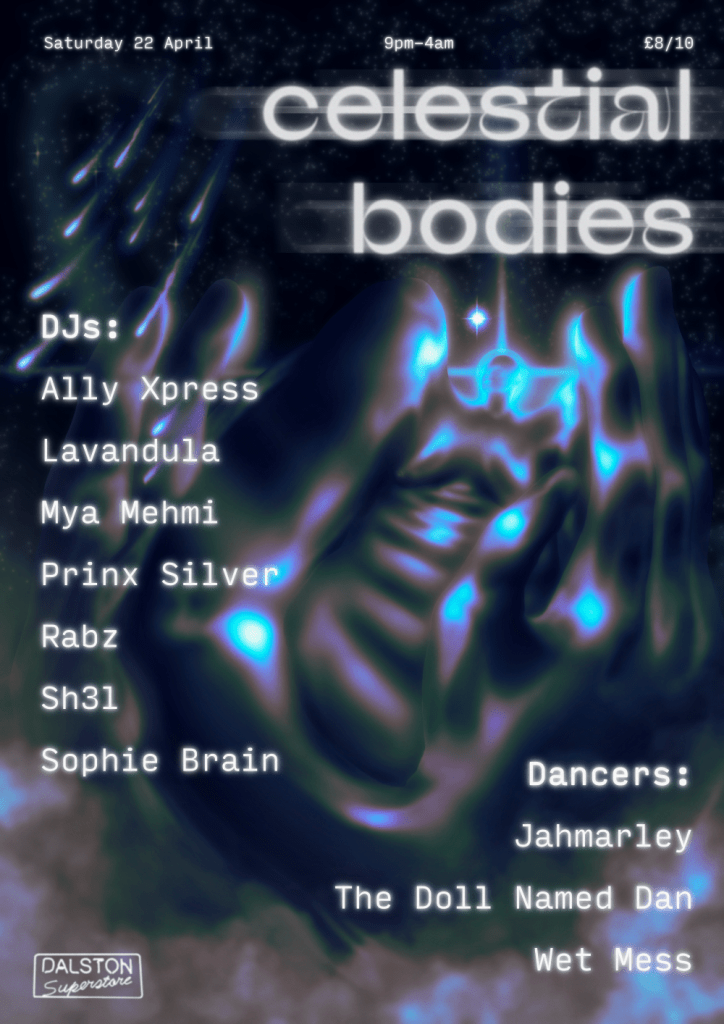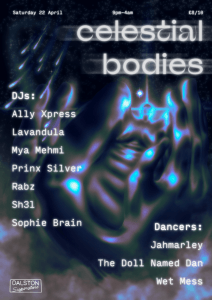 Celestial Bodies – til 4am!
Rabz
Lavandula
Sh3l
Sophie Brain
Prinx Silver
Mya Mehmi
Ally Xpress
The Doll Named Dan
Wet Mess
Jahmarley
Celestial Bodies ~ Transcendent States
Dalston Superstore is proud to present Celestial Bodies, celebrating and centering the talents of queer and trans artists! We invite some of our favourite rising queer talent to guide you skyward, in ecstasy beyond the body.
We are thrilled to welcome Rabz and Lavandula for their to the lazerpit debut, alongside Club Tantrum regular Sh3l. They'll be serving up a heady mix of house, techno, bass and more. On the top deck, expect an eclectic mix of queer anthems from Sophie Brain, Prinx Silver, Mya Mehmi and Ally Xpress, with performance and gogo action from The Doll Named Dan, Wet Mess and Jahmarley!
£8 before 11 /£10 after
Door Policy
Dalston Superstore is a queer space. We prioritise our LGBTQIA+ customers and will sometimes ask our straight & cis allies to support us by not taking up room in our venue. Please be conscious of who this space is intended for and be respectful. Never assume sexuality or gender identity. We will never ask personal questions on the door.
Low/no income access
We reserve limited spaces for those who cannot afford the standard ticket price due to being on low or no income. Please email 
hello@dalstonsuperstore.com
 to enquire.
Full venue access info is available 

here
Tickets
Celestial Bodies – til 4am!
tribe_events-template-default single single-tribe_events postid-30804 tribe-events-page-template tribe-no-js tribe-filter-live loading

Celestial Bodies – til 4am!

https://dalstonsuperstore.com

https://dalstonsuperstore.com/wp-content/themes/dalston-superstore