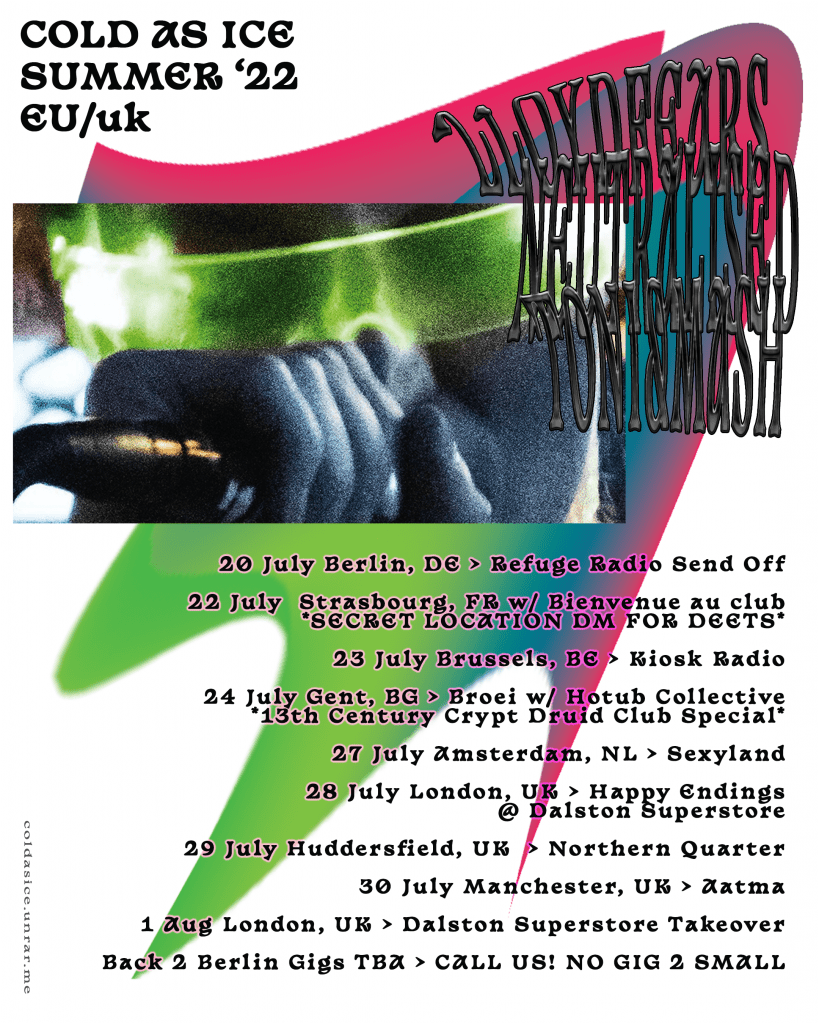 Cold As Ice live basement takeover!
Toni & Mash
FHUR
PBL.FYI
Lloydfears
Returning back to the original meeting place of 50% of the collective, COLD AS ICE CREW prepare to decimate the basement of DALSTON SUPERSTORE with the frantic clanging of your favourite 2000s ringtones all buzzing in UNISON. 
Silver cloud forecasts for our shared future pull apart the GRIM, and peer through the veil to find a hint of something SWEET. 
Stretching from neon trash RNB to joyful industrial GRIME with a touch of broad-shouldered BREAKS to finish, COLD AS ICE will leave you wanting more from these three lyrical live acts plus DJ, but unable to SWEAT anymore.
Berlin based German/UK duo TONI&MASH produce alternative R&B, pop infused tracks with complimentary vocal harmonies and the tightest hooks.The pair have been friends since 2012 when they met in Berlin, staying put in the city and creating music, videos, and live productions with their characteristic DIY aesthetic ever since.
London-based dark pop act FHUR blends dark, hypnotic synths and sultry vocals to create melancholic, longing atmospheres. The blur between what is real and what is not is at the core of her tracks, creating a grey space where dreams, desires and reality coexist. Let her music take you through the rooms of life, of the mind.
PBL.FYI (Peter Basma-Lord to their friends and enemies in meatspace) is a DJ, Producer, and visual artist. When not hacking together incongruous assemblies of electronics and code, you'll find them chopping up the heaviest bass and drums, piped through a computer by way of a noise machine. Often ethereal, always slamming, non-stop good-time break-weight meditation.    
Lloydfears is an artist from the North of england who is currently based in Berlin. Working in music, performance and spoken word, they are mostly interested in radical self improvement and carving a path towards shared catharsis.
Tickets
Cold As Ice live basement takeover!