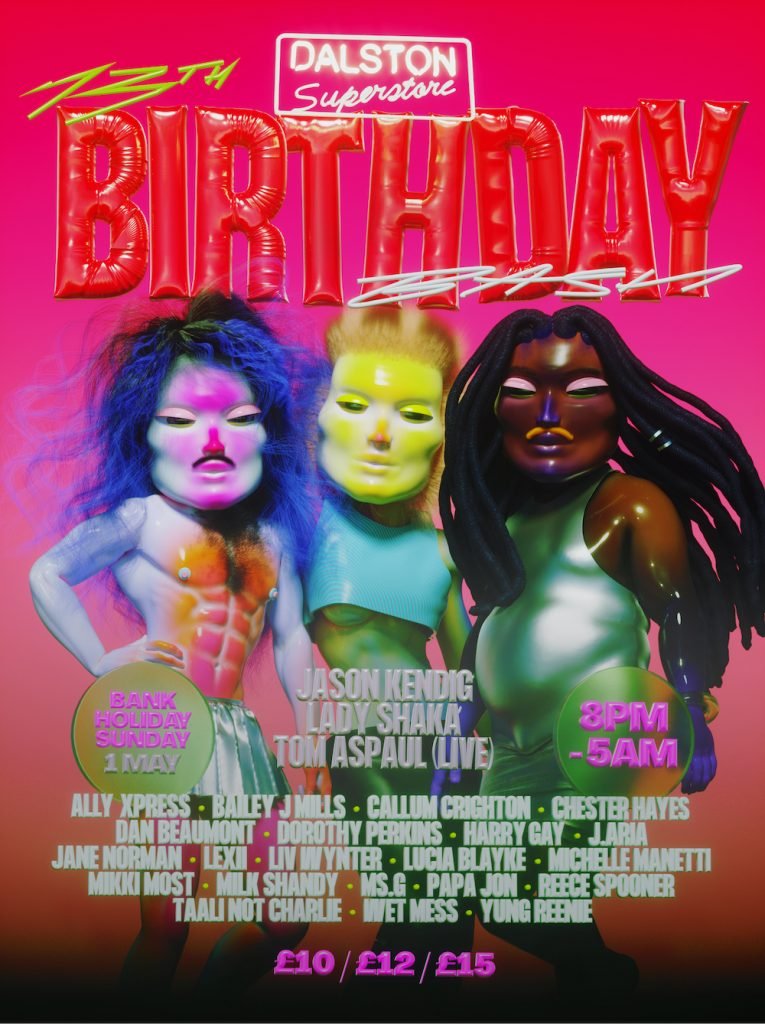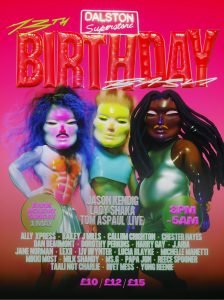 Dalston Superstore 13th Birthday Bash!!!
Jason Kendig
Lady Shaka
Tom Aspaul
Ally Xpress
Bailey J Mills
Callum Crighton
Chester Hayes
Dan Beaumont
Dorothy Perkins
Harry Gay
J.Aria
Jane Norman
Lexii
Liv Wynter
Michelle Manetti
Mikki Most
Milk Shandy
Ms.G
Papa Jon
Reece Spooner
Taali Not Charlie
Wet Mess
Yung Reenie
BOOM BABY!!!
The mothership is officially a teenager! Join us this May Bank Holiday for banging birthday bash to celebrate another year of East London's homo pleasure palace! We've got a stacked AF lineup of international superstars and resident DJs, performers and gogos to ring in another trip around the sun.
Rumour has it they might even be opening up room 3 for the occasion… AND we're rolling all the way through til 5am!
£10 after 9pm / £12 after 10pm / £15 after 11pm
Dalston Superstore 13th Birthday Bash!!!
tribe_events-template-default single single-tribe_events postid-28761 tribe-events-page-template tribe-no-js tec-no-tickets-on-recurring tribe-filter-live tribe-theme-dalston-superstore loading

Dalston Superstore 13th Birthday Bash!!!

https://dalstonsuperstore.com

https://dalstonsuperstore.com/wp-content/themes/dalston-superstore