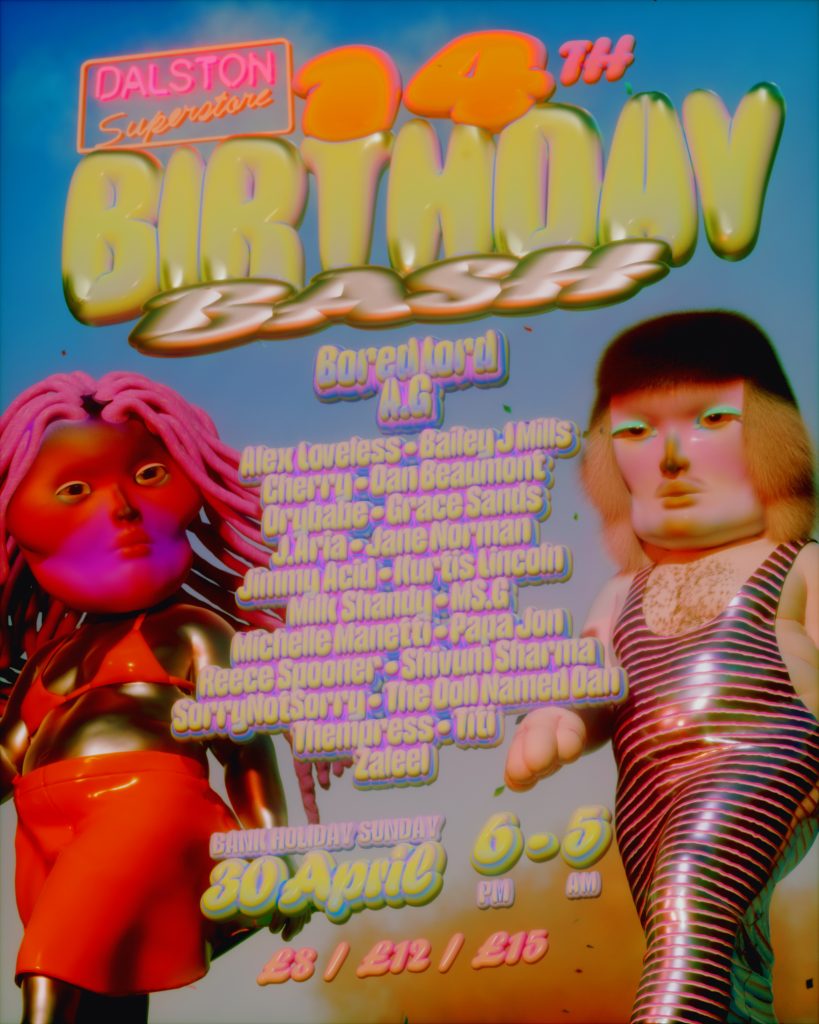 Dalston Superstore 14th Birthday Bash!
**PRESALE TIX NOW SOLD OUT. TICKETS AVAILABLE ON THE DOOR FROM 8PM**
East London's legendary queer pleasure palace Dalston Superstore is celebrating another glorious trip round the sun, and you are cordially invited to celebrate the big number FOURTEEN with her!
We've had a banging year full of special guests DJs, hot new local talents, gogo chaos and all-nonsense brunch extravaganzas, and it's time to cram all the best of Dalston Superstore into ELEVEN HOT HOURS OF MAD BIRTHDAY SHENANIGANS!
We are calling in our favourite lovers and friends to bring you the biggest and best birthday celebration yet, and inviting very special guests Bored Lord and A.G to help us celebrate! Expect drag debauchery, guilty pleasure screamers and mind bending bangers in the basement, rolling all the way thru til 5am!
PLUS the notorious Gauche crew are hosting the return of the (in)famous Room 3!
LAZERCAVE:
@bored_lord
@ayy_g
@msg_ldn
@michelle_manetti
@reecespooner
BAR:
@beau_mo
@drybabe
@milk.shandy
@jimmy.mcc
@sorrynotsorrysundays
@thempress._
@_zaleel_
ROOM 3: @gaucheldn TAKEOVER
@justgrace7
@_j.aria_
@s.hivum
@jane.norman.official
@kurtislincoln
GOGOs:
@baileyjmills99
@its.cherrybaby.xox
@boogertitith
@thedollnameddan
£8 AFTER 8 / £12 AFTER 10 / £15 AFTER 11
Door Policy
Dalston Superstore is a queer space. We prioritise our LGBTQIA+ customers and will sometimes ask our straight & cis allies to support us by not taking up room in our venue. Please be conscious of who this space is intended for and be respectful. Never assume sexuality or gender identity. We will never ask personal questions on the door.
Low/no income access

We reserve limited spaces for those who cannot afford the standard ticket price due to being on low or no income. Please email 
hello@dalstonsuperstore.com
to enquire.

Full venue access info is available

here
Dalston Superstore 14th Birthday Bash!