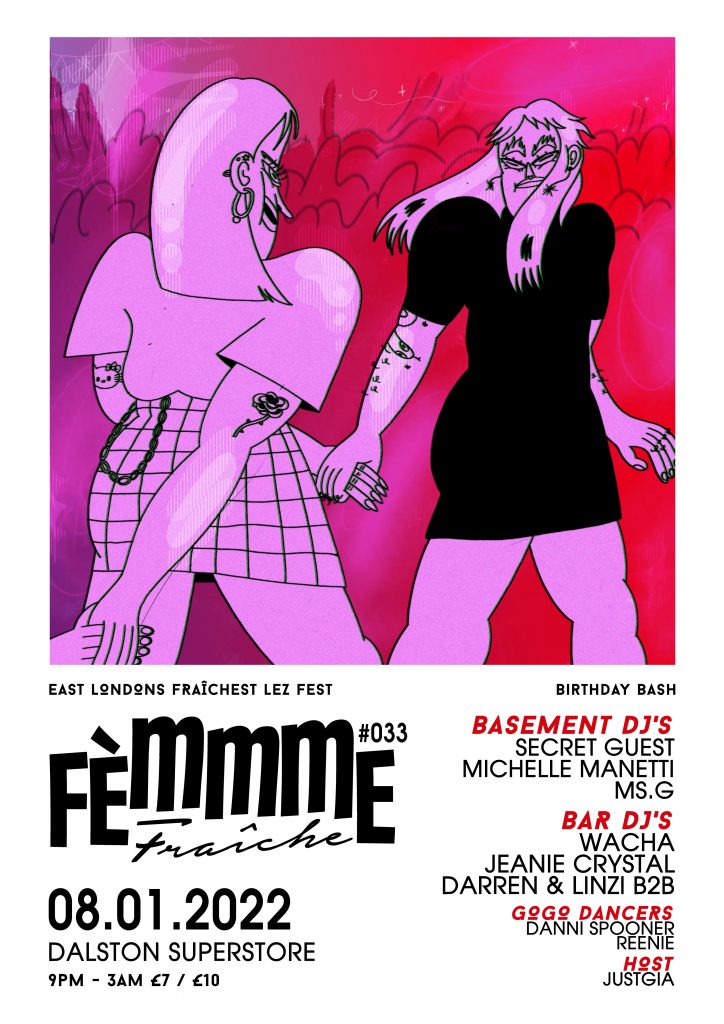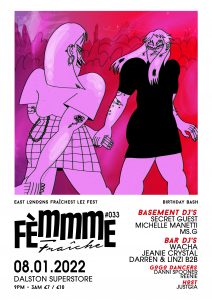 Femmme Fraiche 6th birthday!
Secret Special Guest
Michelle Manetti
Ms.G
Wacha
Jeanie Crystal
Linzi Symons B2B Darren Skene
OUR 6th BIRTHDAY BASH!!!
Once Omicron, Chrimbo and New Year have thoroughly rinsed us and the turbulent 2021 is well and truly behind us, we'll be ready to start the year fraiche! F**k dry January, come and celebrate our 6th birthday with us on Sat Jan 8th at the Mothership Dalston Superstore.
We're gonna be serving one of our most JAM-PACKED lezzer-fests yet!
We have yet another VERY SPECIAL SECRET GUEST headliner joining us in the basement… our last two secret guests have been DEBONAIR and Peach so you KNOW we won't disappoint you! Warming up the basement is one of our fave gogo-cum-DJ bebz Ms.G alonside our beloved resident & promoter Michelle Manetti for the ususal dutty bangers & basement beats.
Then up in the bar for your trash-tastic guilty pleasures, we have TWO stunning guests, including the fabulous Wacha of Queer House Party plus the return of Sass Kween & mother of Faboo TV Jeanie Crystal who will both be followed by our duo of Fraîchness residents Linzi Symons and Darren Skene b2b. For added pleasure our Hype-Hype-host is our fave daddy dyke Justgia and Gogo hunz Reenie and Danni Spooner strutting their stuff on the bar.
Entry is £7 b4 10pm / £10 after
(for low salary income please contact us for discounted entry)
*We operate a zero tolerance policy*
We try to keep our event as a safe space for queer wxmn, Trans, NB + allies who will have priority entry, although everyone is welcome providing they respect the space. ?
COVID SAFETY
IN ORDER TO ENTER THE VENUE, YOU WILL BE REQUIRED TO SHOW YOUR NHS COVID PASS TO PROVE EITHER DOUBLE VACCINATION ORA NEGATIVE PCR OR LATERAL FLOW FROM THE LAST 24 HOURS.
Facebook Event
Femmme Fraiche 6th birthday!
tribe_events-template-default single single-tribe_events postid-28197 tribe-events-page-template tribe-no-js tribe-filter-live loading

Femmme Fraiche 6th birthday!

https://dalstonsuperstore.com

https://dalstonsuperstore.com/wp-content/themes/dalston-superstore