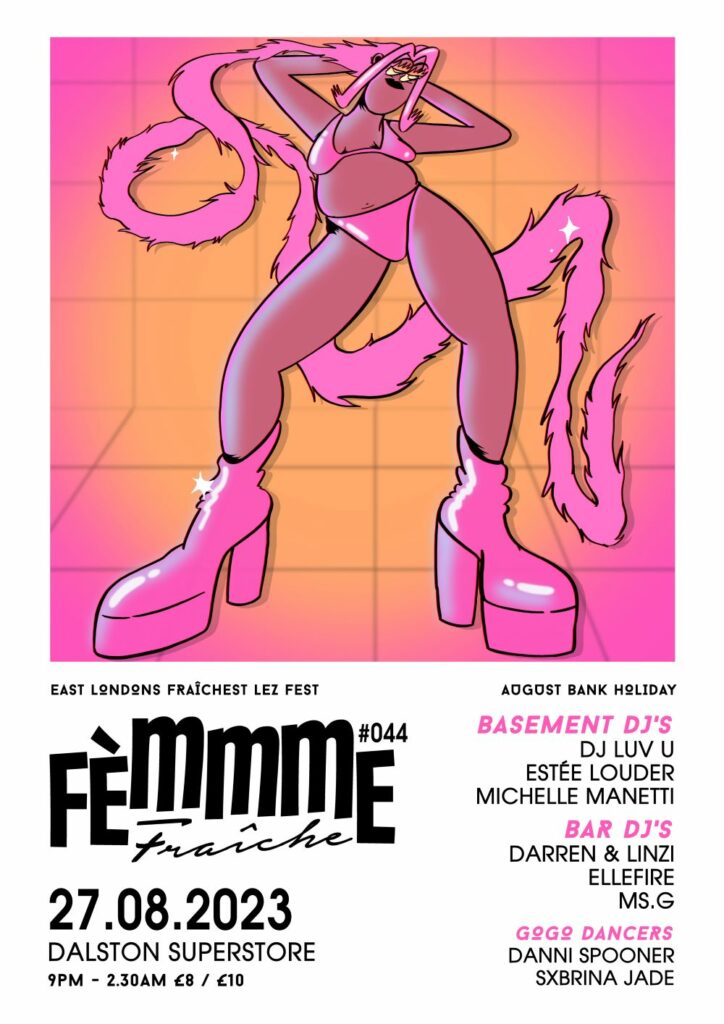 Femmme Fraiche Bank Holiday Special
MICHELLE MANETTI
ESTEE LOUDER
DJ LUV U
DARREN + LINZI
ELLEFIRE
MS.G
DANNI SPOONER
SABRINA JADE
Our biggest and best lezzy rave is back for a Bank Holiday special! Beloved celesbian DJ Michelle Manetti and friends return for a big summer love in at the mothership!
Downstairs we have a full Australian contingency joining our resident Michelle Manetti. First up, good friend and fellow promoter Estée Louder is joining us, she's the creator of Sydney Queer Rave Control, and uplifts women and queer spirits, merging global talents in a techno haven. Following her on closing duties is DJ Luv You a non-binary DJ and multidisciplinary visual artist and founder of queer/femme lead Naarm (Melbourne) party LUNA Blessings. A tasty trio if ever there was one.
Upstairs, we welcome Ellefire with her debut set for Femmme Fraiche, joined by regular and fave Ms.G with the party pumpers and of course our very own duo of Fraîchness residents Linzi Symons and Darren Skene on ?2 ? duties with your trash-tastic guilty pleasures.
For gogo duties, we welcome the debut of super fierce and extra sassy Sxbrina Jade joined by our firm fave, the fabulous Danni Spooner
£8 before 11 / £10 after
*We operate a zero tolerance policy*
Our event is aimed as a space for queer wxmn, trans, and non binary folx, although allies and friends are welcome providing they respect the space.
Door Policy
Dalston Superstore is a queer space. We prioritise our LGBTQIA+ customers and will sometimes ask our straight & cis allies to support us by not taking up room in our venue. Please be conscious of who this space is intended for and be respectful. Never assume sexuality or gender identity. We will never ask personal questions on the door.
Low/no income access

We reserve limited spaces for those who cannot afford the standard ticket price due to being on low or no income. Please email 
hello@dalstonsuperstore.com
to enquire.

Full venue access info is available

here
Femmme Fraiche Bank Holiday Special