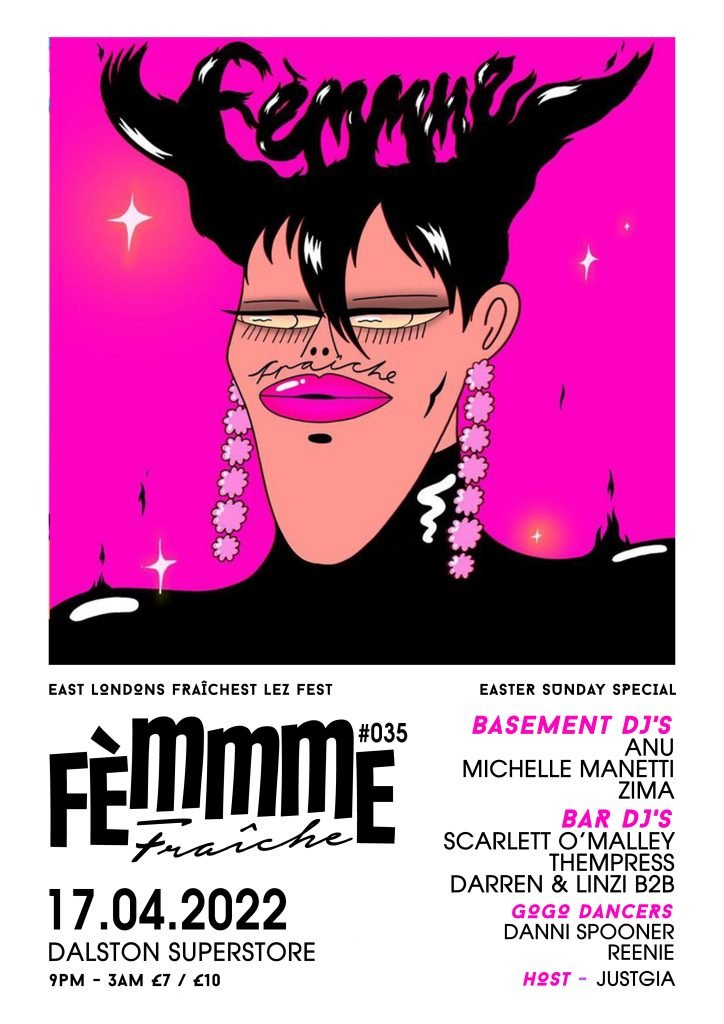 Femmme Fraiche Easter Sunday Special!
Anu
Michelle Manetti
Zima
Scarlett O'Malley
Thempress
Darren & Linzi B2B
Danni SPooner
Reenie
Just Gia
Easter Sunday Special!
After a sell-out sweaty pumping March event, we've been asked to do a special Easter Sunday shindig and we've got a gorge line-up to fill your Easter Boots with on Sun 17th April at the Mothership Dalston Superstore.
Our basement headliner, is the London based NTS resident Anu, whose DJ sets can bring everything from progressive house to glitchy edits of Kylie Minogue to UK funky. Joining her in the basement as our second guest is Liverpool based Zima, who strives to bring the silliness back into the dance scene with the campy queerness of 80s Italo and the raunchiness of Acid, our resident Michelle Manetti will be sandwiched between them, bringing the basement pumpers.
Upstairs, for your trash-tastic guilty pleasures, we have TWO stunning guests – the gorgey Scarlett O'Malley, giving you her most precious musical delights, as a resident of The Cause, Foundation FM, The Vinyl factory, she is the Vinyl Cowgirl we all need! Joining her is the multi-talented creative creature Thempress, plus of course, our duo of Fraîchness residents Linzi Symons and Darren Skene b2b. For added pleasure our Hype-Hype-host is our fave spicy Daddy Dyke JustGIa and Gogo hunz Reenie & Danni Spooner strutting their stuff.
£7 before 11 / £10 after
Facebook Event
Femmme Fraiche Easter Sunday Special!