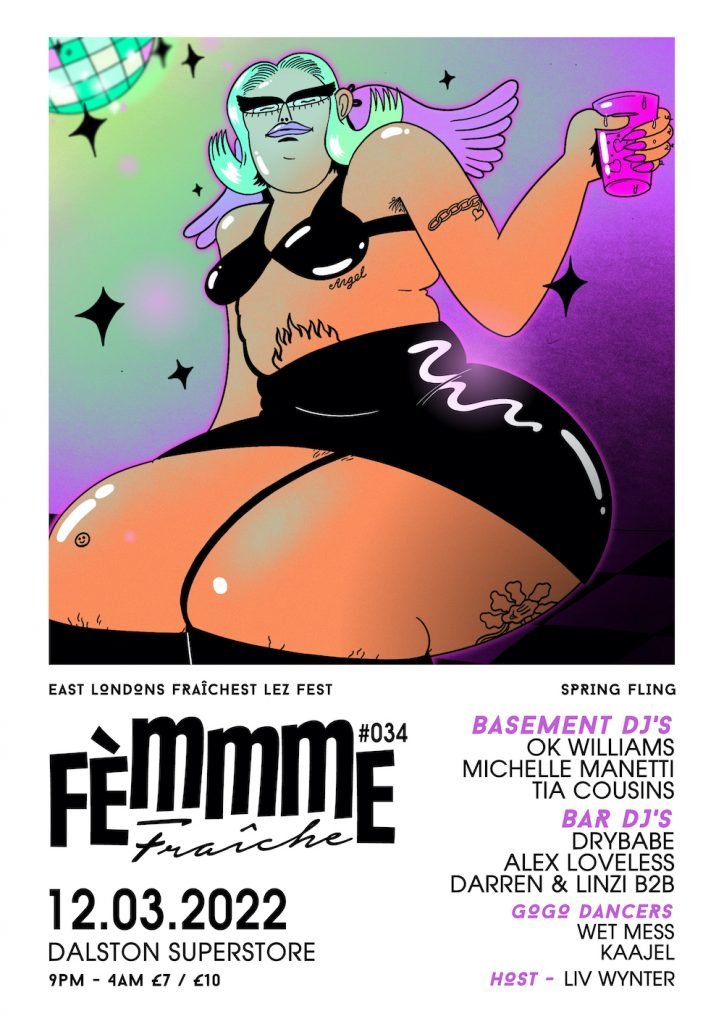 Fèmmme Fraîche ft. OK Williams
OK Williams
Michelle Manetti
Tia Cousins
DryBabe
Alex Loveless
Darren & Linzi Symons
Izzy Gzowski
Wet Mess
Kaajel
Liv Wynter
We're well in to 2022 now, Rona feels like a distant cousin twice removed, thrice vaxxed (we're still being cautious though, we don't want her turning up un-invited!) The days are getting longer, air is getting warmer, and soon spring will be sprunging – so to celebrate we're throwing a Spring fling-a-ling on March 12th at the Mothership Dalston Superstore.
It's a BEAST of a line-up and because it's so darn tasty, we've also been given an extra hour of fun!!! So we'll be dancing through til 4am!
Our basement headliner, is MAJOR player, absolute powerhouse, definite DJ of the meauxment and one absolutely not to be missed – OK Williams. Joining her, warming up the basement, is local up-and-coming DJ Tia Cousins. Sandwiched in between these two gold selectas is our very own beloved resident & promoter Michelle Manetti. Dutty basement vibes all the way.
Then up top in the bar for your trash-tastic guilty pleasures, we have TWO stunning guests, Alex Loveless (who we couldn't Love More) and Drybabe (who we know will get you hot and sweaty) plus of course, our duo of Fraîchness residents Linzi Symons and Darren Skene b2b. For added pleasure our Hype-Hype-host is the legend Liv Wynter and Gogo hunz Wet Mess and Kaajel strutting their stuff.
£7 before 11 / £10 after
(for low salary income please contact us for discounted entry)
*We operate a zero tolerance policy*
We try to keep our event as a safe space for queer wxmn, Trans, NB + allies who will have priority entry, although everyone is welcome providing they respect the space. ?
Facebook Event
Fèmmme Fraîche ft. OK Williams