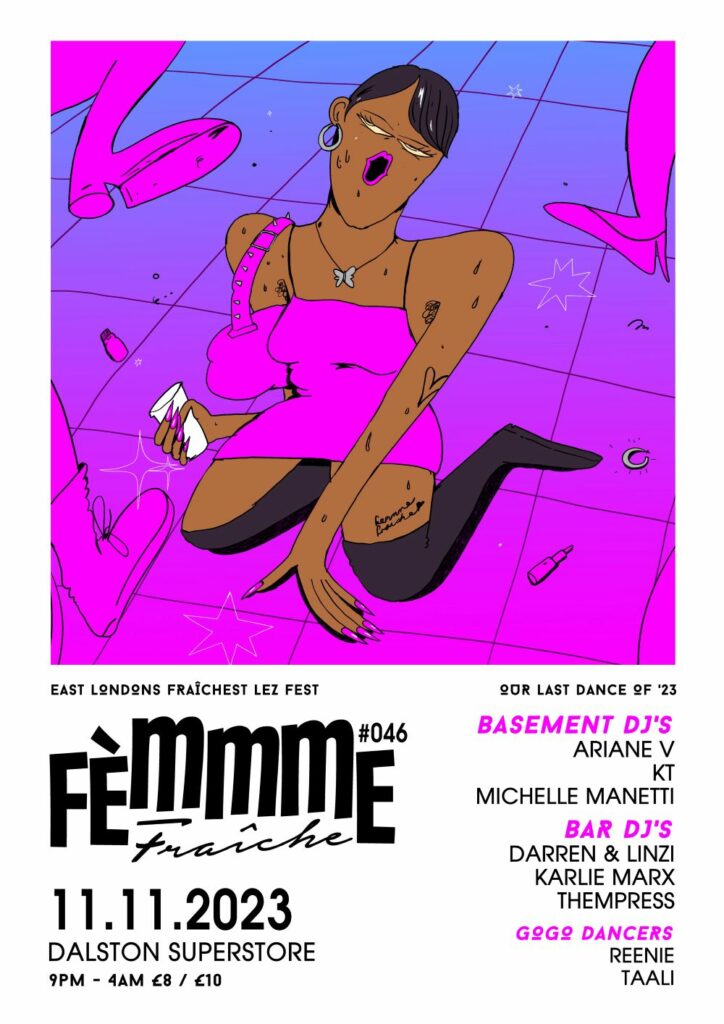 Femmme Fraiche – til 4am!
thempress
karlie marx
darren + Linzi
ariane v
michelle manetti
kt
reenie
taali
Femmme Fraiche have one last party left at the mothership Dalston Superstore before the year is out and on Nov 11th, we'll be sure to go out with a bang! And with a special 4am license, we're giving you an hour extra for your pleasure.
In the basement, our guest headliner is the London-based, northern-raised, crate digger KT – the space.dust and SISU resident, renowned for her wizardry on the decks and sublime selections of rare 90s house, electro, trance, garage, breaks and everything in-between, we guarantee she'll keep the basement pumping right til close. Warming up the lazerpit is the equally as eclectic and exciting Prague-born Ariane V – The Common ground (fka Rhythm Sister) resident, is known for her exquisite selections, frequently drifting through the dreamlike and euphoric to the broken beat and acid pumpers, and sandwiched between the two is our very own fave genre-non-conforming resident Michelle Manetti, who completes the perfect trio, what more could you ask for?
A floor of guilty pleasure did you say? Yeah OK we got that covered too! Opening the night is one of our faves and regulars Thempress, followed by a return of Karlie Marx, because she was so damn good at our Trans Pride party, we needed her back pronto! Then closing upstairs duo of Fraîchness residents Linzi Symons and Darren Skene on ?2 ? duties with all your trash-tastic faves.
For gogo duties, our firm faves, the fabulous Reenie is joined by Queer House Party royalty Taali, for ass-shakin' sexy, sassy, stupendous bar-top antics.
£8 before 11 / £10 after
*We operate a zero tolerance policy*
Our event is aimed as a space for queer wxmn, trans, and non binary folx, although allies and friends are welcome providing they respect the space.
Door Policy
Dalston Superstore is a queer space. We prioritise our LGBTQIA+ customers and will sometimes ask our straight & cis allies to support us by not taking up room in our venue. Please be conscious of who this space is intended for and be respectful. Never assume sexuality or gender identity. We will never ask personal questions on the door.
Low/no income access

We reserve limited spaces for those who cannot afford the standard ticket price due to being on low or no income. Please email 
hello@dalstonsuperstore.com
to enquire.

Full venue access info is available

here
Facebook Event
Tickets
Femmme Fraiche – til 4am!