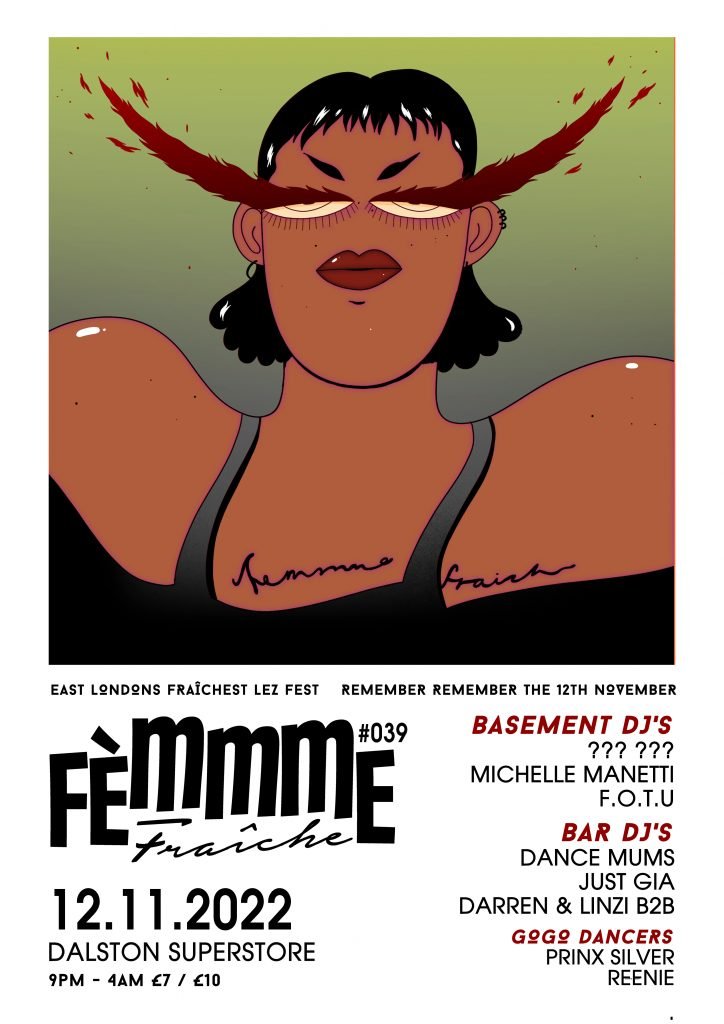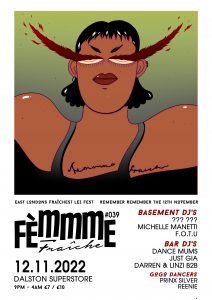 Femmme Fraiche – til 4am!
?????
Michelle Manetti
F.O.T.U
Dance Mums
Just Gia
Darren & Linzi B2B
Prinx Silver
Reenie
Guy Fawkes Who? The only date you need to remember this November is the 12th – our last party of 2022 and like fireworks night we're going out with a Bang! We've got an almighty explosive line-up in store for at the mothership Dalston Superstore with two-floors of bangers and a special 4am finish.
Our basement headliner is a hush hush secret guest, but with previous secret guests including Peach, I.Jordan and Debonair, we can assure you she won't disappoint. The OG Londoner has blossomed from a teenager on pirate radio, to one of the London's most exciting DJ's and producers… can you guess who it is?
Then setting pace for us on warm-up duties is F.O.T.U, no stranger to the FF audience, our regular pin-up gal, always sporting some FF merch and a cheeky smile, laid it down for us at our Secret Garden Party takeover, as well as stepping in last min at Wilderness and we're excited to finally have her play for us in the mothership basement. Plus of course our beloved resident / promoter Michelle Manetti will be sandwiched between the two, as well as taking on the closing hour with dutty bangers to see you through to 4am.
Upstairs, for your pop-slut party bangers, the newest duo taking Dalston Superstore by storm is Dance Mums aka DJ Areola Grande Latte and host Liv Wynter (Queer House Party) these high maintenance good time gals, guarantee to bring you a megamix of pop throwbacks, club belters and trashy house you downloaded from limewire combined with live MCing. We've also got our fave spicy Welsh daddy dyke Just Gia alongside our fave party-starter duo of Fraîchness residents Linzi Symons and Darren Skene on peach 2 peach duties with your trash-tastic guilty pleasures. Your gogo hunz for the eve are the hottest couple in town… Femmme Fraiche debut from the London's sexiest Spanish king Prinx Silver and our fave gogo kween Reenie.
*We operate a zero tolerance policy*
Our event is aimed as a space for queer wxmn, Trans, NB, although allies and friends are welcome, providing they respect the space.
Door Policy
Dalston Superstore is a queer space. We prioritise our LGBTQIA+ customers and will sometimes ask our straight & cis allies to support us by not taking up room in our venue. Please be conscious of who this space is intended for and be respectful. Never assume sexuality or gender identity. We will never ask personal questions on the door.
Low/no income access

We reserve limited spaces for those who cannot afford the standard ticket price due to being on low or no income. Please email 
hello@dalstonsuperstore.com
to enquire.

Full venue access info is available

here
Femmme Fraiche – til 4am!