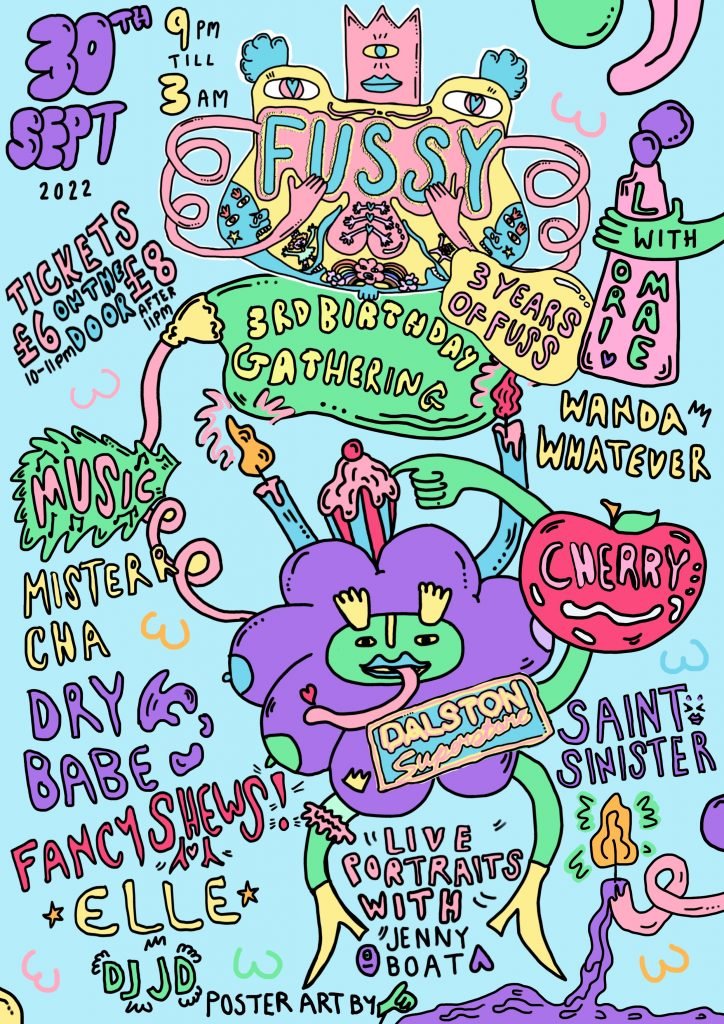 Fussy
Mistercha
Drybabe
Fancy Shews!
Ella
DJJD
Lori Mae
Wanda Whatever
Cherry
Saint Sinister
Join us for a very special evening as FUSSY celebrates 3 years of gatherings! From our first sold out party at The White Swan, a residency at The Yard Theatre in Hackney Wick, our new home at Dalston Superstore where we've been for the last year, and our FUSSTIVAL week including a queer community dinner, we've had many different opportunities and spaces in which to share and spread the fuss with the folks who make our gatherings special.
We hope you join us for a special evening as we celebrate the past, present, and future of what we have aimed to and hope to continue creating together – a space that is financially accessible, grassroots, and always keeps our queer/gender expansive community at the heart of every decision we make.
Our superstar resident poster artist Jenny Boat Draws will be on site with us doing on-demand live portraits for a suggested price of £10 each! Grab your fussiest shoes, your gorgey-est new ensemble, your most joyful crew – there will surely be enough sweet treats for everyone.
FUSSY is a series of queer gatherings with the mission to celebrate joy, community, togetherness, and singularity. We centre and prioritise trans and gender nonconforming creatives and audiences.
It is our goal to create queer spaces that feel less intimidating for those who might feel anxious in exploring what queer nightlife and community spaces have to offer. To that end, we invite anyone taking part in the night to seek out someone wearing a lavender wristband/high-vis gear if you are seeking advice, would like assistance, need additional accessibility support, or are feeling uncomfortable for any reason.
£6 before 11pm / £8 after 11pm
Door Policy
Dalston Superstore is a queer space. We prioritise our LGBTQIA+ customers and will sometimes ask our straight & cis allies to support us by not taking up room in our venue. Please be conscious of who this space is intended for and be respectful. Never assume sexuality or gender identity. We will never ask personal questions on the door.
Low/no income access
We reserve limited spaces for those who cannot afford the standard ticket price due to being on low or no income. Please email hello@dalstonsuperstore.com to enquire.
Full venue access info is available here
Fussy