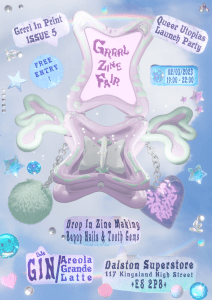 Grrrl Zine: Queer Utopias exhibition launch
Grrrl Zine Fair announces the new issue of Grrrl in Print, entitled 'Queer Utopias', to coincide with an exhibition of featured artists at LGBTQI+ institution Dalston Superstore!
Independent Queer and feminist body Grrrl Zine Fair announces its fifth instalment of Grrrl in Print. The issue brings together a collection of newly commissioned art and literature from over 20 different queer contributors, including subversive New York designer Nicole Mclaughlin, Mexican community leader and herbalist Damiana and disabled Italian writer and artist Chiara Francesca within a physical print zine in a limited run of 200 copies. 
Grrrl in Print issue 5 will be released on Thursday, 2nd March, with a launch party at Dalston Superstore. The event aims to create its own Queer Utopia, an immersive evening of music, zine making, art and community.
Grrrl Zine Fair will exhibit selected work from the Zine at Dalston Superstore, with the exhibition running for six weeks following the event. The event will also host live DJ performances from Grace Goslin, aka Areola Grand Latte (Dance Mums) and Gin (xrage0001, Night Dykes, Faggamuffin Bloc Party), known for their super high-energy and energetic sets.
Expression and creativity are encouraged, with hair and nail salon Bepop Ldn offering attendees trippy nail art and tooth gems, while for those interested in creating art themselves, Lu Williams will hold drop-in zine-making workshops throughout the evening.
RSVPs essential
Grrrl Zine: Queer Utopias exhibition launch