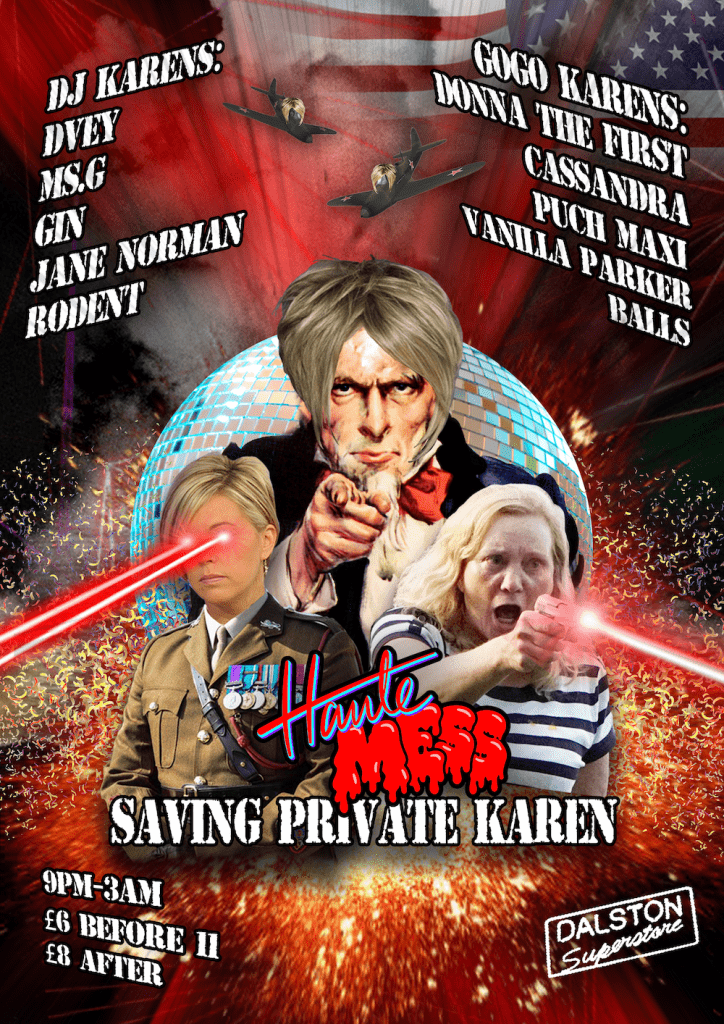 Haute Mess: Saving Private Karen
D'Vey
Gin
Rodent
Ms.G
Jane Norman
Donna the First
Cassandra
Puch Maxi
Vanilla Parker Balls
The messiest queer disco in town Haute Mess crash lands back at the mothership for another chaotic two floor meltdown! Join London's hautest DJs and and drag babies for a night of glamour and debauchery at the mothership this February.
Haute Mess is back to the mothership with our mercenary army of Karens to hijack your customer service experience and we want YOU to join the cause!!
Join our cast of complaints for a sloppy, unaccountable, and terribly managed extravaganza full of bobs to the rim (yes) and endless screams sponsored by the international federation of go-go Karens, including Donna the Karen, Karenssandra, Puch Karen and our royal consort Karen Parker Balls. Sonic warfare will be managed courtesy of Commanders Karen Gin, Karen Norman and our special weapon Rodent Karen. Skip the queue to WW4 and slide into the laser pit with Karen D'Vey and Ms. Karen G showing you how to manage the battlefield!!
Dress code is Commando Karen, and if you want to speak to the manager, don't. She'll speak right back at you!
£6 before 11 / £8 after
Haute Mess: Saving Private Karen