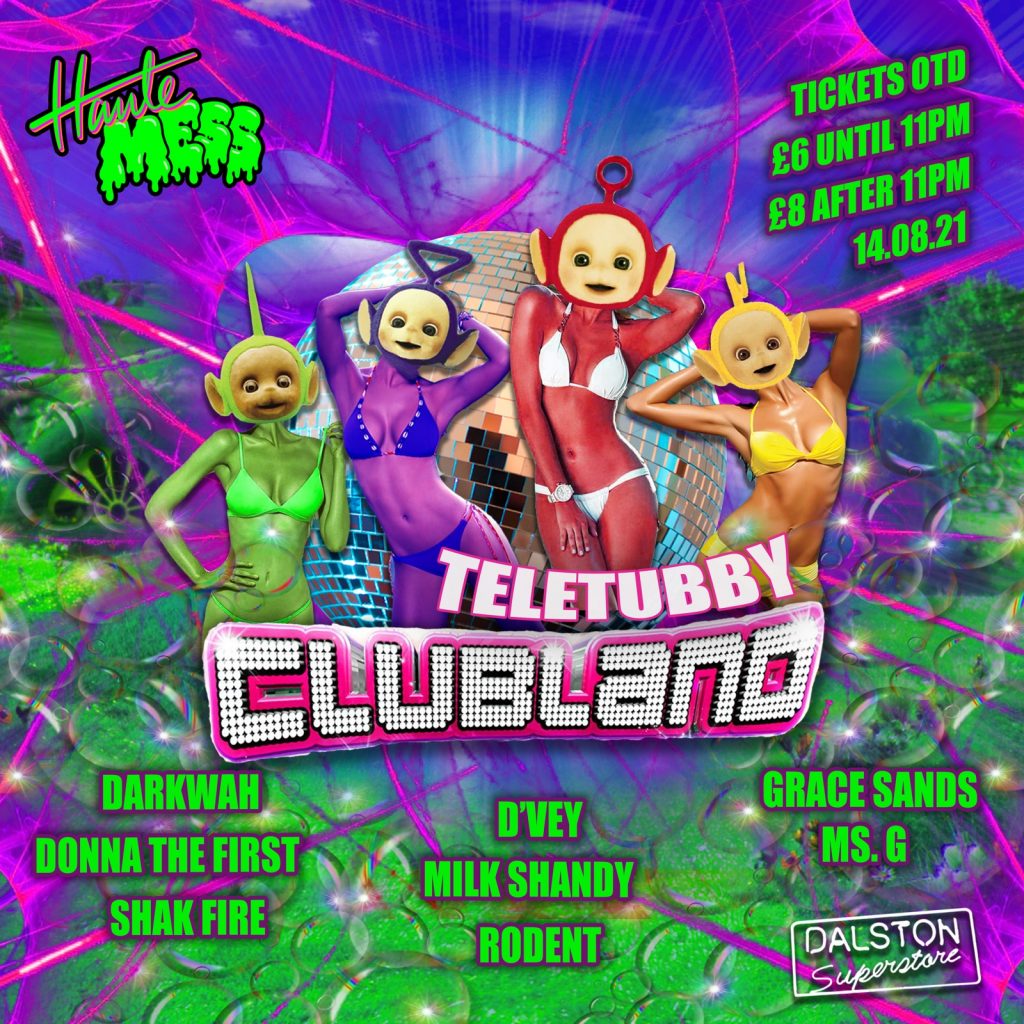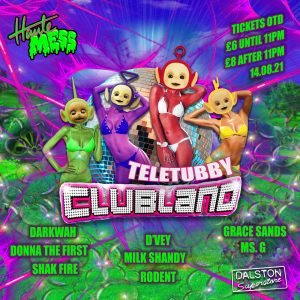 Haute Mess: Teletubby Clubland
Darkwah
Donna the First
Shak Fire
D'Vey
Milk Shandy
Rodent
Grace Sands
Ms.G
ATTENTION ALL NAUGHTY NOO NOOS!!! The mothership has landed at the Teletubby Superstore, and boy are we ready to tickle some tinky winkies, gobble down some La-Las and lap up some Pos. Get ready as Haute Mess takes you down to Dipsy's secret sweaty little rave room, with the naughtiest DJs and dancers from across Teletubby Clubland!
Dress Code: sexxxy Teletubby Clublander 2008. The naughtiest noo-noo will get a just award ?
RULES AND REGS:
Haute Mess has a zero tolerance policy for harassment, queerphobia, homophobia, transphobia, ableism, or any sort of shaming.
You will not be to admitted to the Teletubby Superstore without proof of a lateral flow test or proof of a double vaccination. Don't be the silly stinky winky left out in the rain!
£6 before 11, £8 after
COVID SAFETY
IN ORDER TO ENTER THE VENUE, YOU WILL REQUIRE: PROOF OF A NEGATIVE TEST FROM THE LAST 48 HOURS OR PROOF OF DOUBLE VACCINATION
To get proof of a negative test… 
Lateral Flow Tests are available for free at pharmacies, test centres, and online

here

After following in the instructions to get your test result, you can register it online by going

here

Within two hours of registering your result you will get a text and email confirming your result, and either one of these is acceptable as proof on the door.
To get proof of two vaccinations…
Either…
Show your Covid Pass on the NHS app
Or…
Bring your vaccination card
Or…
Provide proof of full vaccination from another country, if you were vaccinated outside of the UK
Thank you for your continued support and understanding as we work together to keep each other as safe as possible.
Low/no income access
We reserve limited spaces for those who cannot afford the standard ticket price due to being on low or no income. Please email hello@dalstonsuperstore.com to enquire.
Haute Mess: Teletubby Clubland