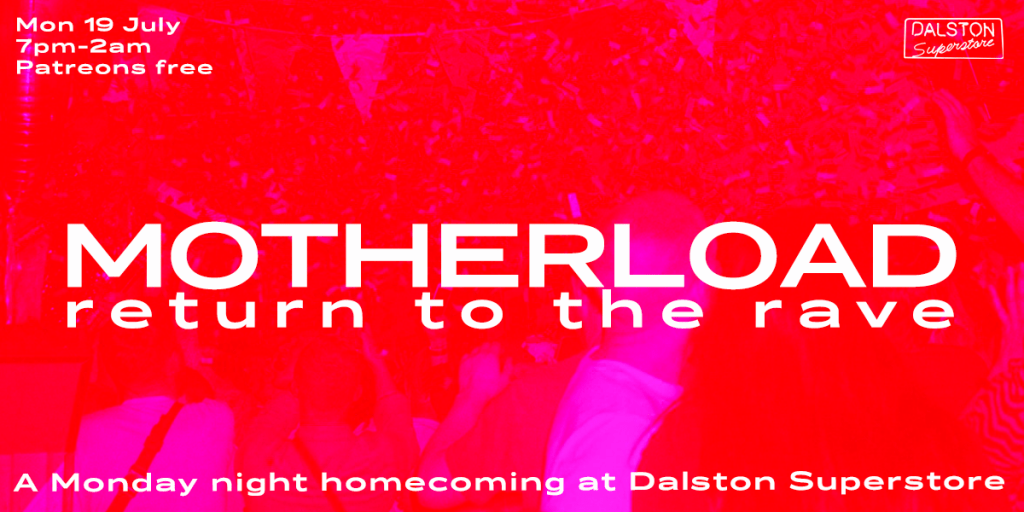 MOTHERLOAD: return to the rave
JAYE WARD (PLU)
DAN BEAUMONT (Chapter 10)
MARIE MALARIE (Happy Endings)
BART PANEK (Homostash)
NATALIE SANDI (Club Tantrum)
JEANIE CRYSTAL (Faboo)
FANNAR (Meat)
A MAN TO PET (Outerspace)
We are absolutely beside ourselves with excitement to announce Dalston Superstore's very first dancefloor in 2021!!!
We have been overwhelmed by the support our Patreons have shown us during these really challenging times for us as a grassroots queer business, and we're throwing a party especially for you.
It's finally time to ring in our return to the rave on the eve of restrictions lifting at MOTHERLOAD! We're inviting seven of our favourite local selectors to light up the mothership and help us celebrate queer joy and togetherness!
Free earlybird access for Patreon members – last entry 10pm.
MOTHERLOAD: return to the rave