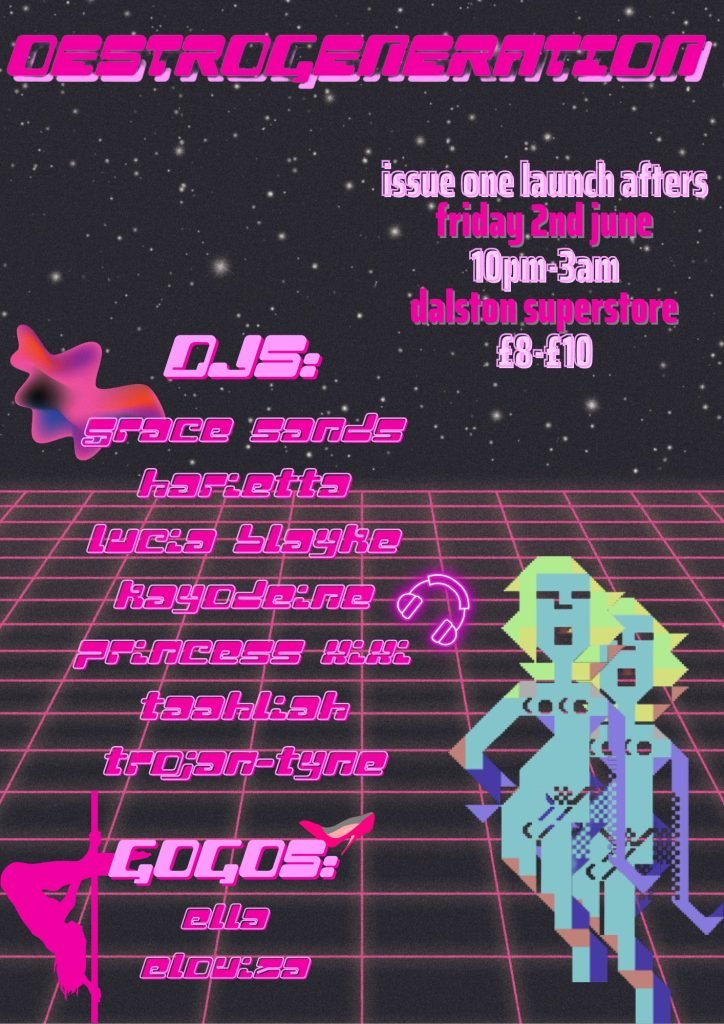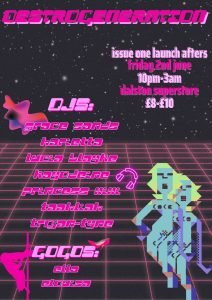 oestrogeneration
grace sands
lucia blayke
kayodeine
princess xixi
taahliah
trojan-tyne
ella
elouiza
oestrogeneration is a magazine platform higlighting the voices of trans women and transfeminine people in the uk – it was born out of anger in a media climate where we were constantly spoken of, but never in charge of our own narrative.
we are now releasing our very first print issue; themed around tenacity, the magazine reflects on the inherent strengths and consequent narratives that come with trans womanhood.
after our launch at atlas grinds, we're throwing a party at dalston superstore. all the way from glasgow, the iconic taahliah will be murdering the basement dancefloor, alongside east london's favourite dj grace sands, multitalented it girl princess xixi and oestrogeneration's very own co-editor harietta. upstairs, the nation's favourite transexual lucia blayke will bring chaos and c*nt, sexy superstar trojan-tyne will trigger all our wild thoughts & kayodeine's sound wizardry will hypnotise your feet.
+ the sluttiest bitches in town, ella & elouiza, steaming up the bar w their dancing <3
gonna be an unforgettable night of high-femme debauchery, glamour and tenacious dancing.
£8 before 11 / £10 after
Door Policy
Dalston Superstore is a queer space. We prioritise our LGBTQIA+ customers and will sometimes ask our straight & cis allies to support us by not taking up room in our venue. Please be conscious of who this space is intended for and be respectful. Never assume sexuality or gender identity. We will never ask personal questions on the door.
Low/no income access

We reserve limited spaces for those who cannot afford the standard ticket price due to being on low or no income. Please email 
hello@dalstonsuperstore.com
to enquire.

Full venue access info is available

here
oestrogeneration
tribe_events-template-default single single-tribe_events postid-30930 tribe-events-page-template tribe-no-js tribe-filter-live loading

oestrogeneration

https://dalstonsuperstore.com

https://dalstonsuperstore.com/wp-content/themes/dalston-superstore