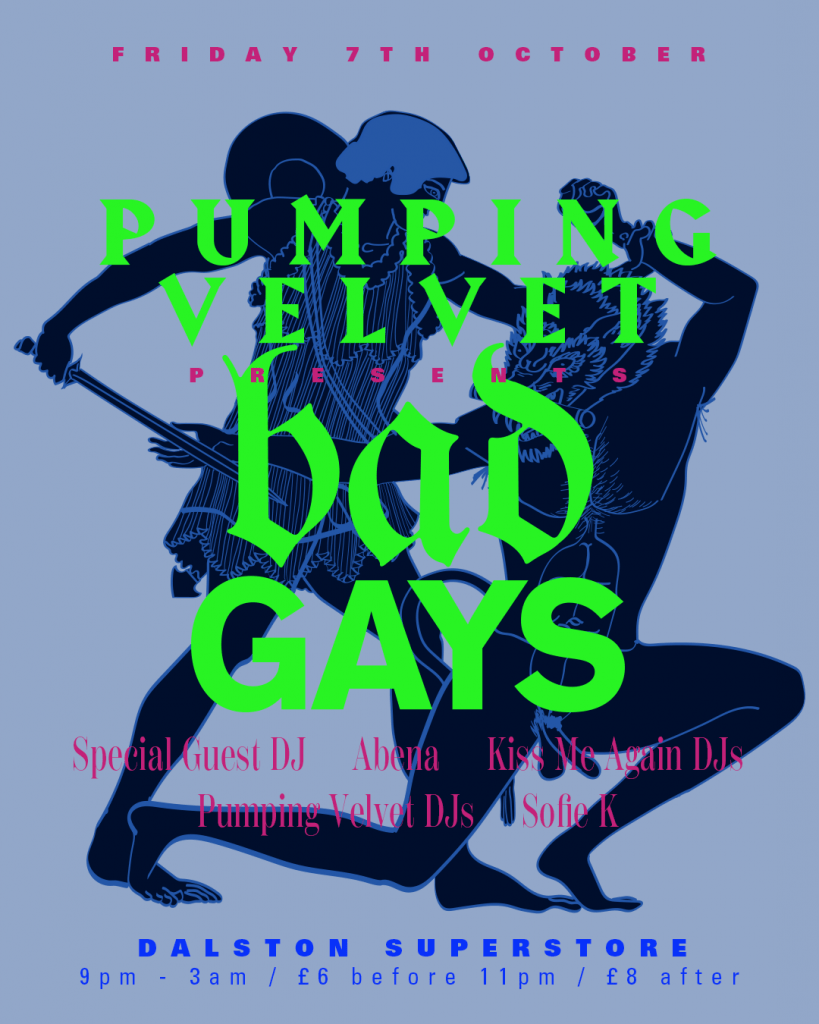 Pumping Velvet
Special guest DJ
Abena
Kiss Me Again DJs
Pumping Velvet DJs
Sofie K
Pumping Velvet is an LGBTQ+ party that aims to create an inclusive space for dancing your worries away. Encompassing a diverse range of dance music Pumping Velvet focuses on sounds that make you move with abandon while nourishing the soul (and also leaving plenty of room for the downright silly). After a pandemic enforced hiatus she's back and boy is she thirsty to PUMP SOME VELVET!
As Bad Gays superfans we couldn't be more excited to host a belated party to celebrate the publication of Ben Miller & Huw Lemmy's fabulous homosexual history. This will be an afterparty for a talk with the authours at our little sister the Karaoke Hole, you can buy tickets for both the talk and the party here.
Flying in specially for this party is a secret special guest DJ currently resident in Berlin. A Panorama Bar regular they tireless work to reclaim and celebrate the queer roots of house, techno, disco through their immaculate DJing. Whether or not they are themselves a Bad Gay we couldn't possibly say.
Joining our special guest will be our favorite Manchester queer party Kiss Me Again! The full trifecta of hunky Kiss Me Again residents will be making their Dalston Superstore debut. Also making the trip south will be Abena, co-founder of All Hands On Deck, a Manchester-based collective that hosts workshops and open-deck parties for women, trans and non-binary DJs, and one of the sickest DJs out there.
Completing the line up is Pumping Velvet's newest resident DJ Sofie K! Sofie is an NTS host that consistently highlights just the kind of music Pumping Velvet holds most dear. Her blend of sleezy italo and South Asian bangers will be the perfect soundtrack for our upstairs go-go dancers to go wild!
£6 BEFORE 11 / £8 AFTER
Door Policy
Dalston Superstore is a queer space. We prioritise our LGBTQIA+ customers and will sometimes ask our straight & cis allies to support us by not taking up room in our venue. Please be conscious of who this space is intended for and be respectful. Never assume sexuality or gender identity. We will never ask personal questions on the door.
Low/no income access
We reserve limited spaces for those who cannot afford the standard ticket price due to being on low or no income. Please email 
hello@dalstonsuperstore.com
 to enquire.
Full venue access info is available 

here
Pumping Velvet