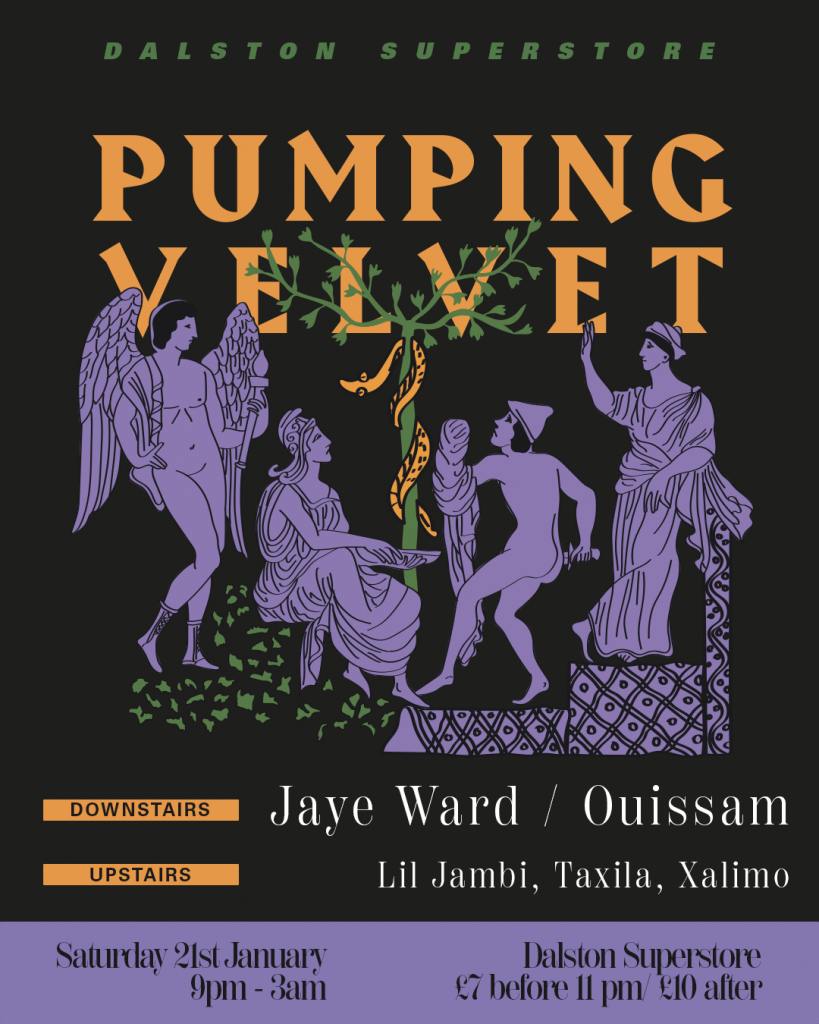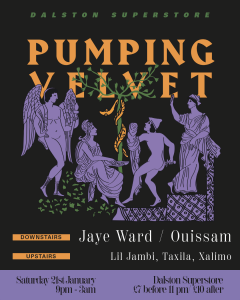 Pumping Velvet
Brrr! It's nippy outside but the warm fuzzy feelings from the November PV are keeping us warm through this coldest of snaps. And with a snap of our fingers we're be back in 2023 for another PUMPING VELVET ready to get you all hot and bothered. So cuddle up!
Downstairs it'll be a wild night as we are joined by Ouissam, founder of the raver's paradise Savage in Hanoi, Vietnam, and a regular at Panoramabar and Laboratory. Ouissam set up Savage in 2016 and has turned it into a home for a wildly adventurous programme, including a monthly queer/drag night, Snug. Check out Ouissam's particularly seductive brand of disco-house-techno joy in this recent mix for Is Burning and come see him do his thing in the basement!
Setting the mood for Ouissam will be Jaye Ward, a legend of the DJ and radio booth who continues to surprise dancefloors decades after she picked up the DJ lollipop and mixed her first records. A superstore regular, she's known to turn even the savviest of dancers inside out with her versatile selections.
Upstairs we'll be flipping the script on our usual Disco focused programme with an uptempo evening of jacked club and pop edits from Lil Jambie, Taxila & XALIMO. Leading the charge is  a rare appearance from academic-in-the-streets & hotmixer-in-the-sheets Taxila, whose fiery genre-blending sets operate entirely without borders. 
XALIMO is a London based DJ, paying homage to rave culture through selections, blends and mixes. She promises high femme ethereal vocals, primordial percussion and  new iterations of vibey electronic dance music. Her latest mix is pure fire!
Last but by no means least Lil Jambie from the Juke fanatic crew We Buy Gold will be indulging in his dirty secret – a massive love for pop bangers!
£7 BEFORE 11 / £10 AFTER
Door Policy
Dalston Superstore is a queer space. We prioritise our LGBTQIA+ customers and will sometimes ask our straight & cis allies to support us by not taking up room in our venue. Please be conscious of who this space is intended for and be respectful. Never assume sexuality or gender identity. We will never ask personal questions on the door.
Low/no income access
We reserve limited spaces for those who cannot afford the standard ticket price due to being on low or no income. Please email 
hello@dalstonsuperstore.com
 to enquire.
Full venue access info is available 

here
Pumping Velvet