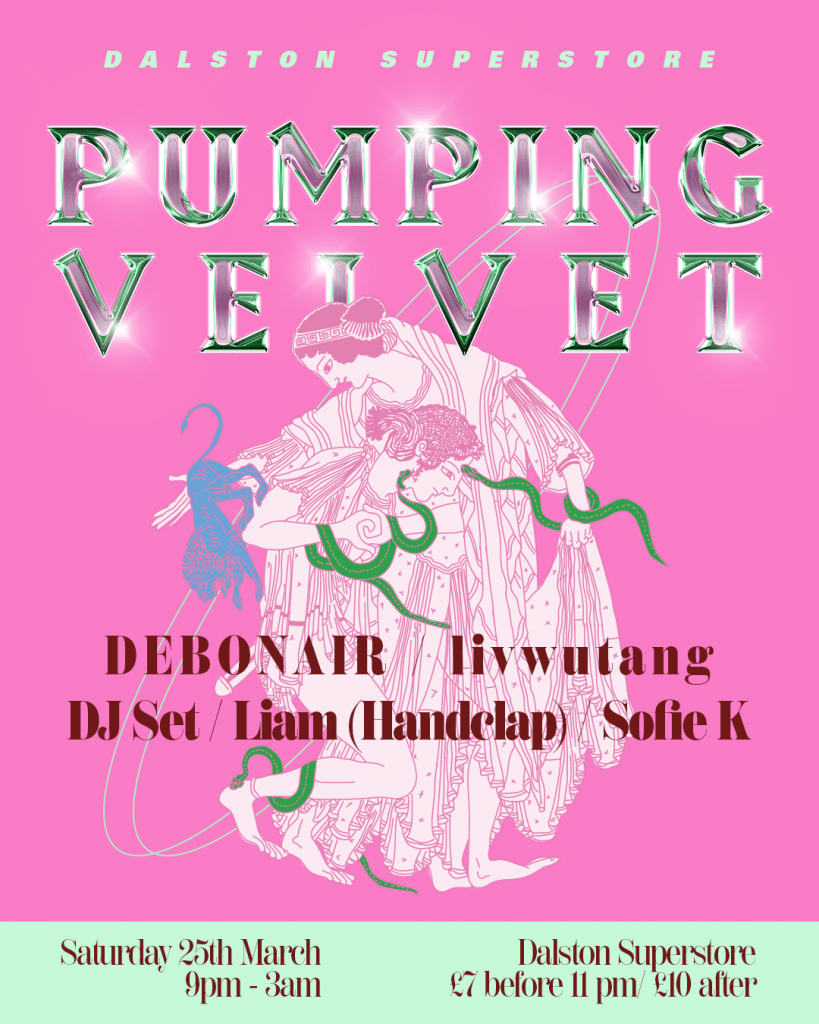 Pumping Velvet
Debonair
livwutang
DJ Set
Liam
Sofie K
As the vernal (no, not venereal) equinox looms it can only mean one thing. Yassss, spring hath sprung! And what better way to celebrate than by pumping some velvet?
PUMPING VELVET is back with an evening of ecstatic fertility rituals to mark the changing of the seasons. Leading the charge downstairs is the magnificent DEBONAIR, og NTS host and mistress of scruffy EBM, post-punk echo and the most judiciously selected party jams. Her unmissable NTS show has marked her out as having an encyclopedic knowledge of sonic ephemera but she's also an incendiary club DJ, as her boiler room appearance will attest!
Joining DEBONAIR downstairs will be livwutang, travelling all the way from NYC! livwutang is part of the enthralling grassroots american underground, whose sound can't be contained to one particular style or genre – she instead delivers a distinctly eclectic array of exuberant kinetics and chaotic dexterity to any dancefloor she's a part of. Just check out Dekmantel podcast for receipts of what she can deliver.
Soundtracking the best go-go dancers in the business we have house maestro Liam, one half of the duo behind South East London's Handclap party (who's recent mix for PV had us grooving), PV resident Sofie K, and the mysterious DJ Set, who promises an uptempo mix of pop garage and bassline. If only we could split ourselves in two to enjoy all this wondrous music simultaneously!
£7 BEFORE 11 / £10 AFTER
Door Policy
Dalston Superstore is a queer space. We prioritise our LGBTQIA+ customers and will sometimes ask our straight & cis allies to support us by not taking up room in our venue. Please be conscious of who this space is intended for and be respectful. Never assume sexuality or gender identity. We will never ask personal questions on the door.
Low/no income access
We reserve limited spaces for those who cannot afford the standard ticket price due to being on low or no income. Please email 
hello@dalstonsuperstore.com
 to enquire.
Full venue access info is available 

here
Pumping Velvet
tribe_events-template-default single single-tribe_events postid-30595 tribe-events-page-template tribe-no-js tribe-filter-live loading

Pumping Velvet

https://dalstonsuperstore.com

https://dalstonsuperstore.com/wp-content/themes/dalston-superstore