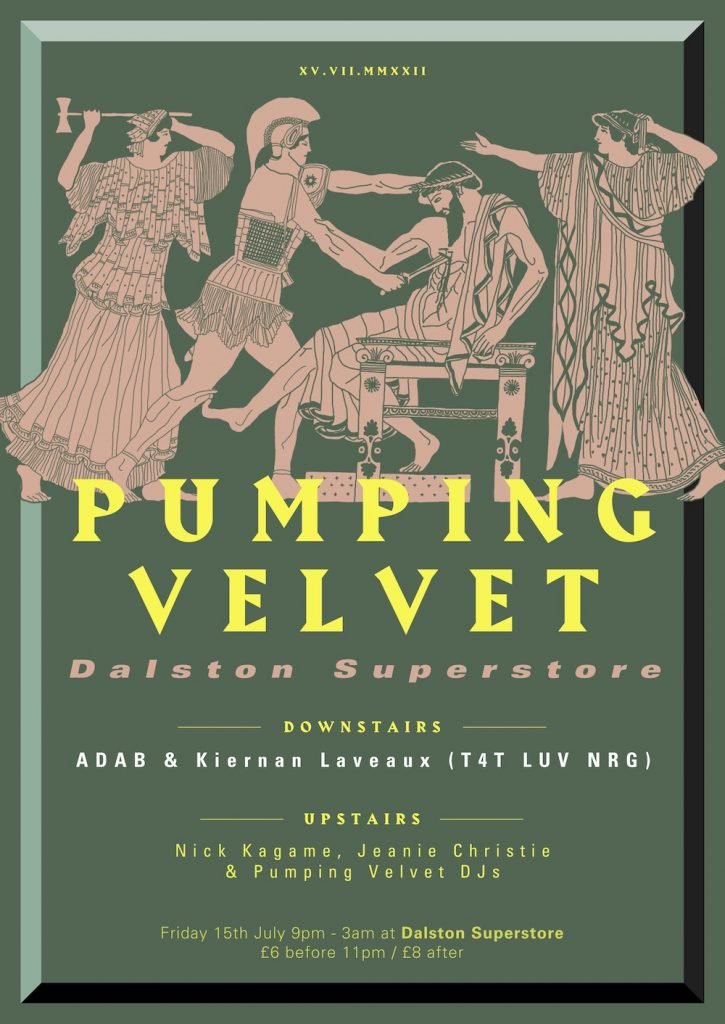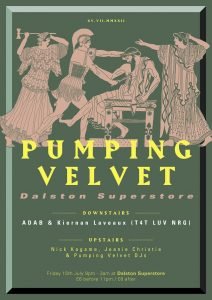 Pumping Velvet
ADAB
Kiernan Laveaux
Nick Kagame
Jeanie Crystal
Pumping Velvet DJs
Pumping Velvet is an LGBTQ+ party that aims to create an inclusive space for dancing your worries away. Encompassing a diverse range of dance music Pumping Velvet focuses on sounds that make you move with abandon while nourishing the soul (and also leaving plenty of room for the downright silly). After a pandemic enforced hiatus she's back and boy is she thirsty to PUMP SOME VELVET!
Flying in from the US especially to conduct downstairs ecstatic rituals will be T4T LUV NRG affiliates ADAB and Kiernan Laveaux!
Kiernan Laveaux is a non-binary trans energy conduit of communication sounds & connection rhythms. Originally emerging as one of the forces behind In Training, a long running queer event series founded in Cleveland, Ohio in 2014, the ethos & mindset of transportative psychedelia, personal autonomy, & community building continues to orbit the ever expanding sphere of amazing friends she's made throughout the midwest and the world.
As 1/2 of Cleveland party Heaven is in You, ADAB puts heavy emphasis on seeking the unifying elements in the world and themselves through djing. Characterized often by their palette of sounds, they made a name for themselves in Cleveland spinning a variety of genres (house/techno/beats etc.) and venues alike. Having started djing dance music heavily as a result of finding Cleveland's queer run techno party In Training and being a non binary black youth raised across a few states in the Rustbelt, they seek to unabashedly open up new understandings for both themselves and others.
Upstairs expert dance instructors will be Dust Off's Nick Kagame, Faboo TV's fabulous founder Jeanie Crystal and Pumping Velvet's resident DJs. 
Door Policy
Dalston Superstore is a queer space. We prioritise our LGBTQIA+ customers and will sometimes ask our straight & cis allies to support us by not taking up room in our venue. Please be conscious of who this space is intended for and be respectful. Never assume sexuality or gender identity. We will never ask personal questions on the door.
Low/no income access
We reserve limited spaces for those who cannot afford the standard ticket price due to being on low or no income. Please email 
hello@dalstonsuperstore.com
 to enquire.
Full venue access info is available 

here
Pumping Velvet