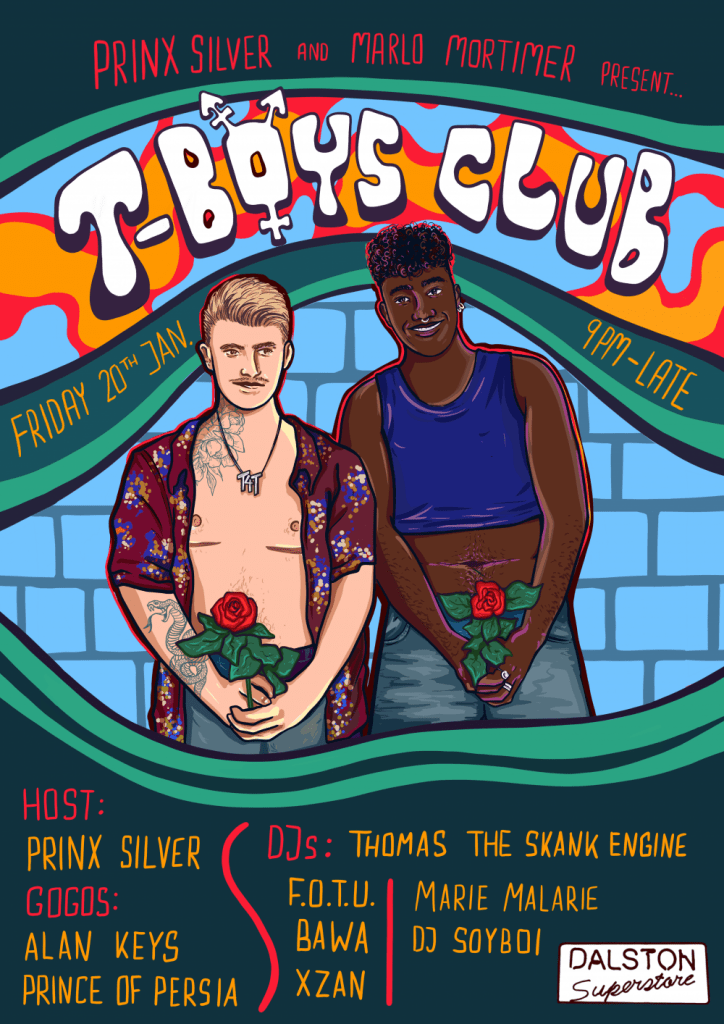 T-BOYS CLUB
Prinx Silver
ALan Keys
Prince of Persia
F.O.T.U
Bawa
Xzan
Thomas the skank engine
Marie Malarie
DJ Soyboi
Who: 2 t-boys who love to dance ?
Prinx Silver & Marlo Mortimer are putting on an iconic party for transmasc* boys across the gender spectrum. Cum fags and friends, femme boys and butches. For: T-boys and all who sail in them! What: Trans fags, T-gogos, lost boyhoods, sweat, nu sleaze #homonohomo, T4T cuddles, masc bonding, cheekiness, and trans silliness.
* Transmasc refers to the variations of masculinities, including but not limited: trans men, non-binary people, butch, dykes, trans fags, gender non conforming people. 

£8 before 11 / £10 after
Door Policy
Dalston Superstore is a queer space. We prioritise our LGBTQIA+ customers and will sometimes ask our straight & cis allies to support us by not taking up room in our venue. Please be conscious of who this space is intended for and be respectful. Never assume sexuality or gender identity. We will never ask personal questions on the door.
Low/no income access
We reserve limited spaces for those who cannot afford the standard ticket price due to being on low or no income. Please email hello@dalstonsuperstore.com to enquire.
Full venue access info is available here
T-BOYS CLUB