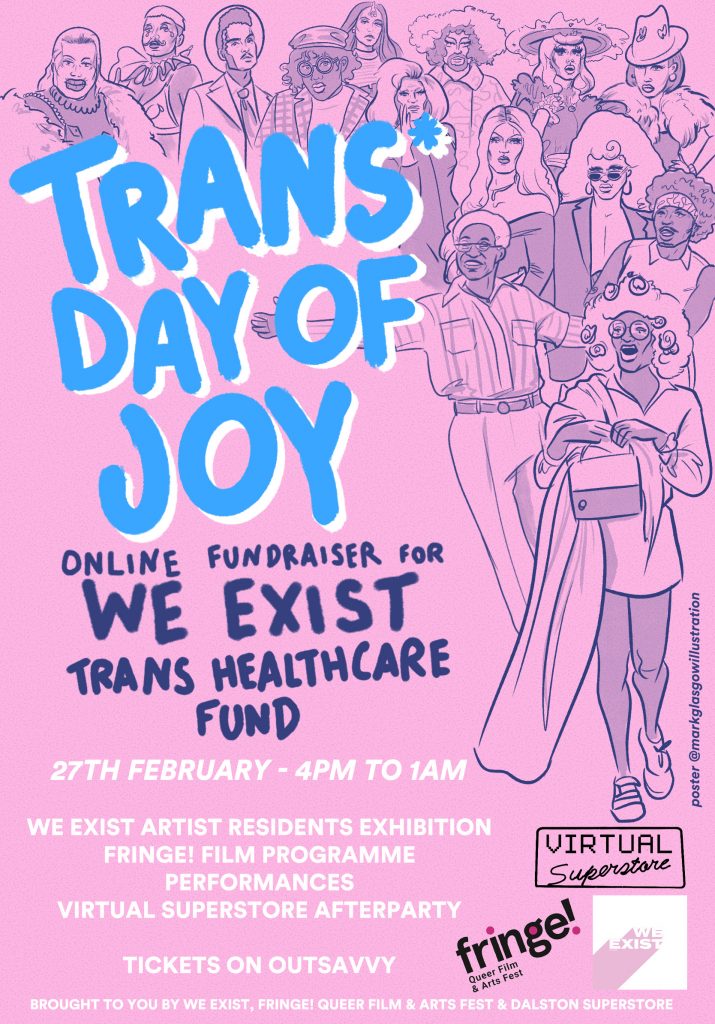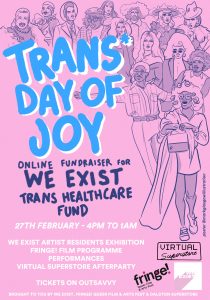 Trans* Day of Joy fundraiser for We Exist Trans Healthcare Fund
Gather your logical family and join us for a day of fun to see out LGBT History Month, and raise some pennies for trans healthcare pot WeExist. Pay at a level that suits you and enjoy a whole day-to-night of radical trans images onscreen, performances, appearances, and a heavenly Virtual Superstore afterparty to top it all off. All for charidee hun.
Treat yourself to a mammoth line-up of iconic trans* and gender non conforming performers: Juno Birch, Bimini Bon Boulash, Barbs, Victoria Sin, Travis Alabanza, Carlos Mauricio Rojas, Wesley Dykes, ShayShay, Crystal Rasmussen, Beau Jangles, COOL DAD, Rodent, all hosted by Sharon Le Grand, and see work from the We Exist artists in residence.
As the day turns to night, the infamous East London Mothership, Dalston Superstore brings you it's big queer dance party, soundtracked by local legends, all from the comfort of your own living room! Top-of-the-bar gogo simulations and interactive drag nonsense! Stay up late and give generously to sets from: Lewis G Burton (Inferno), Nadine Artois (Pxssy Palace), Sophie Williams, Naeem (BBZ), Grace Sands (Adonis), J Aria, and party (safely) thru the night with Finn Love, Darkwah, Lori Mae, Donna Kebab and Lucy Fizz.
Facebook Event
Tickets
Trans* Day of Joy fundraiser for We Exist Trans Healthcare Fund
tribe_events-template-default single single-tribe_events postid-26891 tribe-events-page-template tribe-no-js tribe-filter-live loading

Trans* Day of Joy fundraiser for We Exist Trans Healthcare Fund

https://dalstonsuperstore.com

https://dalstonsuperstore.com/wp-content/themes/dalston-superstore