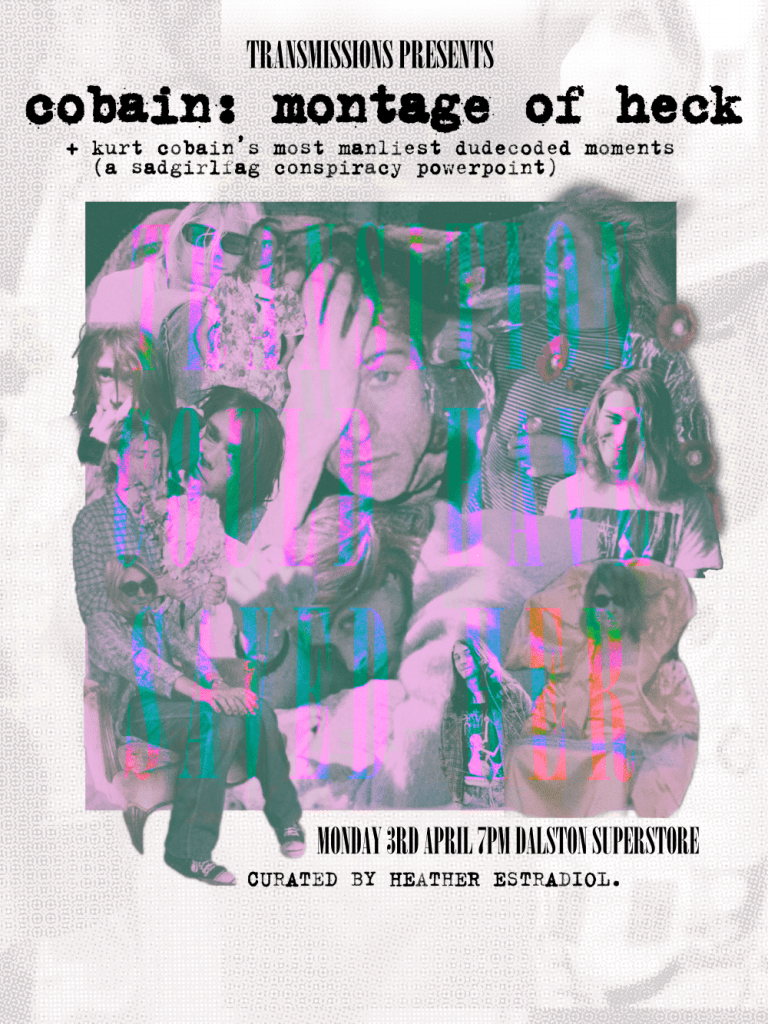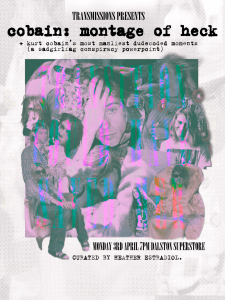 Transmissions presents MOntage of Heck (2015)
This month's takeover comes from local legend @sadgirlfag, known for her series of trans musical showcases Chronic Transsexualism in the Haringey warehouse district, and her work in numerous live acts, Heather Estradiol is bringing her musicality and unique brand of brain worms to Transmissions all April.
Beginning with a hotly anticipated screening of the documentary Cobain: Montage of Heck (2015), Brett Morgan's explosive and finely detailed chronicle of the life and work of one of music's greatest, we can promise this is not one to miss.
Before the film Heather will be taking us through an in-depth presentation on the cult conspiracy theory that (Kate) Cobain was probably, almost definitely, extremely likely, undeniably a transsexual woman who never got the chance to crack her egg.
Early birds will even be treated to first listens of material from the sadgirlfag Nirvana remix EP.
Join us downstairs at Dalston Superstore for the start of another stacked month of movies catering to our majority trans audience,
Be there or be sorely disappointed.
"I knew I was different. I thought that I might be gay or something because I couldn't identify with any of the guys at all"
Subtitles will be displayed throughout.
Seating is a mixture of benches, backed chairs, bar stools and floor space, and is first come first served.
Transmissions presents MOntage of Heck (2015)
tribe_events-template-default single single-tribe_events postid-30710 tribe-events-page-template tribe-no-js tribe-filter-live loading

Transmissions presents MOntage of Heck (2015)

https://dalstonsuperstore.com

https://dalstonsuperstore.com/wp-content/themes/dalston-superstore